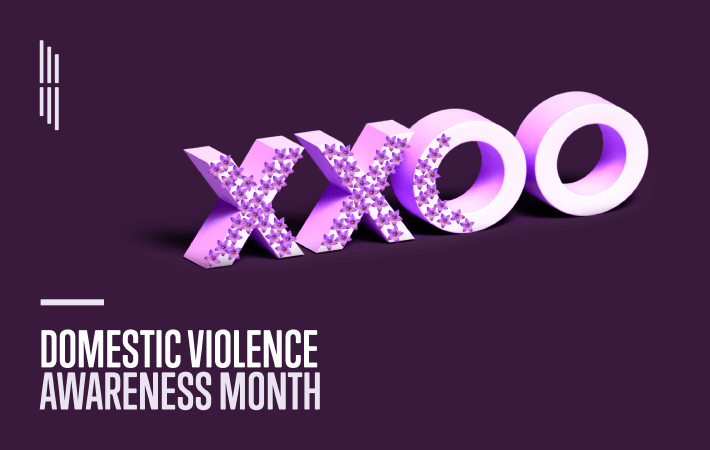 Attention. Awareness. Action. Go purple and show your support this Domestic Violence Awareness Month by activating meal donations to women's refuge shelters.
Each week, a woman is killed in Australia by perpetrators of domestic violence. And, every month, a man is killed by perpetrators of domestic violence. In 2016, the Australian Bureau of Statistics reported that 16% of women and 5.9% of men in Australia have experienced violence at the hands of a partner from the time they were 15.
You can make a difference every day in May, just by using our free services
May is Domestic Violence Awareness Month. In the coming weeks, we'll be bringing you a series of content, events and activities to bring awareness to this very real issue in Australia. We'll be adding a purple tint to our community platform and using it to show support to survivors of domestic violence, and to shine a light on the help that is available for when they need it.
That is why, every time you engage with any of these International Towers free services or activities during the month of May using the Partner Portal, you'll generate donations of meals to women like Michelle on your behalf, care of our foodie social enterprise partner, Two Good Co.
Free shoe shines - book now
Free wellness classes (Yoga, Pilates or Bootcamp) - book now
Waste tour - book now
Free bike tune-up - read more
Justice of the peace - book now
Mother's Day competition - enter now
Artisan Market - read more
A Candle for You, to Light for Them (candle vigil) - read more
Any other activity we run through our Partner Portal in May
Simply use one of these services, enter competitions, engage with events or visit the Artisan Market and you'll automatically generate more free meal donations from Two Good to those who need it. We'll be reminding you throughout the month on our channels, so watch out for all the purple.
Keep your eye on the XXOO installation to track the number of donated meals
So that you can follow the journey, we've set up an installation of Two Good's XXOO in the lobby. Every time you like, comment, enter a competition, RSVP to one of our events or simply accept one of our gifts to you, we'll donate a meal through Two Good. And, if you're a new Partner Portal member signing up for the first time, we'll double it. Every time we donate a meal on behalf of our International Towers community, we'll add a purple flower cut-out to one of the characters. The flowers will represent the women who will receive a meal from Two Good, thanks to our collective help. The X's and O's represent 250 meals, so if we can fill all four characters, we'll have donated 1,000 meals on your behalf. The XXOO installation will feature across several of our Lendlease commercial buildings, with the opportunity to donate over 5,000 meals.
So, throughout the month, please engage with us on the Partner Portal. And, when you do we ask that you think about those who are currently experiencing domestic violence, those who have fled violent homes, and those whose lives have sadly been taken at the hands of violent partners and family members. Furthermore, you'll be joining us in helping Two Good spread some love and dignity to those who need it most.
Head to our Events page, check out what's on, and get involved. Encourage your mates to join the Partner Portal. Together, we can help to shine a light on domestic violence.

About Two Good Co.
Two Good does incredible work with victims of domestic violence – not just for one month of the year, but every day. From providing meals to those experiencing abuse and homelessness, to training women fleeing violent homes with real-world skills to help them rebuild their lives - Two Good is a champion for those who need help.
Two Good Co exists to believe in people until they believe in themselves again. Through the creation of beautiful, high-quality food and products, they support, empower and employ women with lived experience of domestic violence and homelessness. Since starting life as an ad-hoc Kings Cross cook-out for the area's less fortunate, they've since evolved into so much more. For many, their 'Eat 1, Treat 1' and 'Buy 1, Give 1' campaigns are where the journey begins. For every meal or luxury gift pack purchased, another is donated to a local women's refuge for domestic violence survivors, designed to spark a sense of self-worth at a time of intense vulnerability.
Social employment, however, is where they create the greatest impact. Through their flagship 'Work Work' employment pathways program, Two Good hire the women from the shelters they serve, empowering them to re-establish their self-belief and independence, while bridging the 'love and skills' gap in their journey to re-entering the workforce after living in crisis. Since the business began in late 2016, Two Good has delivered more than 200,000 meals to refuges and shelters, and created more than 27,000 hours of paid Work Work employment.
Their mission is to employ, train and empower 80 vulnerable women each year, year on year. By supporting Two Good Co, you are creating opportunities for someone to rebuild their self-worth and independence, in order to change the course of their life; you are walking alongside vulnerable women as they find their way home again.