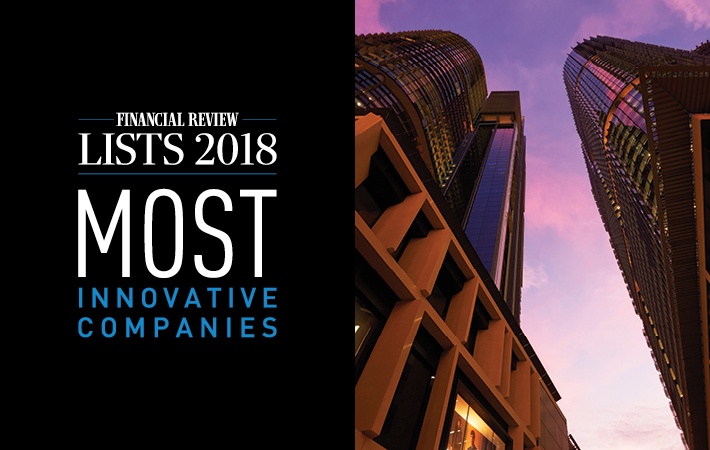 Ranked 21 in the 2018 Australian Financial Review's Most Innovative Companies list
With innovation at the core of International Towers' ethos and business model, we are proud to be one of the top 25 most innovative companies in Australia and New Zealand.

The 2018 AFR Most Innovative Companies List, which received approximately 1,000 nominations, defined innovation broadly as "change that adds value".

For International Towers, recognition came through its Australian-first Positive Built Workplace Environment (PBWE) model, and disruptive approach to property management. International Towers, a collective of game-changing, like-minded enterprises and business communities, ranked 21 across Australia and New Zealand.

The prestigious annual list, published by The Australian Financial Review, was announced on 30 July at a dinner at Four Seasons Hotel Sydney.

It was based on a rigorous assessment process managed by Australian innovation consultancy Inventium, in conjunction with a panel of industry expert judges.

International Towers General Manager, Tony Byrne, said the prestigious ranking of 21st acknowledged International Towers' culture of employee wellbeing, sustainability, innovation and diversity.

"The Positive Built Workplace Environment model brings many of the strands of innovation together for International Towers. Our tenant partners are already reaping the rewards of our inspiring work environment and there's a lot more innovation to come."

The PBWE approach was encapsulated in a world-first white paper prepared by Professor Anthony Grant from the University of Sydney's Coaching Psychology Unit. The research, "Towards a Positive Psychology of Buildings and Workplace Community: Delineating the Benefits of the Positive Built Workplace Environment", included an in-depth, qualitative study into International Towers, Tower Two and Tower Three, showing how a PBWE promotes sustainable high performance – that is both organisational performance and employee wellbeing.

"The study recognised our vision to play a unique role in helping the people that work inside it each day achieve extraordinary outcomes," Mr Byrne explained.

| You can view the AFR's 100 Most Innovative Companies here |
| Download a copy of the University of Sydney's white paper here |