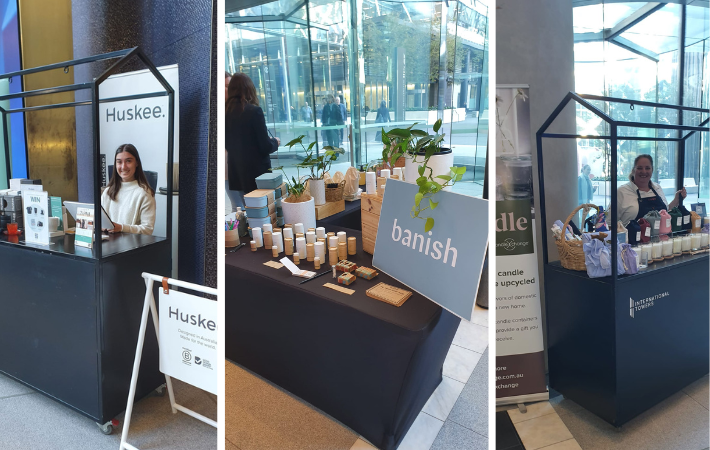 A big thank you to all the participants in our community who joined us on Friday to celebrate World Refill Day and took part in our candle pouring event.
We appreciate your enthusiasm and commitment to sustainability and congratulations to our lucky winners who were rewarded with eco-friendly prizes.
We were honoured to have three exceptional businesses, Banish, CandleXchange, and Huskee, join us on Friday to celebrate World Refill Day. Each of these businesses is dedicated to making a positive impact on the environment. Here's some more information about their inspiring initiatives:
Banish
Banish is a company that focuses on reducing waste and promoting sustainable living. They offer a range of refillable and zero-waste products that help individuals make eco-friendly choices in their everyday lives. From personal care items to household essentials, Banish is committed to minimizing single-use plastic and encouraging a circular economy.
You can visit Banish instore or online.
Banish is located at 2 Lee Street, Haymarket, near Central station.
Open Monday to Friday 9-5pm
| Shop online at banish.com.au |
CandleXchange
CandleXchange is a unique business that promotes sustainability through the concept of candle recycling. They collect used candles, remelt the wax, and create new candles, minimising waste and extending the lifespan of these beautiful creations. By encouraging customers to participate in the candle exchange program, CandleXchange contributes to a greener and more sustainable future.
You can visit CandleXchange in-store or online.
CandleXchange os located at Shop 47, 197-215 Condamine Street Balgowlah 2093
| Shop online at candlexchange.com.au |

Huskee
Huskee is an innovative company that tackles the issue of coffee cup waste. They have designed reusable coffee cups made from discarded coffee husks, providing a practical and eco-friendly alternative to single-use cups. By repurposing coffee waste, Huskee contributes to reducing landfill waste and promoting a more sustainable coffee culture.
You can visit Huskee online.
We applaud Banish, CandleXchange, and Huskee for their remarkable efforts in championing sustainability. Their businesses serve as inspiring examples of how small changes can make a significant impact on our planet.
Let's support and celebrate these eco-conscious endeavours!