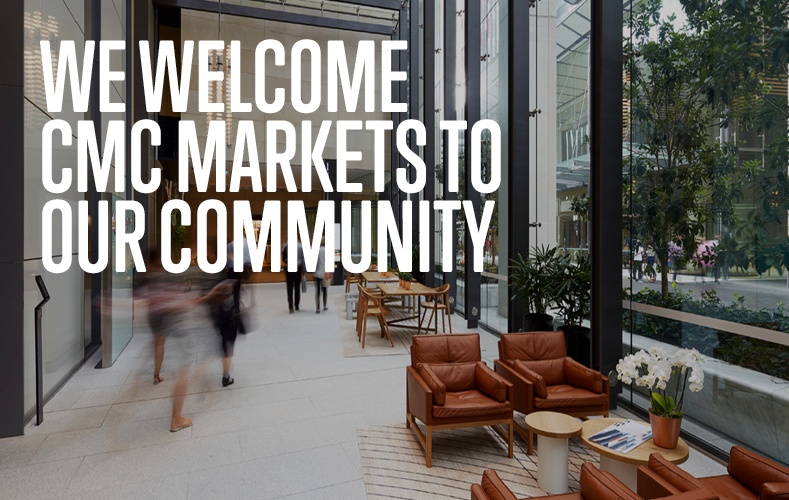 Innovation community and 'room to grow' key factors in company relocation
19 April 2018, Sydney, Australia: World-leading, online financial trading business, CMC Markets (CMC), has relocated its Sydney CBD headquarters to International Towers at Barangaroo, joining a growing list of innovation leaders making International Towers their home.
Established in 1989, operating in Australia since 2002, and listed on the London Stock Exchange, the dynamic Fintech leader services retail and institutional clients through 15 regulated offices, with a significant presence in the UK, Australia, Germany and Singapore.
CMC Markets has a long history of innovation, releasing the first internet FX trading platform in 1996 which made FX trading accessible to a much wider retail audience. Since then, CMC has spent over USD100 million developing its trading software and expanding its product range to include CFDs, stockbroking and spread betting. In March 2017, CMC Markets entered a major stockbroking partnership with Australia and New Zealand Banking Group Ltd ("ANZ") which will result in CMC becoming the second-largest stockbroker in Australia.
CMC Markets CEO Dr Peter Cruddas said the unique innovation community and flexibility to grow within International Towers, were key factors in the decision to make the shift.
"We were not in the market for space, but when we saw what is on offer and what is being planned for International Towers we were compelled to make the shift immediately," said Dr Cruddas. "We are big believers in the impact of space and place on company morale and growth, and it's clear that International Towers is committed to creating a progressive, high-performance, innovation culture which runs across tenancies. We see great benefits for our team and clients in being part of this unique community – it was an opportunity we couldn't afford to miss."
CMC Markets have committed to delivering a 6 star Green Star Interiors rating for their new Sydney headquarters demonstrating their industry leadership in a healthy and high performance workspace to attract and retain the best talent.
In a groundbreaking approach to placemaking, International Towers is curating its tenants for the two buildings, selecting diverse organisations with aligned values, including a commitment to innovation, sustainability, collaboration and community.
New tenants under the curated tenancy scheme include CMC Markets, The Green Building Council of Australia (GBCA) and Indigenous dance company Bangarra Dance Theatre.

These organisations join the community of established innovation leaders within International Towers including: KPMG and its recently-opened Innovation Lab; award winning law firm Gilbert + Tobin; leading global reinsurer Swiss Re; innovative international property and infrastructure group, Lendlease, which developed International Towers; and Westpac Group, demonstrating its new WorkSMART workplace strategy. Both KPMG and Westpac Group were voted Top Graduate Employers of 2017.
International Towers General Manager Mr Tony Byrne said the new placemaking model brought workers together in an open environment inspiring growth, collaboration and employee satisfaction.
"International Towers recognises that for many enterprises, workplace culture has shifted away from rigid constructs and hierarchical models towards a more informal, social experience which inspires more innovative and creative thinking and creates a powerful sense of belonging.
"Within the towers we are designing uniquely-flexible, open-floor plans, workspaces and shared community spaces that can create happy collisions of ideas and collaboration both within and across organisations," he said.
Mr Byrne said Peter Ferguson of Cadigal was the introducing agent for CMC Markets.
Designed by globally-renowned architects, Rogers Stirk Harbour + Partners, and developed and constructed by Lendlease, International Towers, feature an abundance of natural light and sweeping vistas and wide open spaces. The circular building design, coupled with the egalitarian nature of the interior layouts, means all staff can have access to generous amounts of natural lighting, plus enviable harbour and city views – and there is quite literally no 'corner office.'
International Towers community tenancies are being designed to allow organisations the flexibility to expand and contract rapidly and efficiently, using a 'kit of parts' approach.

International Towers is the first in the world to ever be awarded WELL Certification for Core & Shell at the Platinum level, the highest certification available from International WELL Building Institute under its WELL Building Standard (WELL), a performance-based system for measuring, certifying and monitoring features of buildings that impact the health of people who live, work, and learn in them.