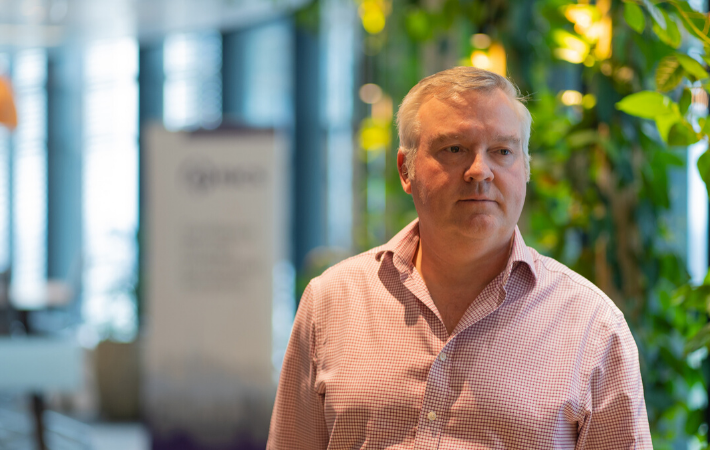 Managing Director RICS Australasia, SE Asia & Japan
Surveyors shape the way we live. From our towns and cities to our streets and homes, they help create safer, better communities through a diverse range of building, construction, infrastructure, land and property expertise, working closely with architects, engineers, bankers, ecologists, town planners and property developers. Surveyors also play an important role in shaping our future, by helping to regenerate deprived areas and planning smart cities connected by the Internet of Things, while pioneering more sustainable and more environmentally friendly building methods.

RICS is the world's leading professional body for qualifications and standards in land, property, infrastructure and construction, with a history dating back to 1792 and representing over 134,000 highly qualified trainees and professionals around the world. As the newest member of the International Towers community, we sat with Chris Nicholl, RICS Managing Director – SE Asia, Australasia & Japan to discuss the challenges and opportunities relating to the development of our places and cities in the future, and the experience of being part of one of the country's most sustainable and progressive workplaces.


What do you consider to be the major challenges facing commercial construction over the coming years?

Fragmented state regulations, skyrocketing insurance premiums and a disconnect between the public and private sectors are contributing to a decline in public confidence in Australia's building and construction industry.

Following a series of high-profile incidents over the past few years and an increased scrutiny over the efficacy of enforcement and compliance systems, it is vital that the commercial construction sector continues its path of reform to restore public confidence. There is a great deal of activity happening in this area, but unless the sector as a whole embraces the need for greater accountability and more effective regulation, these problems will continue to simmer way.

There is a growing recognition that construction materials consumption, waste and embodied carbon impacts are well beyond sustainable levels. The sector is changing rapidly, and thankfully we are seeing a greater shift toward embracing sustainable practices. There is a legitimate argument that the sector is still a way off from where it needs to be address the challenges of sustainability and how the entire value chain of landowners, tenants, governments, builders and professionals can act in concert to execute innovations at scale to be at the forefront of change.

We're strong advocates for the sector to continue to rethink how we can best drive and embrace emerging technologies and practices to create a more sustainable world through addressing issues such as waste, consumption and embodied carbon.

If we fail to do this and seize the full range of opportunities, the ramifications could be felt for many years to come.


How can surveyors support and advance sustainable development?

The surveyors of today - and tomorrow - are in a unique position to influence the societies of the future through their role as the lead professionals in the area of sustainable land development. Surveyors are the glue the binds the building and construction industry together through the role they play across the lifecycle of any project.

Increasingly, surveyors are starting to recognise that it is no longer 'business as usual' and that the developments we create now and, in the future, do not have a detrimental effect on the surrounding environment. Surveyors need to be at the forefront of understanding what smart buildings will be like, how they should perform and the legal framework that will govern their existence. The most important way surveyors can support and advance sustainable development is to recognise and embrace the changing landscape. Additionally, surveyors must support the sector and its various stakeholders in effecting positive change.


Which new technologies and innovations are having the greatest impact on the capability of the industry?

While many industries are radically reshaping in response to technological, cultural, demographic and economic shifts, the built environment sector has at times been criticised for sitting stagnant, clinging to the status quo.

However, that is changing. Major shifts in technologies, how we work and what people expect from their buildings are ushering in a new era and delivering changes that are set to radically transform the sector over the coming decades.

New technologies and innovations are reshaping the industry at an unprecedented rate. Like all industries, the Chartered Surveying profession is not immune to digital disruption. Whether it's drones for GIS and mapping, BIM modelling, automated building systems for facilities management, automated valuation models for appraisals, every aspect of our profession is being disrupted and enhanced at the same time.
Across Australia, RICS is working alongside traditionally risk-averse businesses and governments to embrace an increasingly knowledge-based economy.


What role does the surveying industry have to pioneer better environments and shape a more resilient future?

Professional bodies such as RICS play an important role in pioneering better environments and shaping a more resilient future by directly engaging and influencing education and training provision, but also because of the vital role we play in wielding influence through professional advice to private sector and public sector clients. Collaboratively, we work to build resilient, successful communities.

In the chartered surveying profession, this is being played out as many surveying firms now accept the fundamental principle that land and buildings should be managed to promote sustainable development.

One of our defining principles is that everything we do should be designed to effect positive change in the built and natural environments. Through our respected global standards, leading professional progression and our trusted data and insight, we promote and enforce the highest professional standards in the development and management of land, real estate, construction and infrastructure.

Additionally, as a profession we need to re-establish the role of the quantity surveyor as one that stands for integrity, capability and assurance.


What do you consider to be the greatest global challenges over the next decade in terms of the sustainable regeneration and growth of cities, and the use of resources and management of waste?

By 2030, the world's urban landscape will look very different to what it does today, with the continued drift towards urbanisation expected to see 43 cities with populations of ten million people or more. As tens of millions of people move into urban areas that are often struggling to support the populations they already have, housing, pollution, transportation, infrastructure, inequality and social cohesion will all require creative solutions.

A significant number of today's cities around the world are "energy and water hungry cities," characterised by a lack of resources, very little materials recovery and insufficient efforts to manage the pollution they produce. This is set to be significantly compounded over the course of the next decade unless we see a much greater adoption of the concept of the sustainable city.

Education and skills development are absolutely fundamental in developing a sector that stands above others in dealing with the global challenge of sustainability and resource and waste management.

We must look to technology to help power the cities of the future, and make them smarter, creating urban areas that use data-driven, innovate solutions to create efficient, sustainable ways to aid development and improve the quality of life for its residents.

Our industry stands to learn a lot from the pioneering work undertaken by International Towers in regard to setting a new environmental benchmark in Australia and causing us to rethink how buildings are created and utilised. International Towers has shown us that smart buildings are no longer the future – they are here, and they are thriving.


How does being part of the International Towers community enable RICS to advance the cause of social and environmental sustainability?

One of the biggest drawcards in looking to move to Barangaroo was to be part of the International Towers community and its commitment to being one of the most sustainable commercial precincts in the world, and the first of its size to be carbon neutral anywhere in Australia. International Towers is a world-class business community that is anchored in high performance and innovation – characteristics that are pillars of a sustainable and successful future.

We strongly believe that for an organisation working in the built environment, it is important to 'walk the talk' in the way we run our own buildings and operations. We are fully committed to support International Tower's mission to set the benchmark for social and environmental sustainability.

Our ambitions in Australasia over the next twelve months will elevate RICS, figuratively and literally, to unprecedented levels. Our relocation to International Towers strongly complements our mission to effect positive change in the built and natural environments. We have been at the forefront of steering the built environment to a sustainable future, and with our move into this precinct we are leading by example in how we work.