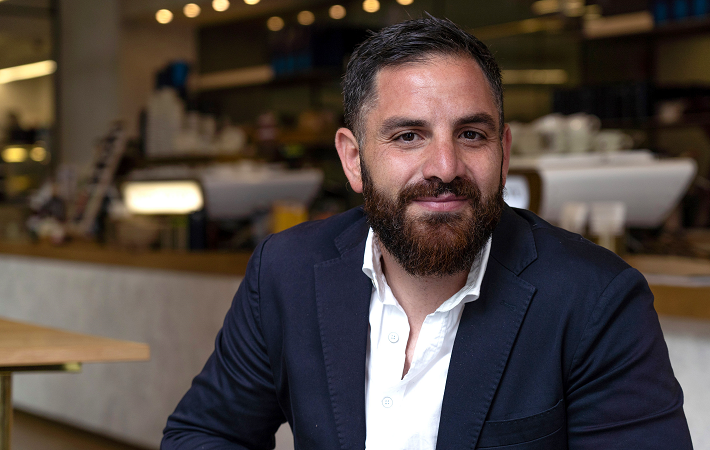 Insights into the spirit and values behind the company's success
Tell us about your journey with Toby's Estate Coffee.
I'm privileged to have been part of the Toby's Estate journey from the beginning. The story of how Toby left a career in law in favour of roasting coffee is now quite legendary. He was one of the very first specialty coffee pioneers, and even though he is no longer involved in the business, we all live that entrepreneurial spirit that's laid the foundation for the whole specialty coffee industry we enjoy today. As Head Licensee for Toby's Estate cafés, my focus for many years now has been on developing relationships with like-minded organisations where we can deliver value to each other.
Why do you think specialty coffee has had such amazing growth over the past ten years or so?
I think it's a reflection of our respect for quality. Right across Australia, and particularly in Sydney, people will support producers and artisans who are passionate about what they do and invest in their craft to deliver something special. The bar keeps raising higher and higher, which is a good thing, because it challenges us all to find new and better ways of doing things.
People want to know the story behind a product or brand. It's no longer enough to simply make a good cup of coffee, or even a great cup of coffee. People are very much interested in the journey – how and where the beans were grown, the sustainability of the communities that nurture and supply the beans, and how that journey results in their morning brew. I believe that's why Toby's has remained so successful and popular over the years, regardless of how saturated the coffee market has become. Provenance has always been part of our DNA, from the very first day.
How would you describe your experience as part of the International Towers community?
Quite simply, coming to International Towers has been game-changing for Toby's. Being part of a highly curated community of retailers and serving a collection of highly respected businesses enabled us to take our concept to another level. In many ways, it was our presence at International Towers that opened the door to other opportunities for us, because it gave us enormous credibility and a highly successful platform that we could build on.
I feel that the community of workers and visitors at Barangaroo genuinely understand and appreciate our philosophy and approach to coffee making. They genuinely value the time and care we put into making every single cup of coffee, so that we can absolutely ensure we can serve the exact same experience each and every day.
How did Covid impact your operations in the short term and your plans for the future?
There's no doubt Covid was a major challenge for our business. Our operations in the CBD were impacted dramatically, but it did teach us how to be more resilient, not only as a business, but as a team. The majority of businesses, including cafés shut down for a long period of time – purely because of a lack of trade, with most office workers staying at home. But very early on, we made the decision to remain open. Naturally, a lot of people thought we were crazy, and that decision did have a significant financial cost for us. There were many days when we didn't serve a single cup of coffee, however I saw it as an opportunity to give back.
It really goes back to that concept of relationship. We have a relationship with International Towers, and we have a relationship with our customers. In some respects, I felt we had a duty to be there to serve anyone who was still making the journey to work at Barangaroo. I've always taken a very long term approach to relationships, which means you need to accept the good and the bad. I know we are very privileged to be able to operate within a corporate community of this calibre, so for me there was no question that we couldn't take that privilege for granted. Even if there were only a handful of people coming to the Towers each days, I felt an obligation to play a part in making their experience a good one by making sure they could enjoy the best coffee they could possibly have.
Thankfully, I feel we've survived Covid, and the signs are very much that things are returning to 'normal'. Apart from the financial cost, we've come out as a much more resilient business, but hopefully also as a much more respected business because of the position we took to support our commercial partners by trading through the pandemic.
What's the future of coffee, and how do you retain your leadership position in the market with so many new brands and roasters coming online each year?
I have a very simple belief when it comes to maintaining our position in the market, and that is – you're only as good as your last cup of coffee. Only a few short years ago, we were setting industry records for the volume of coffee we were serving at our cafés, including here at International Towers. Obviously Covid put pause to that, however it also gave us an opportunity to question how we can once again set new benchmarks in what we do.
I think most people that have travelled overseas would agree that the standard of coffee in Australia, particularly in Sydney and Melbourne is extraordinary. You can walk into almost any café in the city, and the chances are you'll have a pretty decent cup of coffee. So I've been questioning, how do you differentiate yourself and stay a step ahead in a highly saturated market with already high standards?
During the pandemic, we actually invested significantly in technology and improving our processes – to the point that we've now completely changed how we make coffee. We're now at a point, where I can say to you with absolute confidence that the next coffee you have at Toby's is the very best coffee we can possibly make. It's as good as coffee can get. Our quality assurance and tech innovations combine so that all the variance that can sometimes creep in when you're serving hundreds of coffees each day has been eliminated. Every step of the process, from grinding the beans to handing someone their flat white is done with absolute care and with absolute precision. And we're proud of the fact that it might take a little longer, because in the end, those extra few seconds a person waits will be rewarded by having an amazing and absolutely consistent experience.
For me, that's the measure of our success: the ultimate in quality and reliability.