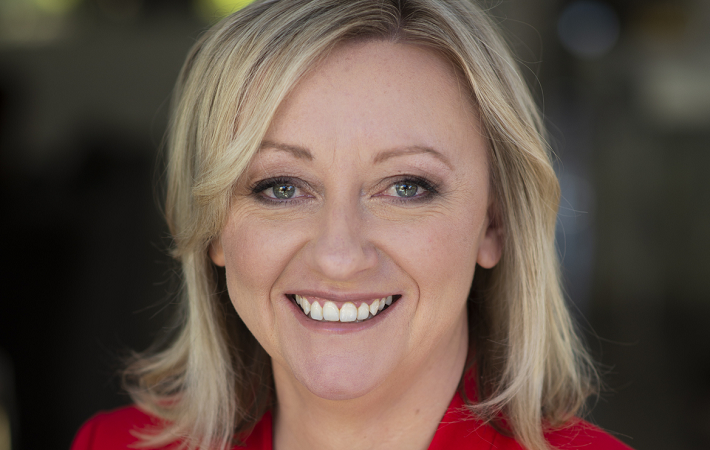 Kylie Merritt, Founder and Managing Director, Ausbiz
Ausbiz exists to inform, inspire and share. Tell us more about your platform.

We launched ausbiz on March 30, 2020 because Australia didn't have a dedicated business and finance channel. We have two studios within International Towers and we stream live for 8 hours each weekday solely focused on business news, markets coverage and startups. During that 8 hours we generally do around 50 interviews and we make many of those (plus two programs) available on-demand on our website and iOS app. Our live stream is also carried on 7Plus, 7news.com.au, Iress and Startup Daily.

We consider ourselves a platform to connect investors with opportunities. That's a pretty broad remit but it underpins everything we do; we try to bring every interview back to one core question - how does this help an investor make an informed decision? Sometimes that's simple, like asking a broker or analyst to give a buy/hold/sell recommendation on a stock. Other times it's not as black and white like talking macro-economics, but there's always a nugget of information in there which provides food for thought when people are thinking about how and where they invest. We also talk to around 6 startups every single day, and we always talk to them about the capital they're raising and why... because we know a lot of our viewers are interested in private capital opportunities.

We're closing in on 20,000 subscribers and the average viewing time of our live stream is 30 minutes... those are absolutely the two most important metrics to us. While we're free, our subscribers are logged in and tell us about their investment preferences. Those using our app also follow topics and companies (listed and private) and we use all of this data to provide them with relevant on-demand content, and also to help us make better programming decisions.

What are the benefits for organisations partnering with such a specialised broadcast and content partner?

We're not a mass-reach media business and we have no desire to become one. All of us are business and markets junkies and we exist solely to make content in this space. Our partners are exactly the same, they're trying to reach specific, niche audiences whether they be SMSF investors, financial advisors or part of the startup ecosystem. We work with partners right across the commercial content value chain. We have a commercial studio which sits alongside our live stream studio, and we create all kinds of content there including green screen presentations, panel shows, education/feature pieces and live events like investor roadshows. We also have more 'traditional' media partnerships including program sponsorships and advertising. The sweet spot is right in the middle when we co-produce content with partners which we then distribute across our platforms. I think what our partners most appreciate is that we understand the kind of content they want to make, because we all live and breathe it every day. It means we can really help them with the direction of their production because we're more than just a technical team.

We're also very strong on editorial principles; you can't pay to be interviewed in our live stream. That's a decision we've taken because we believe when it comes to people's money it should be very clear what's editorial and what's advertising. I think creating that environment of integrity is really beneficial also for our commercial partners; they know their messages won't be seen alongside anything other than high quality, editorially-driven news and information.

The Covid pandemic has obviously changed the financial and investment landscape. What role can the high-quality and highly-targeted content developed by Ausbiz play in nurturing long term opportunity?

COVID-19 will have significant and long-term impacts on the economy and that means it will impact just about everyone financially, in some way. It's also brought incredible volatility to global markets across just about every asset class, which means both opportunity and risk. Our role is to bring both sensibility and credibility to this discussion, so I go back to my earlier point about our philosophy being to help investors make informed decisions. What sits behind our eight hours of live streaming each day is a content plan which ensures we cover all asset classes with the broadest range of expert contributors. If the average view time is 30 minutes, we want to make sure within that time a subscriber will receive both information which helps them make sense of the macro environment, through to what we call 'investable ideas'... whether that be in equities, startups, fixed income, property etc.

What is the value for business to continue to engage with their audiences in the current business landscape?

I actually don't think there's any question about whether that engagement is valuable, the question is whether businesses can afford not to. Audiences, whether they be clients, partners, staff, investors or any kind of stakeholder, need to be kept informed. Misinformation loves a vacuum!

You've created state-of-the-art studios at International Towers. How can businesses in the community benefit from the facilities you've developed?

There are two reasons why ausbiz is located within the International Towers community. The first is proximity to the heart of Australian business; with 50 live interviews a day we try to get as many people as possible (well, that was the plan pre-COVID at least) into our studio. Being in the middle of the financial district makes that process a lot easier than being located elsewhere. We often joke we could source our 50 interviews a day just using the residents of one Tower! The second reason is that International Towers saw value in co-creating with us a second studio where we could help residents create their own content. Originally we'd envisioned creating high quality video presentations, interviews and panels... and while we are producing those, the most demand right now is for live streaming events which would normally be done face to face; investor roadshows for example. Whatever it is we're producing, our aim is to make the process as efficient as possible for our clients, both in terms of time and cost. For clients particularly in the financial services space, we bring a deep understanding of the sector so we can help with the editorial side of the content as well as the production.

Tell us about your career journey, and some of the things you enjoy from being part of the unique community at International Towers.

I had a few years in the late 90s of 'general news' before falling into business journalism in 2000, and have never looked back. I spent 12 years as a business reporter, including 5 years leading Sky News Business before I moved away from the editorial side (although once a journo, always a journo). Primarily within Sky News and News Corp I had roles in digital, strategy and operations before becoming Commercial Director at Sky News and then CEO of Your Money in 2018. In 2019 when Australia was left without its own dedicated business channel I figured someone needed to start one, so I pitched the idea to an old colleague David Koch, who was already an IT resident with his digital agency, Pinstripe Media. We took the concept to Liam Timms... and here we are.

There's honestly not a day I don't walk into our office and pinch myself, this is hands down the best place to work in Sydney and probably all of Australia. I love the sense of working in a precinct rather than an office tower. And my team would be disappointed if I forgot to mention we all love the hand sanitiser that smells like the fancy botanicals you get in expensive gin!