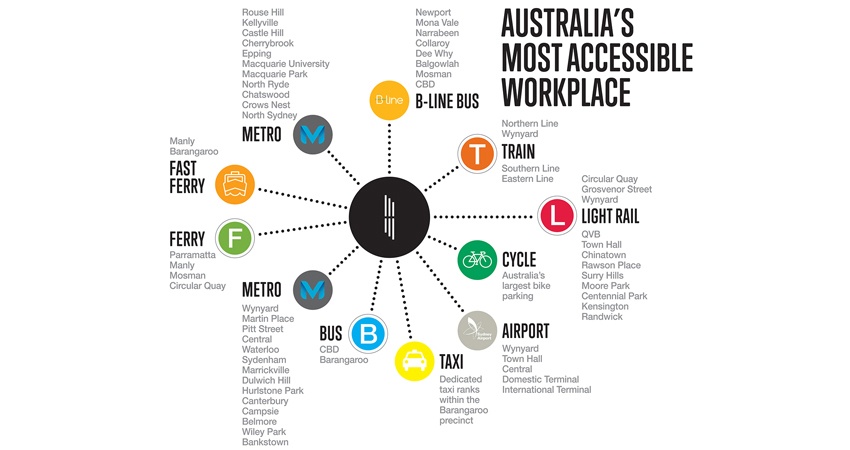 At International Towers, we believe in connectedness
At International Towers, we believe in connectedness. This means creating connections amongst the community. It also means ensuring a connected location that's easily reachable for everyone.

This sense of connectedness is evident across our location. The Barangaroo Precinct was designed to be accessible, with a significant investment in infrastructure and transport - from cycle paths and pedestrian walkways to trains, ferries, and buses.

International Towers is connected to the Sydney Cycle ways network. And the new Wynyard Walk pedestrian bridge makes it easier than ever to reach Wynyard Station from Barangaroo south, while avoiding busy, CBD road crossings and steep inclines.

This world-class pedestrian link allows pedestrians to walk between the Barangaroo waterfront and the Wynyard transport hub in approximately six minutes.

It's now easier than ever to get to and from Barangaroo. Bus services take passengers directly to and from the area, with routes 325, 324, and 311 travelling to Hickson Road from Town Hall. There are also many different off-peak services which arrive at nearby King Street Wharf. Water taxis are available for picking up and dropping off passengers at the wharf, and passengers can also take the Fast Ferry to Manly.

And, of course, we have great access to taxis and ride-sharing services with numerous drop-off points throughout the precinct.

Supporting workplace happiness and connection is a priority for our community at International Towers and we offer many options, along with end of trip facilities to support active commuting for our working community and their guests.

That equates to more than 1100 bike racks, 22 changing rooms, 13 showers, and 1400 lockers, allowing you to get your morning exercise and then freshen up onsite so you're ready to start the workday.

Fitness is a key component of our Platinum WELL Building Standard Core and Shell Rating, which we are targeting across all commercial office towers. Our approach is backed by studies which show our commutes have a significant impact on our levels of happiness at work.

We invite you to read more about how International Towers has integrated numerous health and wellbeing features into the project by downloading our WELL Building Standard Occupant Guide below.
|Platinum WELL Building Standard occupant guide|
|Research Study|