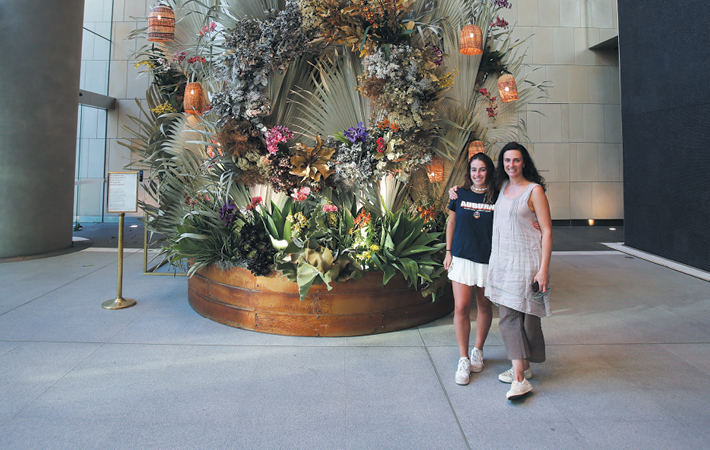 Interview: Maria Claudia, Samambaia, Florist and Owner, Samambaia flowers
For all the scientific research that supports the concept of biophilia - an innate and genetically-determined affinity of human beings with the natural world – the simple reality is that flowers have an ethereal ability to make us feel happy and at peace and, like a timeless work of art, transcend the boundaries of language or culture to unify us all in an appreciation of beauty.

For florist Maria Claudia, the delicate (and often challenging) art of creating floral installations of scale is both a passion and privilege. Her bespoke installations at International Towers combine an absolute commitment to sustainability, as well as a desire to showcase the unique native flora of Australia where possible in a creative and inspiring way.

Tell us a little about your story. How did you come to be involved with floristry?

It all began very serendipitously. I was studying jazz music in New York City while working in a restaurant in Tribeca. The restaurant kept having issues with their florist, and one day I said to the manager, "I think I could do better than that..." as you do... and she invited me to have a go. I started going to the Manhattan flower district in the middle of the night and started arranging flowers for the club every week. People were impressed and would ask who had created the arrangements. That was the beginning of my career!
You've worked with International Towers for a few years now. What have been your inspirations for the installations you've created for the Tower Two and Tower Three community?

My inspirations always come from what I see in nature. Working with International Towers has been such an incredible journey as sustainability is always our first priority (and how it should be for everything we do in life). That is where the project begins, and all the elements I source have to fit within this framework. It means we try and only source locally, and source plants and flowers that are sustainably grown. We also try and use plants that can be dried and reused for future installations. As the plants age, they take on completely new forms and colours, so they continue to live on.

Tell us about the community of growers you work with. What are the most important aspects of your relationships with growers?

After 15 years of going to the flower markets and dealing with growers from all around Australia directly, they do become part of your "flower family". I see most of these people at least three times per week and could be in touch with them over the phone five times a week. I see more of them than my close friends. The respect, appreciation and understanding of what they do is the most important part of our relationship. Florists would never be able to achieve what we do if it wasn't for the community of skilled and dedicated growers that supplies us with the beautiful, seasonal flowers that bring joy to so many people.

How can you be sensitive to sustainability, without compromising your creative vision?

That is the challenge, and that is the beauty of the end result itself. To be sustainable takes a lot more work. We are saving and reusing every single, possible material that we can and that means taking it all apart, storing it, protecting it and starting again. You just have to say "no" as much as possible to anything that isn't sustainable and see what you are left to play with.

The art is in making something new with things you've used in the past. Many of the plants we use are just as beautiful when they are dry as when we first picked them, especially many Australian natives.

How do you feel the community benefits from experiencing a floral installation?

It's a simple thing, I genuinely believe flowers and plants make people feel good. Having floral installations of this scale allows people to possibly experience some varieties of plants and flowers for the very first time in their lives. Some of the plants we source grow naturally in the outback, so many people who live in the city may have never come close to some Australian natives. The fact that people in the community can take a minute or so out of their busy day to just pause and enjoy a presentation of nature and the things that grow on the land, I believe, can have a very positive and powerful impact on how they feel for the rest of the day.

An appreciation of flowers and nature is something everyone has in common, regardless of our age, culture or lifestyle. These installations are more than just about celebrating an event such as Christmas – they start conversations, and they give the entire community something to enjoy and appreciate equally.
| Read the full edition here |