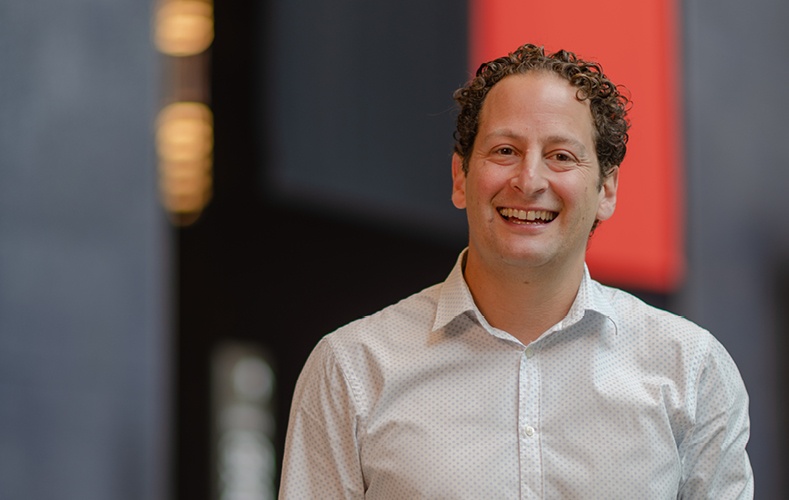 Interview: Philippe Magid, Executive Director, Bangarra
Very few art forms have the capacity for dynamic storytelling like dance and, when combined with the profoundly unique stories of Indigenous culture and history, the result is both educational and highly engaging. Australia's custodian for telling these stories to the world through dance and performance is Bangarra Dance Theatre, who have recently joined the community at International Towers.

Philippe Magid is the Executive Director of Bangarra, an Aboriginal and Torres Strait Islander organisation and one of Australia's leading performing arts companies, widely-acclaimed nationally and around the world for its powerful dancing, distinctive theatrical voice, and utterly unique soundscapes, music and design.

Philippe has been working across the Australian performing arts industry for 16 years. He is respected internationally as a creative and commercially-focused leader.

Tell us your story. Where did it all begin?

Well, I can trace it right back to my early youth actually. Both of my parents were open-minded, and I was enrolled at a progressive school called Preshil in Kew, eastern Melbourne. The school has an alternative approach to learning and gives children the freedom to partly self-manage their education and focus on the things they enjoy most. It's very free-thinking – if you didn't want to go to class you didn't have to, but then if you didn't go to class you wouldn't learn anything. So there were no set limits to what you could do at any given time, which didn't work for everyone. But I found it completely liberating and, even at a young age, I began to understand the importance of approaching a challenge from many alternative viewpoints, and the experience taught me how to manage my own thinking, time and discipline.

Looking back now, I think this experience was fundamental in shaping the way I view culture and leadership, and life in general. It also gave me my first meaningful exposure to Indigenous culture, because the school had a formal relationship with an Indigenous school in Healesville, and our Deputy Principal would take us there regularly, but they also brought over Elders in residence from Mornington Island to meet with us and share their stories through art and dance – I remember being painted up! I think this really helped shape my appreciation and respect for the incredible rich culture of Indigenous people. The fact is most people in Australia don't get the opportunity to connect with Aboriginal people, communities or stories. So I was very fortunate to have that opportunity during my early school years.

I quickly developed a passion for music, which led me to the Victorian College of the Arts. I did try my hand at studying Commerce, but soon realised music and the arts were my true calling, although not necessarily as a performer, so I did a degree in Arts Management. My first job was with a contemporary dance company called Chunky Move, which is where I really started to learn the incredible process of creating an artistic work from scratch. I was then asked to support the establishment of an organisation called fortyfivedownstairs in Flinders Lane, Melbourne with Julian Burnside AO QC. I then joined the Anstat Group, where I helped develop a new technology business under the leadership of one of Melbourne's great business leaders, Alan Schwartz. Although I wasn't working in the arts, I learnt an extraordinary amount about growing a technology business, and this experience really helped me develop my commercial management and marketing skills, which would prove invaluable later in my career.

I spent the next seven years with the Australian Ballet, first as the Head of Marketing, and eventually as the Deputy CEO. It was an amazing opportunity to work with such a respected organisation and with so many talented people. While I wasthere, the organisation celebrated its 50-year anniversary, which involved some truly unique experiences, and I was also involved in establishing a new Production Centre to house the substantial costume and set archive. I then made the move to Sydney to join Bangarra.

How do you describe Bangarra?

We don't just see ourselves as being a contemporary dance company. First and foremost, we're an Aboriginal and Torres Strait Islander organisation. It's a very interesting mix of being a grass-roots, community organisation on one hand, and an elite performing arts company on the other. Being able to straddle those two worlds is brilliant, for a whole range of reasons, but it is also quite complex and challenging to lead an organisation that has so many facets.

How does it differ to other performing arts organisations?

Well one of the first things I realised when I joined Bangarra was that we only produced one new work per year, which was quite different to my experience in other organisations, particularly The Australian Ballet. My business instinct was to immediately try and increase our creative output, but I soon learnt everything that's involved in creating a Bangarra work, and very quickly appreciated the time required to do it properly.

Every one of our productions is conceived from scratch. It's not like a symphony orchestra taking an existing work from Mahler and rehearsing it for a few days and then performing it on the stage. Every one of our stories comes from this land and its people. It could be an urban community from Sydney to Hobart, or a remote community in Arnhem Land. We go to communities to take part in in-depth cultural engagement. This might include weeks of conversations with Elders and community leaders about their traditional stories or particular issues they may be facing in their community. This dialogue is complex and can often take a couple of years to translate – we then work with traditional Songmen and musicians, cultural Elders who come into our studio and share that content and language and stories, which then gets woven through the work and soundtrack. So, it takes a great deal of time for us to unearth these stories and to manage the community relationships, and for Stephen Page, our Artistic Director and true Cultural Leader, to translate them into a contemporary piece of choreography.

Our works can be narrative, or abstract and even political, and the stories can be incredibly complex. Our current production, Dark Emu is essentially the story of how Aboriginal people were much more than hunter gatherers and that there is real sophistication and complexity to how they cared for and worked the land, and also aquaculture.

One thread of Dark Emu looks at the way Aboriginal people look at the night sky: not at the Milky Way, but the negative space in between. So it's very abstract, despite being based on an academic text. Another of our recent works Macq, for example, interpreted and presented in a creative and respectful way, the story of the massacre of Aboriginal people at Appin in Sydney which had a huge impact on audiences – educating and connecting, without alienating.

How does Bangarra champion culture?

Well, for Bangarra, culture really begins with a capital 'C'. It is the foundation and heart of our entire organisation and everything we do and believe in. The company's mission is to create inspiring experiences that change society, and I've never worked anywhere where it is so straightforward for the entire organisation to work towards a common goal. Our desire to connect people to culture through stories and dance really does make a difference in the lives of the people within the organisation, and also everyone that is touched by Bangarra. There is a genuine depth to what we do – to progress the conversation, to enrich young people's lives. Our Chairman, Michael McDaniel refers to Bangarra as the purest form of reconciliation, and I couldn't agree with that more.

We see ourselves as Indigenous storytellers, and we use dance to do that. For me, dance has everything: it has the music, the art, the design, the performance and the beauty. It transcends language, and it's not mandatory that you think about it too deeply or educate yourself on the subject matter in order to appreciate it. It can simply be a beautifully creative experience, or it can be deeply moving and thought-provoking, depending on how you choose to engage with it. I feel this makes dance so accessible as an art form.

We all feel a deep custodianship of Aboriginal and Torres Strait Islander culture. Those diverse communities entrust us to tell their stories accurately and with empathy, so every one of us within the organisation feels a very profound responsibility to do this work and be their voice.
And what about the culture within Bangarra itself?
I don't like to use the word 'family' when describing an organisation, because families can often be dysfunctional! However, there is definitely a strong kinship amongst all of our team, and a true sense of common purpose.

We have 18 full-time dancers and another 35 people working in an administrative role, and 66 per cent of our team is Indigenous. I feel that as an Indigenous organisation, it's hugely important that the majority of our team is made up of people from Aboriginal and Torres Strait Islander backgrounds. We also have a strategic focus on developing future cultural leaders, which is all about giving young Indigenous people an opportunity to grow and learn and be part of something important.

I have to add that our own culture feels like it has been strengthened since joining the International Towers community. There is a genuine sense of positive energy in our team. Even from a practical side, the fact that the precinct is so easily accessible to transport has made an enormous difference to many in our team. And being surrounded and supported by people that are so passionate about community and the work we do is creating a very powerful environment for us to be able to live in the moment, enjoy each day and do beautiful work.
| Read the full edition here |