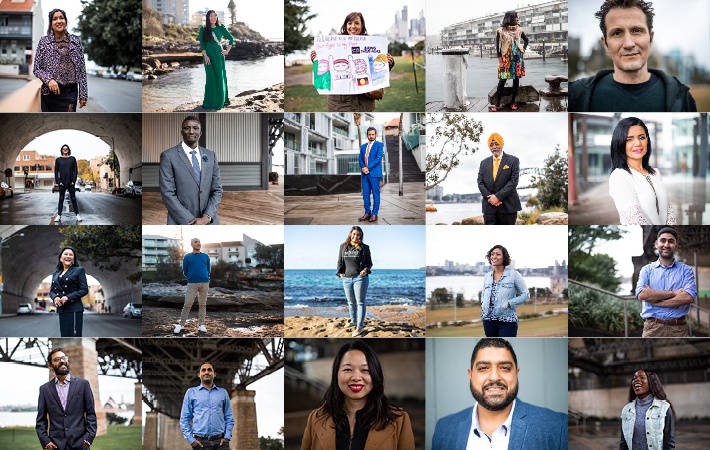 Portraits of inspiring migrant Australians featured at International Towers, Tower Two and Tower Three
Exhibition open to public: 6 November 2018 - 31 January 2019
We have partnered with global fintech TransferWise to host the "Faces of Australia" exhibition - a poignant showcase of Australia's diverse cultural heritage and the contributions immigrants make to the community.
Open to International Towers visitors and the general public, the exhibition will be in place from Tuesday 6 November until Thursday 31 January, 2019. A portfolio of 20 curated images will feature in the ground foyers of International Towers, Tower Two and Tower Three, at Barangaroo. Members of the public can view them weekdays from 8:30am to 5:00pm.

While a picture tells a thousand words, the evocative images are accompanied by background stories to elucidate the journey each migrant took to call Australia home.

The exhibition includes Igor Kreyman, the founder of social enterprise The Human Connection Movement, arrived in Australia from the former USSR, now Ukraine, in 1991. The initiative aims to tackle what Igor describes as "the loneliness epidemic" and has echoes of his own sadness at leaving behind his maternal grandfather.

Also, Vietnamese refugee Diem Fuggersberger has added spice to the lives of all Australians, co-founding Berger Ingredients in 2009. The company contributes to products which reach more than one million Australians each week. Mahir Momand fled Afghanistan after being attacked by the Taliban. Now the CEO of Thrive Refugee Enterprise, he has distilled his painful experience and finance knowledge into encouraging entrepreneurship in new Australians.

International Towers General Manager Tony Byrne said the inspiring exhibition was as much about the stories and storytelling as it was about the exquisitely-shot images.

"Diversity, in its truest word, means acknowledging all forms of background and identity. At International Towers, we are committed to celebrating the heritage, beliefs and values of our diverse workforce and visitor base. We are proud to host this exhibition which shows on a macro level the contribution migrants make to Australia and, on a micro level, the diversity of our own thriving business community," Mr Byrne said.

Nicholas Lembo, TransferWise Australia Country Manager, said the exhibition puts a spotlight on what Australia looks like today - a diverse picture often overlooked by the images traditionally portrayed in mainstream media and advertising.

"Australia is a nation of migrants. Half of us are born overseas or are the children of immigrant parents, so being an 'Aussie' means many different things for many different people," Nicholas Lembo said.

"At TransferWise, we believe being Australian is more about recognising where and who we are now and where we hope to go, as much as where we've come from. We wanted to put a spotlight on what Australia looks like today and the contributions immigrants make to our community."

International Towers has a bedrock of diversity. The site of the buildings was an important, thriving, traditional fishing and hunting ground, cared for by Indigenous Australians for centuries. As the modern-day custodians of this piece of land on the western shore of Sydney harbour, International Towers has a mandate to respect the incredibly rich history of the Barangaroo precinct.

"Our cultural agenda is an important facet of our commitment to diversity and an inclusive community," Mr Byrne added.

Most recently, International Towers showcased the work of renowned Indigenous storyteller, A. Professor Wayne Quilliam, coinciding with National Aborigines and Islanders Day Observance Committee (NAIDOC) Week. The exhibition entitled mali dharngurr, a Yolngu Mata interpretation meaning 'looking of voice', extended until the end of October, because of the amazing feedback from business and the community alike.

International Towers is also a strong supporter of the LGBTIQ community, providing the campaign office to the successful YES Marriage Equality campaign. The external facades of the towers were lit up purple on "Wear It Purple Day" on Friday August 31, 2018. The whole week, leading up to the day, was marked with an after-dark display to radiate Purple in support of the LGBTIQ workforce.

Community is a pillar of International Towers' culture, with the public spaces of the building used for artistic and community purpose. The year-round calendar of curated events offers cross-pollination and continuous learning opportunities to tenants and their people.
This is not the first time TransferWise has celebrated migrant contributions. In December 2017, TransferWise's "Aussies Without Borders" mobilised Australia's tech community to share their migration success stories.

| Read the amazing Faces of Australia stories here |


International Towers Contact
Jodie Taylor
Head of Marketing & Stakeholder Engagement
Tel: 0434 600 808 / Email: jodie.taylor@internationaltowers.com