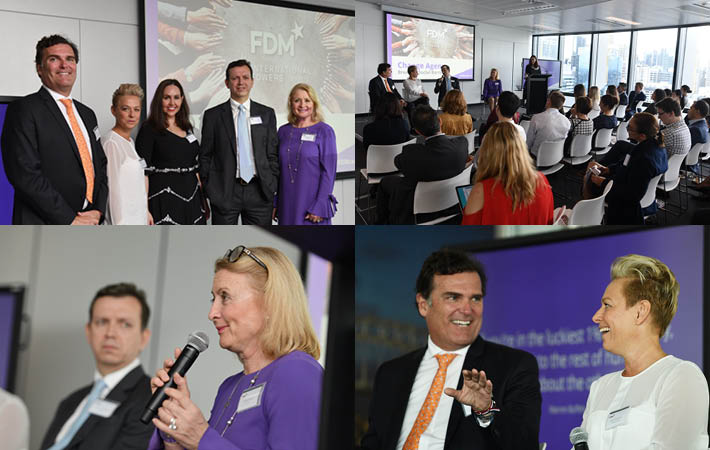 The Recruit, Train and Deploy industry market leader hosts panel discussion
Sheila Flavell, the UK-based COO and Executive Board Director of FDM Group, was a special guest at FDM's new Sydney office in International Towers, Tower Three, joining a panel discussion on breaking social barriers.
"We don't pay lip service to it, we actually walk the walk," said Ms Flavell.
Held on 4 April on Level 21, Tower Three, 'Change Agents – Breaking Social Barriers' featured insights from influential leaders Liam Timms, Fund Manager, International Towers; Richard Spalding, General Manager, Enterprise Services Finance, Commonwealth Bank; and Kylee Fitzpatrick, Founder & CEO of TEAM Women Australia – a not-for-profit using storytelling to unite women in their pursuit of living a more courageous, compassionate and confident life.
The discussion was moderated by Jodie Taylor, Head of Marketing & Stakeholder Engagement at International Towers.
"I am interested in the hidden social barriers, including being an introvert, and diversity of thought and experience," said Kylee Fitzpatrick.
The panel discussed the importance of removing bias when hiring.
"We hire for character rather than skill. When you see the right character traits it floods through an organisation and positively impacts how people will care for each other," said Liam Timms.
An emerging theme was developing strategies to create more diversity and social mobility outcomes in the workplace.
"We need to convert awareness into action. What can we do at a practical level to ensure diversity? Make sure there is a diverse set of candidates and interviewers, and watch 'high-tempo' language in the job spec which can affect people's response rates," said Richard Spalding.
With broad attendance from the business and tenant community, the thought-providing discussion was followed by a refreshing breakfast, allowing guests to enjoy the breath-taking harbour view while networking.