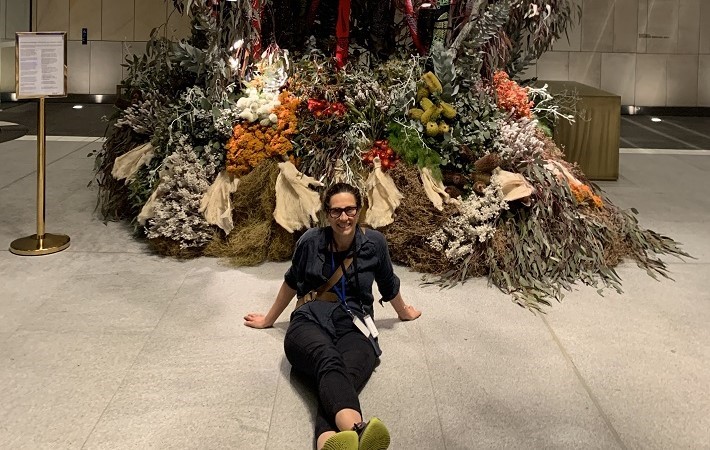 Maria Claudia. Former globe trotting model, dedicated mum, master of floral art.
International Towers tenant partners have been treated to sublimely sustainable installations from Bronte-based art florist Samambaia since we first opened the doors in 2016. The current festive season installation showcases sails, shields, and mats handwoven by members of the BULA'BULA Arts Aboriginal Corporation, using traditional techniques which highlight how our First Nations peoples have worked with and nurtured natural systems for many thousands of years.
Samambaia was founded by the marvellous Maria Claudia, a Brazilian born self-taught sculptural florist who has truly mastered her craft. While she was here onsite recently finalising her latest work, we were lucky enough to grab Maria for a few minutes to find out more about how she came to be the flower power behind the Towers.
How did you decide to become a sculptural florist?
"Completely by fluke,' smiles Maria. "I started work as a model, leaving Rio in 1989 for work in LA, which led to work in New York, Paris and around the world. I was very lucky, being able to choose where I wanted to travel anywhere in the world and easily get modelling work while I was there.
"The chance to move into floristry came years later in New York. I'd met my husband, I'd stopped modelling, and I was studying music and working at a restaurant. The restaurant kept having problems with the florist it was using, and one day I just told them I could do a much better job. They called my bluff and let me have a go, they liked what I did, so I kept doing it every week, then people started to ask who was doing the flowers, and here we are."
How did a cosmopolitan model land in Sydney?
"My first Sydney experience came after I did some modelling work in Tokyo and a colleague there told me that Sydney was 'just like Rio, but without the problems', so of course I had to check it out. Not only did I love Sydney, but I also met my husband here, and we set off together in search of professional fulfilment, spending seven years in New York.
"But after our second daughter was born and I'd stopped modelling, we decided that New York wasn't the best place to bring up the kids. After a short stint in Rio, we came back to Sydney and decided this was the right city to raise our family. That was in 2002, and I established Samambaia in 2005."
How did your friendship with the Towers bloom?
"I just love International Towers," beams Maria. "I'd been working with Malcolm [Nixon, our Head of Partnerships] since 2010 doing floral arrangements in Qantas Lounges. Malcolm and I had an excellent working relationship and closely aligned ethics, so when he made the move to International Towers in 2016 and asked me to come with him, I was all in.
"International Towers are the perfect client. Serious sustainability is at the core of everything they do, and they are incredibly supportive of Indigenous art and voices. They do what everybody else should be doing. Plus of course there are all these beautiful architecturally designed spaces to work with," adds Maria with a smile.
Any insider info on this year's installation?
"Well, there's always a cliff hanger that keeps us in suspense, and this year it was whether or not the huge Eucalyptus Caesia branches, also known as Silver Princess, would make it down from the grower's land due to flooding. But it was a wonderful ending, not only did the branches make it here, they are huge six metre specimens, two metres bigger than I was hoping for, which is particularly great for International Towers, where size is important to achieve real impact in those big high lofty spaces.
"Silver Princess is one of the most beautiful Eucalyptus species," Maria tells us as we're winding things up. "I really love the silvery white coat on some parts of the branch, it reminds of the white body paint used in Indigenous ceremonies. It dries really nicely and it's reusable, too. I once kept a Silver Princess branch for four years."
With that educational fact we let Maria continue with her day. We resolve to touch base again next year, to check how the Silver Princess is doing, and see what the 2023 cliff hanger is.
---
Scroll through some stunning photos below, read more about Maria's 2022 festive season installation, or discover more about her company Samambaia.