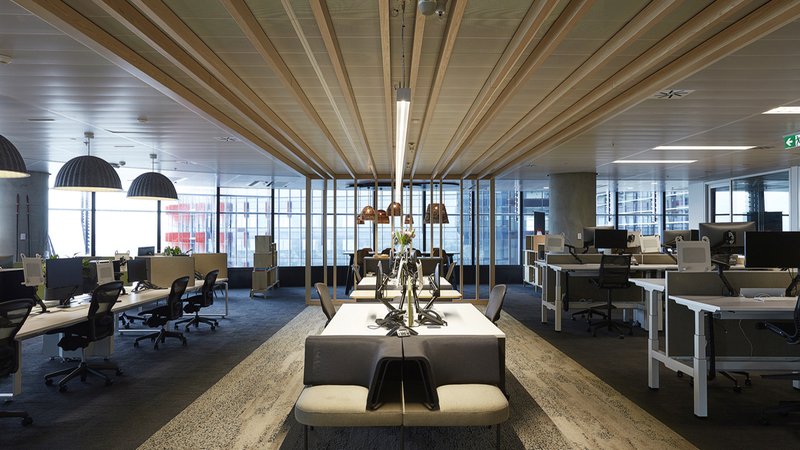 We collaborated with Geyer interior architects to create a new ecosystem
Within Two and Three International Towers, a vibrant community of connected enterprises was being developed within a highly innovative commercial 'ecosystem'.
Well over a year in the planning, and in collaboration with leading Australian interior architects Geyer, the unique workplace community model has been designed to support highly flexible, agile and collaborative working in a collective environment that fosters wellbeing and creativity.
At the heart of the model is the concept of curation – in terms of design, services and tenancy. Bringing together diverse organisations with aligned values, including a commitment to innovation, sustainability and community, creates profoundly unique opportunities for collaboration and knowledge sharing. In the process, a culture of innovation is cultivated throughout the entire community.
The workspaces have been designed to allow organisations the flexibility to expand and contract easily and efficiently as their business requires. A 'tenancy kit' of curated, bespoke workspaces allow teams to move beyond their core space into areas created to accelerate productivity, creativity and professional bumping between teams and organisations. These spaces include contemporary communal spaces, open areas for working and social bumping, high-tech meeting and workshop rooms, transparent activity rooms, and a unique, shared stairway between floors and tenancies – named the 'companionway' – which will provide opportunities for shared interactions and special events.
"This is a uniquely curated working community supported by an environment designed to inspire and optimise new and often unexpected enterprise experiences," says Robyn Lindsey, Partner, Geyer. "The design along with a strong values-based community culture that will develop out of interactivity, will bring together different organisations, their teams and individuals, inspiring new opportunities that can enhance business development, performance and personal growth and reward. It will provide tenants with enviable attraction for new and top talent and enrichment opportunities for their own cultures as it is laced with a design approach that builds on wellbeing practices and outcomes".
Supporting this ecosystem is an architectural framework created to deliver egalitarian access to natural light and views, enhancing worker wellbeing, along with a strong service culture within the buildings, based on access to advanced technology, trained support staff and concierge, and a curated program of year-round events which offer unique opportunities for education and networking for the community.
Two organisations have already joined the curated innovation community at International Towers – sustainability specialists Green Building Council of Australia, and the indigenous reconciliation movement, Recognise – and announcements of new tenant partners will be made in the coming months.
As Australia moves to position itself at a global leader in innovation, the availability of workspaces that support high-performance cultures, community collaboration and innovative thinking are essential. Says Tony Byrne, General Manager, International Towers: "We are aiming to create a knowledge sharing environment and community which has some of the buzz and social elements of an open university campus. We believe the positive impact of these elements on people's sense of belonging, wellbeing and happiness at work can be hugely significant."