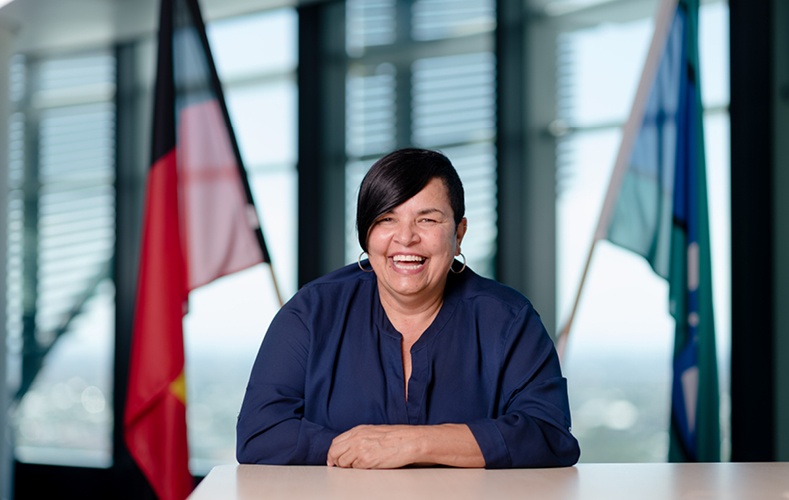 Fostering Indigenous engagement
Glenda Merritt is a community leader, and Cultural Engagement Coordinator, working with International Towers.
Part of Glenda's role is to mentor and support Aboriginal and Torres Strait Islander staff and foster a culture of inclusiveness and understanding.

"I'm a Ngunnawal Elder, I have a daughter Renee and two grandchildren Jarrad and Kyesha. I was born and raised on a mission in Yass with all my mob and I remember moving into our own home in mainstream society. In 1980, I completed Year 10 and went straight into the workforce. At the age of 17 I left Yass and my very first job was working in a fruit and vegetable market in Western Sydney.

One year later, I moved back to Yass/Canberra and enrolled in a private business college and completed a secretarial and administration course. Whilst studying, I also worked part-time in a service station in Queanbeyan pumping petrol, checking oil and checking air pressure in tyres as they did in those days.

From 1982, I commenced my career with the Public Service and my initial department was the ACT Schools Authority. I worked there for 10 years before I became more interactive within the various Australian Public Service agencies. I worked in many other Government Departments for over 20 years and during this time I held senior and executive payroll positions, which also included working as a former member of Parliament's payroll assessor, for MP Kim Beazley AC.

After leaving the Public Service, I was successful in attaining a position as the Regional Assessment Coordinator with Department of Environment & Climate Change and they also allowed me to study Conservation and Land Management and Community Facilitation, which enabled me to work on Caring for Country Aboriginal Projects for the NSW Lachlan Catchment Management Authority, which involved a lot of travelling for work, as it incorporated such a large area to focus on.

I then moved onto other projects and commenced work with ABIGROUP Construction back in Canberra as the Aboriginal Liaison Officer on the Bulk Water Alliance Enlarged Cotter Dam project and the Murrumumbidgee to Googong Pipeline Water Transfer Project. When these projects were completed, I then moved back to Sydney.

I was fortunate to commence work with Lendlease Building as the Barangaroo Site Administration Officer and was then given other opportunities, which enabled me to work as an apprentice mentor with the Barangaroo Skills Exchange.

Another opportunity for a new career pathway presented itself, to become the International Towers Aboriginal & Torres Strait Islander Engagement Coordinator. For the first couple of years I was seconded to the site's contracting company Dimeo, that provides cleaning services for the three International Towers. My role included recruitment and retention strategies for the Aboriginal & Torres Strait Islander workforce.

My secondment from Lendlease was extended in early 2018, and I've now transitioned to the International Towers management team.

As the workforce is hugely diverse, and there is a large under-representation of Aboriginal and Torres Strait Islander people in the workforce within the CBD, part of my role is to mentor and guide the diverse team and foster a culture of inclusiveness and understanding.
Our goal is to create employment for Aboriginal and Torres Strait Islander people.

Our culture needs to be understood by the wider community and this can sometimes be challenging in a traditional employment situation. As an example, we have NAIDOC week, which is an entire week of cultural celebrations. NAIDOC is an opportunity for the wider community to take the opportunity to become more educated in our culture and its diversity and what it means to us.

We are so fortunate that International Towers supports our need to take this time and celebrate our history and our future. But many within the community don't understand what it's about, so it's engaging with the whole community, and educating them about things that are meaningful and important within our culture. It's about people and the richness of cultures and we can work together within this one environment, feel valued, understood and appreciated, and have a place to work and feel safe.

We've come such a long way. There has been so much ignorance attached to the Indigenous cultures of our land for so long, it's still taking time to dispel misconceptions and myths about our people and there's still so much more educating that needs to be done.
Throughout my journey, gathering life skills and job opportunities my literacy and numeracy only progressed over many years from my own developments and willingness to learn, self taught. I have been able to identify my own weakness and challenges by breaking down my fears, overcoming barriers and becoming a successful Indigenous leader in my community and in the workforce.

Personally, for me this is a very special place to work, as I was a part of its growth. Barangaroo is named after a very powerful Aboriginal woman, this place is unique and the people here are so friendly, it's really exciting to be a part of a new creative precinct for Sydney, especially when I was one of the first females to work in the construction zone on this site, to now being a part of the corporate environment."