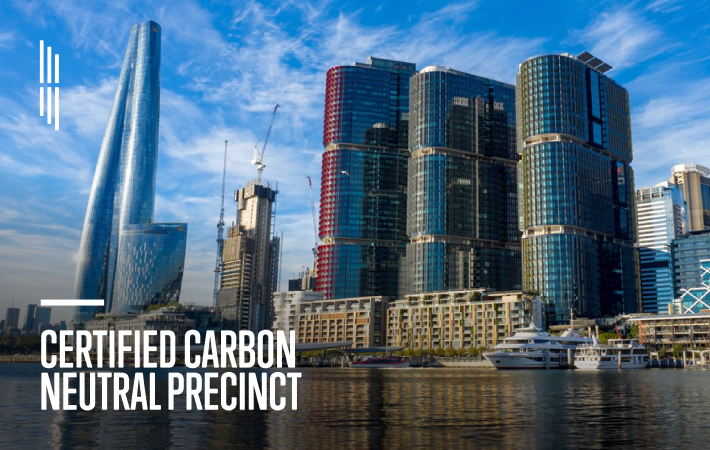 For the third year in a row, the Commonwealth Government's Climate Active program has certified Barangaroo precinct as Carbon Neutral
Barangaroo has been independently certified as Carbon Neutral for the third year running. Awarded by the Commonwealth Government through their Climate Active program, Barangaroo remains the only certified Carbon Neutral precinct in Australia. The environment is everything at International Towers and we are incredibly proud to have played our part in achieving this excellent result.

Some examples of Barangaroo initiatives include:
Ensuring the energy-efficient design of buildings and tenancies. International Towers has achieved the highest level of green building certification from the Green Building Council of Australia.


Installing 6,000sqm of onsite solar panels on building rooftops. The energy generated by these solar panels equates to the energy needed to power the public domain lighting of Barangaroo South and recycled water treatment plant in the Precinct's basement.


An extensive 20 waste stream recycling obligation for all residential and commercial tenants, diverting 80% of operational waste from landfill.


A District Cooling Plant that uses water from Sydney Harbour as opposed to drinking water for cost-effective and energy-efficient air conditioning to all buildings in Barangaroo South. This removes the biggest single demand for water use in conventional commercial buildings by operating one centralised cooling system rather than separate systems for each building. The District Cooling Plant saves approximately 1 Megalitre of drinking water per day.


Embedding sustainability and climate positive commitments in all development and tenancy agreements across the Precinct as a whole.


As part of achieving a certified carbon neutral outcome, Barangaroo has adopted a best practice approach to carbon offsetting. In 2021, 100% of electricity usage was offset with Renewable Energy Certificates generated by NSW-based facilities. All residual emissions were locally offset by supporting NSW-based Human Induced Regeneration Projects. These projects work with landholders to regenerate and protect native vegetation.
Barangaroo's Carbon Neutral certification reinforces the precinct's status as a world-class example of sustainability and climate-positive design, setting a new standard in urban renewal, and International Towers is committed to ensuring we continue to be recognised as a champion of the environment.