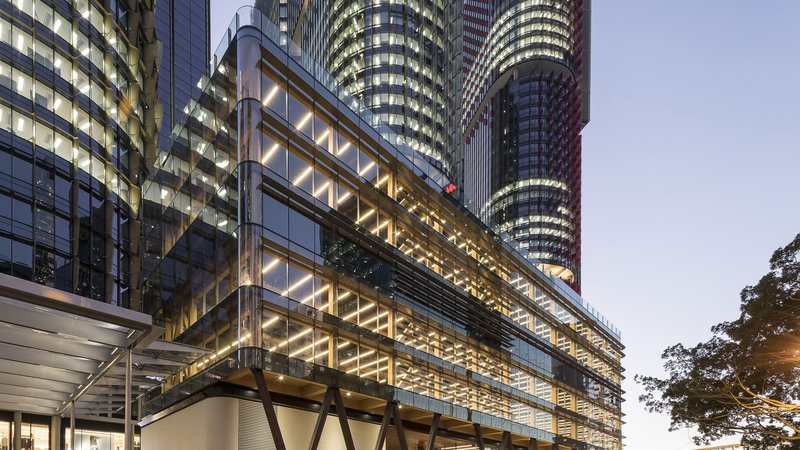 Australia's first engineered-timber commercial building joined International Towers at Barangaroo
Representing a milestone in the completion of the Barangaroo South Precinct, International House, Australia's first engineered-timber commercial workspace, is now completed.
Designed by multi-award winning architects Alec Tzannes and Jonathan Evans of Tzannes and Associates, International House is situated at the western entrance to Wynyard Walk, and presents a design envy facade to the backdrop of Two and Three International Towers.
Use of the exposed wood produces a connection with the waterfront land that International House is built on, and the heritage of the maritime economy that once dominated Barangaroo.
The wood, which is both recycled hardwood and sourced from certified, sustainably managed forests, is engineered to create cross-laminated timber (CLT) and glue-laminated timber (glulam) with strengths to match steel. Easier to work with on-site, and quieter in its construction, the engineered-timber frame contributes to the green credentials of International House. With a carbon footprint up to 60 per cent lower than materials such as steel and concrete more commonly used to build commercial buildings of this type, it exceeds the 5-Star NABERS Energy Base Building rating, is a 6-Star Green Star Office Design and achieves an As Built (v3) rating. Barangaroo South aims to be a carbon-neutral community.
Beyond its sustainability credentials, International House benefits the community by first benefiting the individual. The building has a warmth and tranquility that can only come from the use of natural materials and diffused light, resulting in a platform to promote a culture of change and ultimately drive sustainable growth.