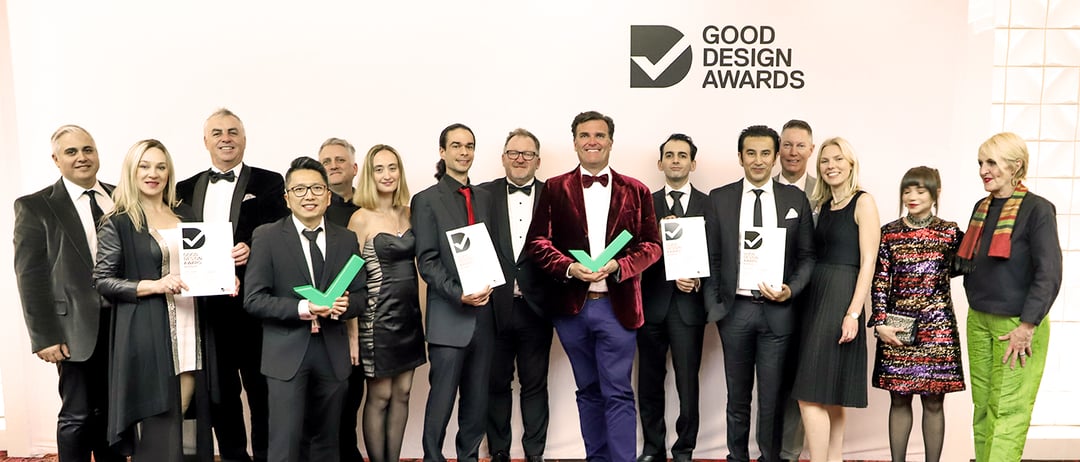 12 July 2019, Sydney AUSTRALIA: The International Towers Digital Experience has been recognised with a Good Design Award in both the Digital Design Interface and the Digital Design Apps and Software categories in recognition of outstanding design and innovation.

The annual Good Design Awards is Australia's most prestigious international Awards for design and innovation with a proud history dating back to 1958. The Awards celebrate the best new products and services on the Australian market, excellence in architectural design, engineering, fashion, digital and communication design and reward emerging areas of design strategy, social impact and design entrepreneurship.

Designed in collaboration with 42 Interactive, the International Towers Digital Experience is an Australian-first, scalable digital estate management ecosystem which centralises workplace services for more than 20,000 professionals who are part of the International Towers diverse community of tenant partners, tenant employees and Barangaroo visitors. The digital platform has the capability to service not only the Barangaroo Community of professionals but also is accessible for visitors and friends of Barangaroo. International Towers' tenant community includes innovation leaders such as: KPMG, Gilbert + Tobin; Swiss Re; Lendlease, Westpac Group, Visa, FDM Group, the Green Building Council of Australia (GBCA), Indigenous performing arts company Bangarra Dance Theatre, Facebook and global fintechs CMC Markets and OnMarket.

Dr. Brandon Gien, CEO of Good Design Australia said: "Receiving a Good Design Award at this level is a significant achievement given the very high calibre of entries received this year."

"Australia's Good Design Award is more than a symbol of design excellence, it represents the hard work and dedication towards an innovative outcome that will ultimately improve our quality of life. These projects showcase the brilliance of design and the potential it has to improve our world," said Dr. Gien.

International Towers General Manager, Mr Tony Byrne said the initiative was an Australian market-first in its ability to integrate real-time multi-layered data and communication from multiple stakeholder groups: property management, tenants, suppliers, tenant employees and visitors.

"One of the greatest challenges for organisations is efficiently communicating with their people and creating effective tools to improve performance and the workplace experience. Multiple content types must be disseminated daily, including health and safety, operations, emergency announcements, education and news. Organisations currently use a combination of online and off-line tools - websites, portals, apps, intranets, newsletters and email - complemented with hardware such as access cards for lifts and non-public workspaces.

"The challenge was to create a digital platform that would act as a single portal for all content relating not only to the organisation, but to the wider public domain. This platform is a living ecosystem for International Towers tenants, suppliers and their teams which offers a connected, engaged, customer experience and creates many layers of operational efficiency," said Mr Byrne,

The multi-level access, cloud-based platform and app offers hyper-personal workplace services such as on-boarding, training and cultural awareness programs, security, transport and parking, and a one-stop-shop for transactions related to asset management, building policies and procedures, and other operations issues. It also offers an engaging, front-end portal centralising community content, such as local events, exclusive reward programs, local retail offers and services, and tenant on-boarding services.

The community can access the International Towers services using the mobile app, available via both Android and iOS devices. This provides access to a mobile access pass, an innovative technology that allows people to use their phones as an access card. The community can also access the same services via the International Towers Partners Portal on their desktop.

The Good Design Awards Jury praised International Towers Digital Experience commenting:

"The app, software and underlying platform are really strong and useful. Overall the appropriate design aesthetic is clean and professionally well chosen. The digital services are impressive and would undoubtedly have had many challenges. The thoughtfulness in the services were great to see," said Dr Glen.

"A combined digital service for operations between building management and business occupants. Much of the benefit of the app is that it uses native functionality (people's phones) as authentication for various services (e.g. deliveries, entrance to secure carparks), and uses the website as a news and events portal. Nicely executed, with a modular navigation system (no doubt having to cater to different permission groups with different view/management permissions). The visual integrity of the site is strong, and an appropriately clean and professional aesthetic has been applied well. An app with great features and services," Dr Glen added.

The Good Design Awards attracted a record number of submissions with close to 700 design projects evaluated in this year's international design awards.

The Good Design Awards Jury spent several days evaluating each entry according to a strict set of design criteria which covers 'good design', 'design innovation' and 'design impact'. Projects recognised with a Good Design Award must demonstrate excellence in all areas and convince the Jury they are worthy of recognition.
Media information:
Fleur Brown +61 419 270 863
fleur@launchgroup.com.au
About Good Design Australia and Australia's Good Design Awards
Good Design Australia is an international design promotion organisation responsible for managing Australia's annual Good Design Awards and other signature design events. With a proud history that dates back to 1958, Good Design Australia remains committed to promoting the importance of design to business, industry, government and the general public and the critical role it plays in creating a better, safer and more prosperous world.

| Find more about Good Design Australia |