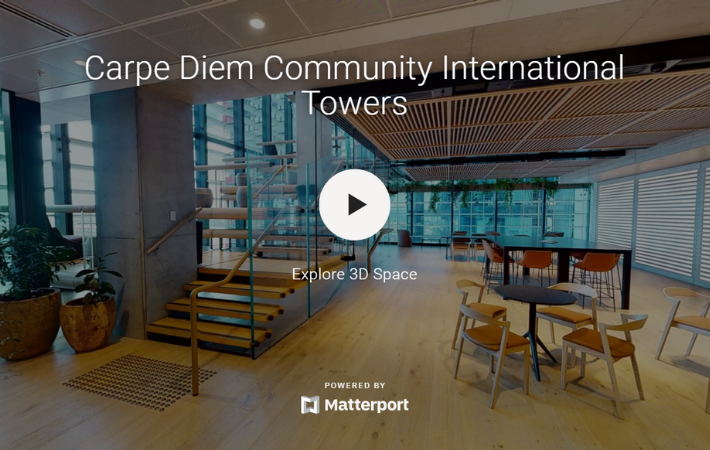 Architectural Design Interior Design and Design Strategy categories
International Towers is thrilled to once again be a recipient of two Good Design Award Winner accolades. Our Carpe Diem Community – Levels 30 and 31, Tower Two has been recognised as the best in the Architectural Design Interior Design category and also the Design Strategy category, in recognition for outstanding design and innovation.

The Good Design Awards Jury praised Carpe Diem Community, International Towers, commenting: "A good example of a progressive working environment that looks to support small-scale enterprises with a great contemporary workspace enabling flexibility, shared resources and a focus on wellness. And a great example of a cohesive design strategy focused on human needs. Good design leadership to advance the thinking on future of workplaces - noting it is an interesting time to see how this works given the pandemic. Built on evidence and inspiration and has good potential for impact. The environment created here is timeless, sophisticated and above all enduring."

The Carpe Diem Community on Levels 30 and 31 – currently home to Green Building Council Australia, Royal Institute of Chartered Surveyors, OnMarket and DataMesh – is a watershed in the design and delivery of workspaces and completely new concept in commercial real estate. Built over two levels at International Towers, Barangaroo, it's a contemporary environment of ten, pre-fitted workspaces that provide smaller enterprises with a world-class environment of timeless beauty and enduring quality.

The 2020 Good Design Awards attracted a record number of submissions with an astonishing 835 design projects evaluated in this year's international design awards. More than 55 Good Design Awards Jurors evaluated each entry according to a strict set of design criteria which covers 'good design', 'design innovation' and 'design impact'. Projects recognised with a Good Design Award must demonstrate excellence in good design and convince the Jury they are worthy of recognition at this level.

Australia's annual Good Design Awards is Australia's oldest and most prestigious international Awards for design and innovation with a proud history dating back to 1958, and the primary vehicle in promoting the importance of design to business, industry, government and the general public and the critical role it plays in creating a better, safer and more prosperous world.

Dr. Brandon Gien, CEO of Good Design Australia said: "Receiving a Good Design Award is a significant achievement given the very high calibre and record number of entries received in 2020."

"There's no doubt it has been a really tough year for everyone so it's nice to be able to share some good news for a change. The projects represented in this year's Good Design Awards shine a positive light on our creative and innovative capacity as human beings. These inspirational winning projects give me hope and optimism that our design community will continue to innovate, no matter how challenging the world around us is," said Dr. Gien.

"Australia's Good Design Award is more than a symbol of design excellence - it represents the hard work and dedication towards an innovative outcome that will ultimately make our lives better. These projects showcase the shear brilliance of design and the potential it has to improve our world," said Dr. Gien.