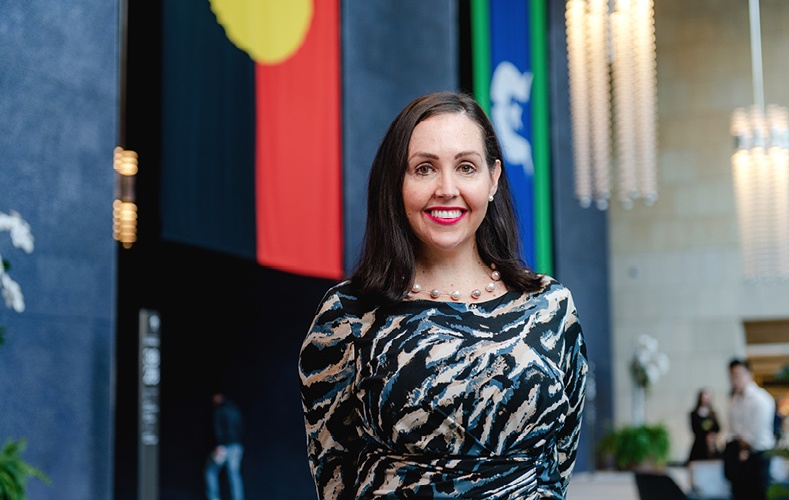 The Green Building Council of Australia sat down with our Head of Marketing & Stakeholder Engagement, Jodie Taylor
The Green Building Council of Australia sat down with International Towers' Head of Marketing & Stakeholder Engagement, Jodie Taylor, to learn more about her incredible career and Indigenous heritage.
Can you tell us about your Indigenous heritage?

"My Aboriginal heritage comes from my mum, and we are descendants of the Warramunga people in the Northern Territory. My grandfather was sent away to boarding school in Victoria when he was just five years old and was never afforded the opportunity to learn about his culture, so he grew up with a sense of indifference about his Aboriginality – until embracing his identity later in life.
I've been incredibly fortunate that since commencing my career through an Indigenous journalism cadetship with the ABC in 1995, I've been afforded diverse opportunities to learn about my culture with direct exposure to some of the remarkable Aboriginal and Torres Strait Islander leaders who courageously paved the way for the younger generations. Pat Dodson certainly played an instrumental role in helping me understand the path to reconciliation and how I could contribute, and was extremely generous with his time while I was a young reporter working to navigate the broader context of political activity."
What does NAIDOC Week mean to you?
"NAIDOC Week for me has always been a time for deep personal reflection. I was the ABC's NAIDOC Week Events Coordinator in Canberra for three years, and I found it extremely rewarding to showcase the diversity of our culture while leveraging opportunities to highlight social justice issues, address cultural misconceptions, and promote engagement across the wider community.
I feel an indescribable sense of pride coming to work each day and seeing the Aboriginal, Torres Strait Islander and Australian flags hanging together in unity in the foyers across International Towers. Bangarra Dance Theatre has just joined our community, and I'm excited about the scope of collaborative projects we have planned for NAIDOC Week and beyond."

As an Indigenous woman, how has industry empowered you to succeed in your career?
"While my career has been diverse, I'm essentially a storyteller at heart. I've always sought opportunities to utilise my communication skills to educate and engage people in complex issues. The ABC provided a strong platform early in my career, routinely gathering all Indigenous staff across the country for three-day conferences so we could foster relationships and have our say in the way cultural issues were reported via the ABC's channels.
The ABC was very progressive about its approach to developing talent, and I was lucky to have exposure to a wide array of opportunities across radio and television.
I took leave from the ABC to work as Aden Ridgeway's Media Advisor during his first few months in the Senate as Australia's only Indigenous Federal politician in 1999, before working with the late Tiga Bayles, former NSW Land Council CEO, on the National Indigenous Radio Service Network's live news and event broadcasts during the 2000 Sydney Olympics.
These experiences no doubt shaped my career, and led me to work with other amazing organisations such as International Towers, Qantas, Virgin Australia and Gilbert + Tobin."
Have you come across any challenges along the way?

"I've always seen challenges as opportunities to drive change. One of the biggest lessons I've learnt over my career is to align yourself with people and organisations that share your core values and consistently demonstrate that commitment. When I worked at Qantas, I noted that there was limited representation across the airline's Flight Operations despite a genuine commitment to engage Aboriginal and Torres Strait Islander people in flying positions – so I proactively pitched the concept for the airline's now successful Indigenous Cadet Pilot scholarship and worked directly with Qantas' Chief Pilot to fast track the initiative."
How can RAPs help businesses build on Indigenous engagement?
"Reconciliation Action Plans provide a structured 'roadmap' for businesses to clearly define their objectives, engage the right people and track progress. It's crucial to have clarity on what you are trying to achieve, so you align your activities and embed accountability mechanisms along the journey. I believe attracting and retaining top talent essentially comes down culture, and investing in a solid strategic foundation is a crucial investment."
What can we do better to empower Indigenous women, both at work and in the wider community?
"Having a strong and supportive network is incredibly important, and most businesses now recognise that structured mentoring programs only touch the surface. It's important that we continue to create opportunities to collaborate and celebrate the accomplishments of women at all levels– while providing flexible forms of support to reflect the modern demands of juggling work and family commitments."