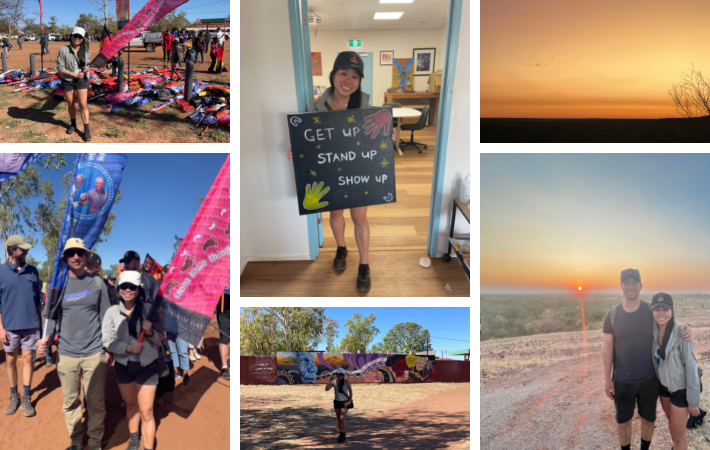 Elaine from TAL followed our Rainbow Serpent Trail and won a dream trip to the Northern Territory
Like so many of you, Elaine from TAL took some time to follow the Rainbow Serpent Trail through the International Towers lobby areas in celebration of NAIDOC Week back in July. Along the trail tenant partners explored seven events that changed our journey toward reconciliation, from Invasion and the Frontier Wars that ensued, through to today's commitment to the Uluru Statement of the Heart and an enshrined voice to parliament.
After the experience, visitors were asked seven questions about what they saw and anyone who took part went into a draw for a stunning $5,000 trip to the Northern Territory, coinciding with the 56th Freedom Festival on the weekend of 26th – 28th August 2022.
Elaine was the lucky winner and she tells us all about it here.
What does NAIDOC Week mean to you?
Racism is very real. As an immigrant I have experienced it firsthand, so I can relate to the injustice and pain First Nations peoples go through.
I respect lived experience speakers like Adam Goodes. I am very fortunate to have had a few encounters with him, hearing his stories and learning about his struggles against racism as an aboriginal AFL player in modern Australia.
Did you learn anything new on the trail?
Yes, there's lots I learned as I was not born in Australia. It was particularly heartbreaking to learn what the Aboriginal communities went through, especially during the Frontier Wars.
The trip was for two people, who did you take?
I took my good friend of 15 years to be my protector, my muscles, and my light. Things are better when he's around :)
Did you attend the Freedom Day Festival?
Yes, we did. We were very privileged to be part of this enchanting cultural experience to celebrate Aboriginal Land Rights and how unity will deliver a positive future. It's an eye-opening experience.
Aside from the festival, what was the highlight for you?
The sunrise and sunset are amazing. The peacefulness of the country when dawn breaks is simply phenomenal.
Elaine joins the long list of tenant partners who have had life-changing experiences, thanks to winning an International Towers competition.
To make sure you don't miss the next competition, always read our regular Monday newsletter, keep an eye on our socials, and make sure you're a member of our award-winning digital resources platform, the Partner Portal.