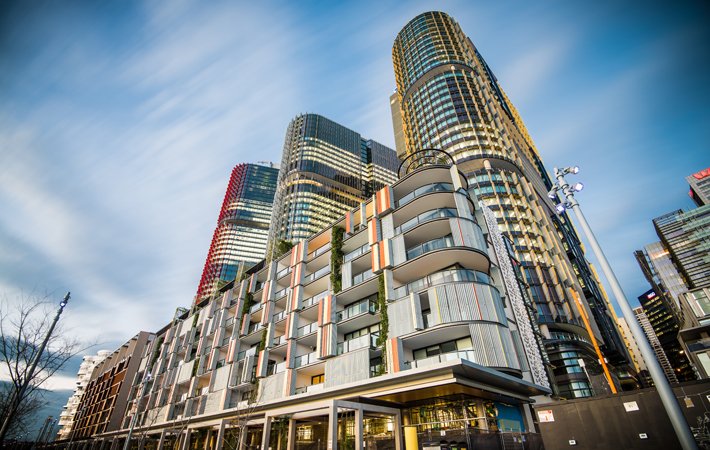 Responsible Property Investment
Lendlease International Towers Sydney Trust (LLITST) is a A$3.2 billion trust, established in 2012. It holds a 100% interest in the first two commercial towers constructed by Lendlease at Barangaroo South, being Two International Towers and Three International Towers. The Fund also holds a 100% interest in Australia's first engineered timber office, International House Sydney, also at Barangaroo South.
Barangaroo South is an urban regeneration project located on the last major waterfront site in the Sydney central business district (CBD). When complete, it will include three major office buildings, 800 residential apartments and a world class hotel situated next to waterfront parklands.
The towers are developed and constructed by Lendlease to a Premium grade standard, offering tenants leading environmental credentials.
Each tower is designed to take advantage of the outstanding harbour-front location, to achieve 6 Star Green Star Design ratings and target 5 Star NABERS Energy and Water ratings.
Tower Two is a 90,111 sqm premium grade office tower, with 41 levels. Tower Three is a Premium grade, 38-level office tower of 82,431 sqm.
International House Sydney is a sustainable office building with 6,850sqm NLA across six-storeys. The asset is constructed from Cross Laminated Timber (CLT) and glue laminated timber (Glulam), which hold lower carbon footprints than other building materials, the production process produces zero waste, and timbers are sourced from certified sustainably managed forests.
The precinct is directly connected to the CBD via the Wynyard Walk, a pedestrian link constructed by the NSW Government.
Responsible Property Investment
LLITST has a vision to be recognised as the global leader in responsible property investment. It acknowledges the sustainability aspirations of the broader Lendlease Group and is aligned with Lendlease's key sustainability objectives.
The Fund has had a Responsible Property Investment strategy in place since 2016.
Global Real Estate Sustainability Benchmark (GRESB)
LLITST has participated in GRESB survey since 2014. In 2016, for the third year running, the Fund has achieved the number one global ranking in the Developer Assessment category in the Global Real Estate Sustainability Benchmark (GRESB).