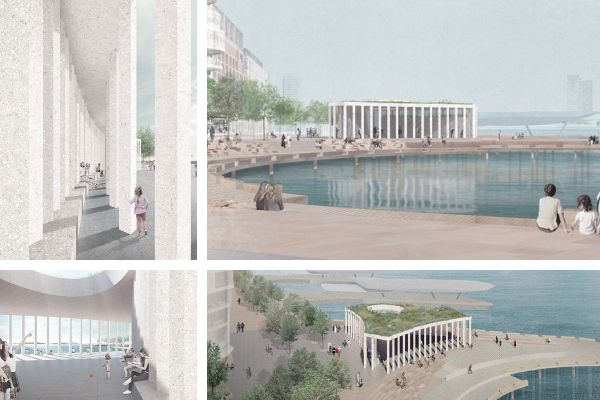 The winning Pier Pavilion design
The winning Pier Pavilion design by architect Jessica Spresser, in conjunction with Peter Besley is set to become an iconic landmark and a valuable contribution to the world-class architecture of Barangaroo.
Opened in June 2020, the national design competition received strong interest from Australian architects with over 170 entries. The competition jury then narrowed this list down to five finalists, and after careful review and deliberation, selected the winning design.
The Pier Pavilion celebrates the natural elements of land, sea and sky that compose the site. It was selected by the competition jury for its timeless appeal and relationship to its surroundings.
The carefully considered design allows the site to be used for a broad range of programmed events and be open year-round for people to gather and relax at Sydney's iconic harbour.
The Pier Pavilion will be located on the prime waterfront setting at Watermans Cove, and is part of the NSW Government's commitment to ensure more than half of Barangaroo is high quality and accessible public space.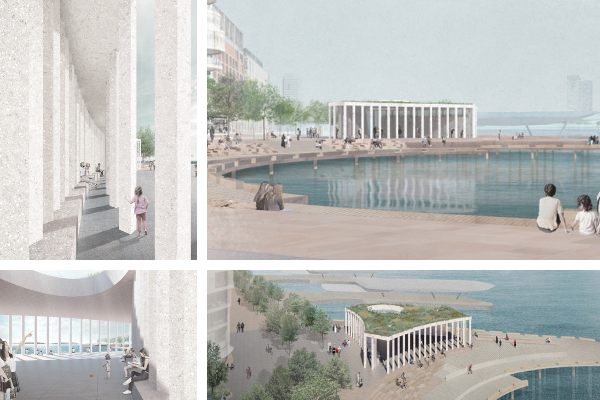 About SPRESSER
Jessica Spresser is an emerging Australian architect. Her studio SPRESSER engages with built and speculative architectural work, object design and fine art. She has practiced in London, Tokyo and Venice, including with the internationally recognised architects Junya Ishigami, Kengo Kuma and Anupama Kundoo.
About Peter Besley
Peter Besley is an architect based in London and Brisbane. He formerly led Assemblage which he co-founded, and taught at the Bartlett School of Architecture. Peter led the design and execution of a string of high-profile competitions and projects including the winning $1Bn Iraq Parliament design and £70M Design District in London UK. Peter's "Couldrey House" in Brisbane was recently Highly Commended in AR House 2020.
About the competition jury
A competition jury comprising of leading figures in the Australian architectural community was formed to select the five finalists and decide on the competition winner. They valued design ideas that embraced Barangaroo's commitment to design excellence, world-class public spaces and sustainability.
Competition jury members:
Robert Nation AM, Barangaroo Design Advisor
Bridget Smyth, City Architect / Design Director, City of Sydney
Abbie Galvin, New South Wales Government Architect
Peter Poulet, Professor of Practice (Architecture), Western Sydney University
​​​​​Kim Crestani, City Architect, City of Parramatta
All images of the Pavilion design are copyright of SPRESSER, Peter Besley.