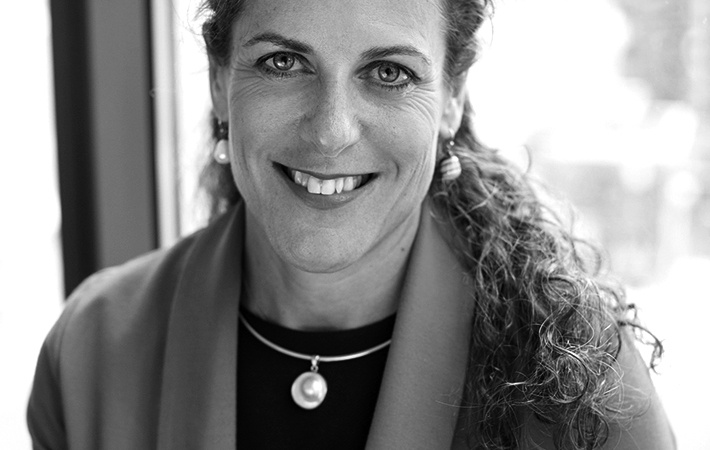 Interview with Romilly Madew CEO, Green Building Council Australia
By 2030, our biggest cities will almost double in size as our population swells to an estimated 30 million people. Our cities are the engine rooms of the economy – and so building places that are dynamic, inclusive, liveable and sustainable is essential for thriving societies and our future prosperity.
Romilly Madew has been a pioneer and advocate for sustainable building for her entire career. In 2015, she was awarded the International Leadership Award by the US Green Building Council in Washington, and made an Honorary Fellow by the Planning Institute of Australia. During her long service as a board and executive committee member of the World Green Building Council, Romilly drove the global efforts of over 75 green building councils around the world. She sits on the federal government's Cities Reference Group and is Deputy President of the Australian Sustainable Built Environment Council.
How did you come to be involved with Green Building Council Australia?
I completed a Bachelor of Agricultural Economics at Sydney Uni, although my mother always said I completed a degree in rowing. I decided to undertake my thesis on a cost benefit analysis of a Land Care Project in Western NSW – to the angst of my Professor who did not think Land Care would ever be relevant. This sparked my interest in sustainability. After a stint as the executive director of the Property Council in the ACT,
I joined the Green Building Council of Australia as its CEO in 2006 and also took on responsibility for sustainability nationally at the same time the GBCA was being established. Peter Verwer, CEO of the Property Council at the time, was on the board of the GBCA, which resulted in me being involved in a number of projects for the fledgling organisation in Canberra before I started working for GBCA in 2005 to write "The Dollars & Sense of Green Building".

Sustainability is now a key consideration in the development of buildings, but this wasn't always the case. When did sustainable design reach a tipping point, and what were the main triggers to this happening?
In Australia, the green building movement only gained momentum after the Sydney Olympics in 2000 received worldwide recognition as the first 'Green Games'. With venues and facilities that established new benchmarks in design excellence and best practice sustainability, Australia's property and construction industry demonstrated that green buildings were achievable.
But at the time, the industry had few metrics or agreed methodologies to measure green buildings, and few assessment tools or benchmarks of best practice. There was no organised approach to knowledge-sharing or collaboration. Nor was there any way for the industry to promote or profit from green building leadership.
In 2002, a group of green building pioneers recognised the need for an independent organisation to develop a sustainable property industry in Australia and drive the adoption of green building practices.
The following year, in 2003, the GBCA launched Australia's first holistic environmental rating system for buildings, Green Star.
The tipping point occurred around the mid-2000s when local and state governments began mandating NABERS and Green Star, tenants were demanding green space, the Stern Review, Al Gore's Inconvenient Truth, the then PM John Howard initiated a review into an emissions trading scheme and the ratification of the Kyoto Protocol of 1997.
This drove the industry to take a leadership position in sustainable design and construction. GBCA went from a team of nine in 2006 to 43 in 2009. The number of rating tools developed went from Green Star Office Design in 2003 to eight different rating tools in 2009. The demand for tools, education and collaboration was unrelenting.
Since then, Australia has certified more than 1,460 Green Star projects. A whopping 37 per cent of the nation's office space is Green Star certified, and five per cent of the workforce head to a green office each day. More than 40,000 people live in certified apartments, and an eye-watering 1.3 million people visit a Green Star shopping centre each day.
And, turning a full circle, I'm now a board member of the Sydney Olympic Park Authority, and am working with a fantastic leadership team that is determined to ensure these facilities continue to deliver leading edge sustainability outcomes for decades to come.

How did the need for sustainable practices disrupt the traditional approach to building and planning?
Sustainable thinking has disrupted the way the entire industry thinks about building. We no longer think about 'a building' in isolation (and about the return on investment). The leaders see every development as an opportunity to deliver better outcomes for the environment, for the people who use the building and for the entire community. Barangaroo is an outstanding example of this. The precinct has Green Star – Communities certification. All the buildings will achieve Green Star Design and As Built ratings, and more than 70 tenancies will achieve Green Star – Interiors ratings.
"Sustainable thinking has disrupted the way the entire industry thinks about building. We no longer think about 'a building' in isolation (and about the return on investment). Leaders see every development as an opportunity to deliver better outcomes for the environment, for the people who use the building and for the entire community." Romilly Madew.

What are the core ingredients to a truly sustainable building?
The Green Star rating system assesses buildings against nine environmental impact categories: management, indoor environment quality, energy, transport, water, materials, land use and ecology, emissions and innovation.

Explain the role of the GBCA in nurturing an understanding and commitment to sustainable building.
Our purpose is to lead the sustainable transformation of Australia's built environment. To do this, we:
RATE the sustainability of buildings and communities through Australia's only national, voluntary, holistic rating system – Green Star
EDUCATE industry and government practitioners and decision-makers, and promote green building programs, technologies, design practices and operations
ADVOCATE policies and programs that support our vision and purpose.

Which cities around the world do you think are delivering meaningful sustainability, and how does Sydney fare?
It depends on what is being measured, whether it's the whole city or local government area. Singapore is aiming to be the greenest city, as is Vancouver. Zurich, Stockholm and London also top sustainable city indices, as do Frankfurt, Copenhagen, Amsterdam, Berlin, Hong Kong and Melbourne.
Australian cities fare very well when it comes to sustainability. In some sectors, like the commercial office market, we have a higher ratio of green-rated space per capita than any other market in the world – even the United States.
This is backed by the Global Real Estate Sustainability Benchmark (GRESB) report, which in 2016 found Australia's property market continues its "unbroken streak of global leadership" and is the world's most sustainable. GRESB surveyed a record 759 real estate companies and funds, representing more than 66,000 assets and AUD $3.7 trillion in gross asset value. In 2016, the average GRESB score of companies and funds in Australia/New Zealand was 74, compared with the global average of 60. This is the result of sustained collaboration, knowledge sharing and a willingness to take risks.

How will sustainability continue to disrupt thinking around green buildings, cities and communities? What is the future of "green"?
I'm confident that our future will be green. The definition of this though maybe different for different audiences. I can see a future in which zero carbon buildings are found in every street and suburb of Australia – these buildings will be energy efficient and cheap to operate. Looking broader, energy efficiency will become our way of life. Electric charge points and e-bike sharing schemes will be the norm.
Precinct-wide energy generation systems, like that currently being trialled at Barangaroo, will turn our cities into large-scale energy storage systems. There won't be a blue-chip company in the land that will operate from a building that is anything less than carbon zero, because tenants will understand that their workspace is not just bricks-and-mortar, but a symbol of their social license to operate, and an engagement tool to support staff.

Your recent decision to make International Towers your home is significant - possibly the highest endorsement a building or precinct could have on a sustainability level. What were the key factors in making that choice?
Late last year, we approached more than a dozen of our members to explore our requirements – which included timing, floor space size, costs and Green Star certification. After carefully considering each proposal, we have chosen Barangaroo South's International Towers, Tower Two and its next generation office space. We are excited to be moving into a business community anchored in diversity, high performance, wellbeing and innovation – characteristics that we believe are pillars of a sustainable future.

How will you be working with tenants within International Towers?
Many of the tenants within International Towers are members of the GBCA. We look forward to working with them collaboratively to continue to transform the built environment.
View or Download the full publication and read about more disruptive entrepreneurs