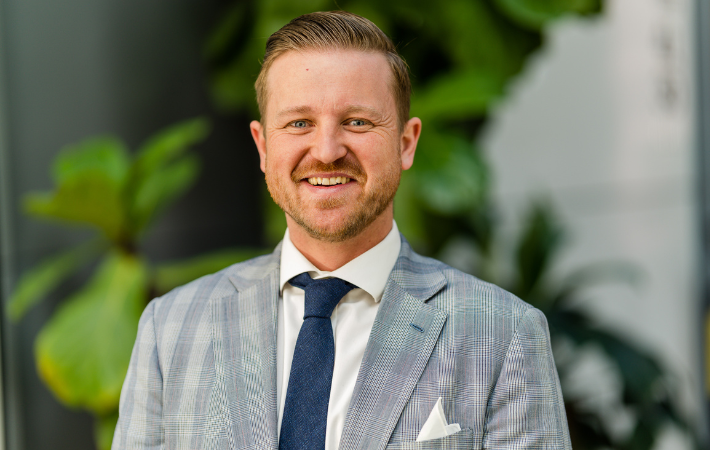 All of us at International Towers are delighted to see our resident eco-engineering guru, Luke Brown, step up into the role of Head of Engineering, Sustainability and Operations.
Luke and his team play a pivotal part in the delivery of positive environmental, social and governance (ESG) outcomes across the precinct.
Luke's dedication to sustainability, his drive to deliver constant service enhancements, and his highly professional yet ever affable disposition are legendary among colleagues and clients alike - and it's these valuable, powerful attributes that make Luke the perfect choice to lead our engineering and sustainability innovation into the future.
And what a sustainability-fuelled future it will be, just look at this snapshot of Luke's to-do list:
Keep us water positive. International Towers maintains enough recycled water for the entire precinct. Luke and his team will ensure the program continues to run like clockwork, serving toilet flushing, irrigation, washing machines, car washing and fire sprinklers with 1 million litres of capability.


Continue our carbon neutral journey. Barangaroo is officially recognised as Australia's first large-scale carbon-neutral community. Luke will be leading a continuing program of extensive collaboration and stakeholder engagement in pursuit of our sustainability goals.


Maintain our #1 GRESB ranking. GRESB is an industry-led organisation committed to independent evaluation of the sustainability performance of real estate portfolios by measuring environmental, social and governance. Luke will continue to be a driving force in ensuring we keep our #1 ranking.


Curate our 6 Star Green Star workspaces. Green Star is Australia's highest standard of quality in design, construction and operations for sustainable buildings and fit-outs. International Towers has been proud to be awarded the maximum 6 Star rating for some time now, and Luke will be making sure it stays that way.
It's a well-known fact that Luke's whole family live, eat and breathe sustainability – the legend goes that son Charlie knew that his banana skin needed to go in the organic waste before he was four years old – and we are over the moon to have such a committed environmental champion at the helm of our engineering operations.

A more little-known fact is that Luke took quite a few promising steps down the path toward becoming a professional golfer in his younger years. But luckily for us, he chose to dedicate his working life to a much more meaningful type of green.