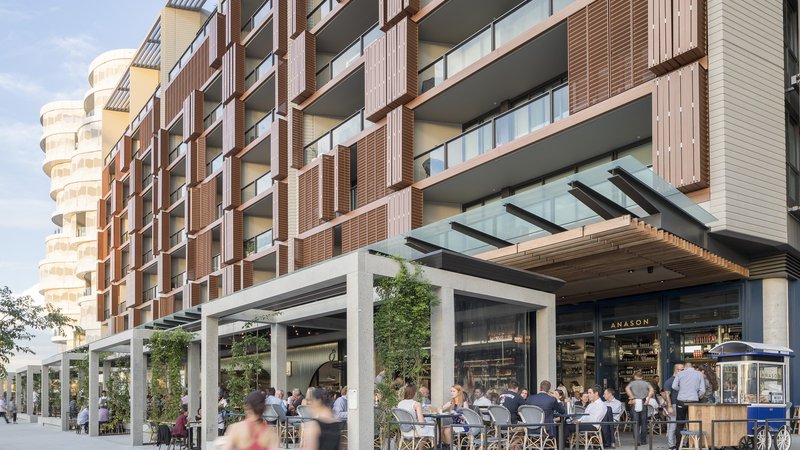 Discover Sydney's newest food, work and lifestyle precinct
As Greater Sydney becomes increasingly familiar with its entirely new city neighbourhood on the harbour, those that experience Barangaroo every day – workers, residents and visitors – are still making fresh discoveries as the precinct continues to evolve and grow.
The Streets of Barangaroo is home to a highly curated and well-considered collection of stores and services, designed to make the new precinct as self-sufficient and convenient as possible. In fact, there is considerable science and research behind this wonderfully choreographed neighbourhood. The 'Three-Minute Worker Model' suggests that people live a much more satisfied, efficient and happy existence when the majority of their daily needs can be met within a three-minute walk from their office. Interestingly, the research defines "needs" as an even combination of things we need for both physical and social satisfaction. Easy access to a doctor and pharmacist shares equal priority with an ace barista and skilled pilates instructor.
Some of the city's most celebrated chefs and restaurateurs have transformed The Streets into what is being described as "Sydney's new food scene". An entirely new waterfront dining precinct comprising twelve restaurants – ranging from award-winning fine diner to authentic casual tuckshop - is now serving ravenous city workers and Sydney foodies lunch and dinner daily. Ten additional restaurants and cafes dotted throughout the precinct, mostly along the neighbourhood's key promenade, Barangaroo Avenue - and there are more to come.
The Streets of Barangaroo is also hosting a bespoke range of fashion and accessories brands, led by a world-first David Jones concept store and a number of independent design specialists, along with world class medical specialists, fitness and wellbeing services.
Credibility and authenticity is a fundamental ingredient of the precinct. The Streets represents the very best our city has to offer. World-class architecture, stunning harbourfront location, new installations of public art and unique level of retail and service expertise that resides on site each day make The Streets of Barangaroo one of the most attractive, productive and pleasurable places to live, work and visit in the country.
To stay up to date and find out more about the events, retailers and eateries on offer, check out their website: