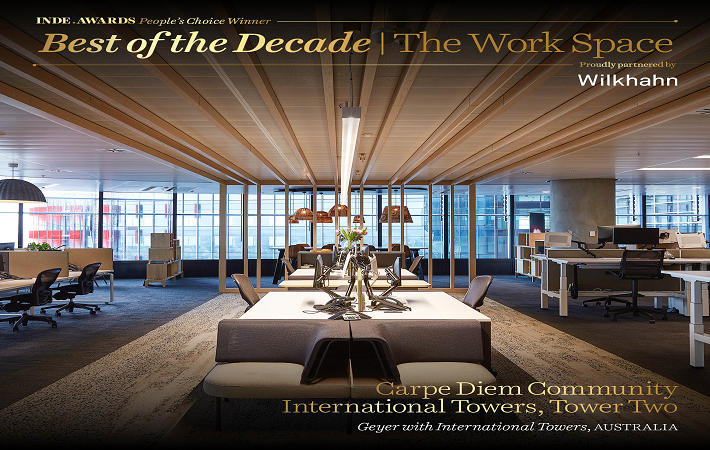 The 'Best of the Decade' – The Work Space, People's Choice award - 2020 INDE Awards
Our Carpe Diem Community workplace, on Levels 30 and 31 of International Towers, Tower Two has officially been honoured with the 'Best of the Decade' – The Work Space, People's Choice award, at the recent 2020 INDE Awards.

The 'Best of the Decade' award was a new, era-defining accolade to honour the lasting impact of a single, influential piece of architecture or design in the Indo-Pacific. Recognising a selection of exceptional projects across the region, Best of the Decade | The Work Space recognises the lasting impact made by a single, influential piece of workplace design.

"Being recognised as one of the best workplaces created in the Indo-Pacific region over the past decade by people who have seen or experienced our very special environment is an incredible honour," says Tony Byrne, General Manager, International Towers. "It acknowledges the vision of Liam Timms and Robyn Lindsey in wanting to re-write the role of the workplace for smaller, growing enterprises, and validates our investments in creating one of the most progressive and sustainable workplaces in the country. It's a genuine honour to be recognised in this way by one of the region's leaders in design education and media."

Carpe Diem is the result of profound and highly sophisticated foresight into the impact of revolutionary and generational change on how companies and people will work, and the role of the workplace - specifically for smaller sized enterprises - in supporting this change. It is a wholly new concept in communal working - a seamless fusion of diverse ingredients, each playing a role in creating an environment that lets people thrive and supports them in delivering the best outcomes.

By placing universal human needs at the heart of the workplace environment, Carpe Diem eliminates many of the complex challenges curtailing the success of small enterprise. The design and management of Carpe Diem communicates inspiring vision, shared goals, common values, a lack of prejudice and a sense of ethics, fuelling people's potential, creativity, meaning and purpose, in a physical environment that facilitates positive interactions, safety and freedom.

From the team at International Towers, thank you to all who voted us in the INDE Awards, particularly our Carpe Diem Community tenant partners, who share and champion our values and vision each and every day.