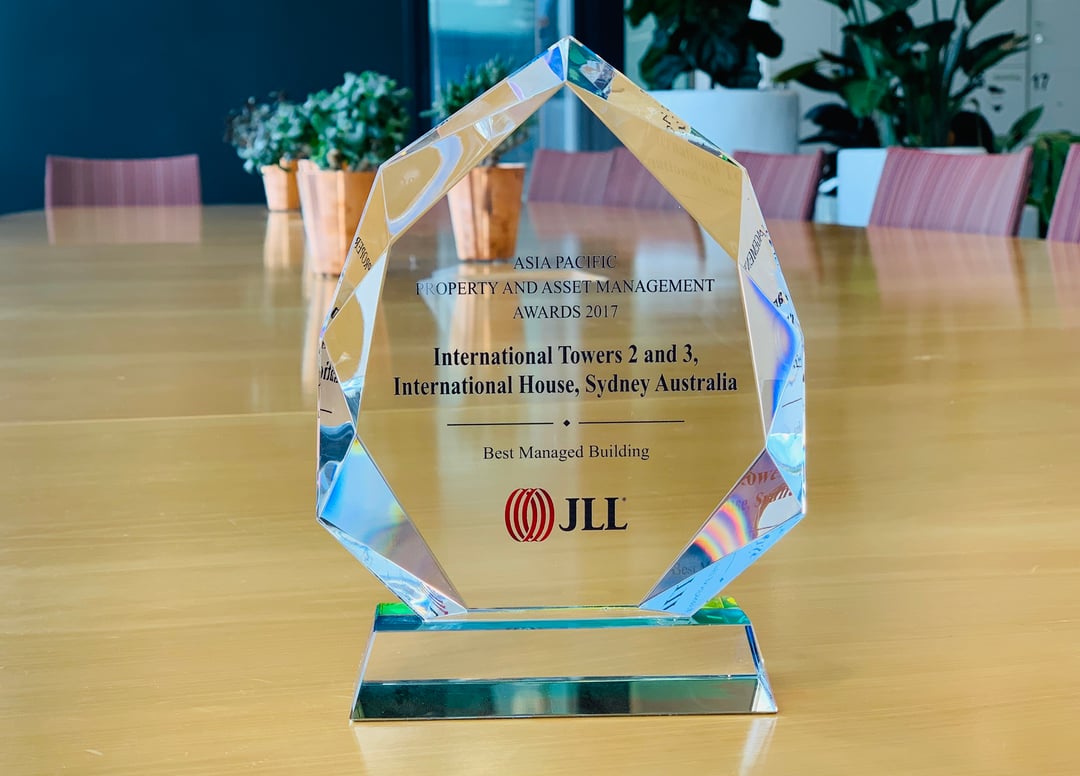 Richard Fennell, JLL's Head of Property and Asset management in Australia, with the award winning International Towers Team at Barangaroo
We have added a new award to our growing list of industry accolades, and have been named the Best Managed Building at the recent JLL Asia Pacific Property and Asset Management (PAM) Awards.
JLL, our property manager, received the award for its excellence in managing International Towers, Tower Two and Tower Three. It was one of only two Australian properties taking out awards, with the Workplace Services Team at 1 William Street, Brisbane winning the Outstanding Team Achievement award.
Our' 22-member strong PAM team, led by Tony Bryne, International Towers General Manager, was chosen from 17,000 staff in 14 countries within JLL's Asia Pacific operations.
Liam Timms, International Towers Fund Manager, praised the team's commitment to achieving the best results for all parties: staff, the community, International Towers, and the JLL brand.
"This award is the result of a values-based culture of diversity, purpose, pride, and wellbeing for all. The team works together cohesively to do the hundreds of little but important things, day in, day out," said Mr Timms.
Mr Timms said the JLL award reflected the outstanding effort to manage such a large area – more than 180,000sqm of premium commercial office space – whilst upholding International Towers' curated approach to tenancy to inspire growth, collaboration and wellbeing.
"International Towers, Tower Two,Tower Three and International House were recognised out of a peer group of the best assets of 124 million square metres operated by 15,700 people. I am personally inspired to work with this team every day," Mr Timms said.
JLL's Property and Asset Management service boasts more than 900 property and facilities management specialists nation-wide, using innovative commercial property management strategies to maximise rental income and – ultimately – asset value.
In October 2017, International Towers developer, Lendlease, was once again recognised as having the world's most sustainable real estate fund, the Australian Prime Property Fund Commercial (APPF Commercial). The Lendlease fund was ranked global number one in GRESB's annual index, which is globally recognised as the environmental, social and governance (ESG) benchmark for the real estate sector. It is the third time that APPF Commercial attained the top spot, having achieved the same result in 2015 and 2014. In addition, Lendlease International Towers Sydney Trust and Lendlease One International Towers Sydney Trust were jointly named the most sustainable development funds globally.
International Towers was designed by global architects Rogers, Stirk, Harbour + Partners, with a focus on sustainability. Both towers received the 6 Star Green Star - Office Design v3 rating and in November 2017, Norman, Disney & Young won the 2017 AIRAH Award for Excellence in Sustainability for its work on International Towers.