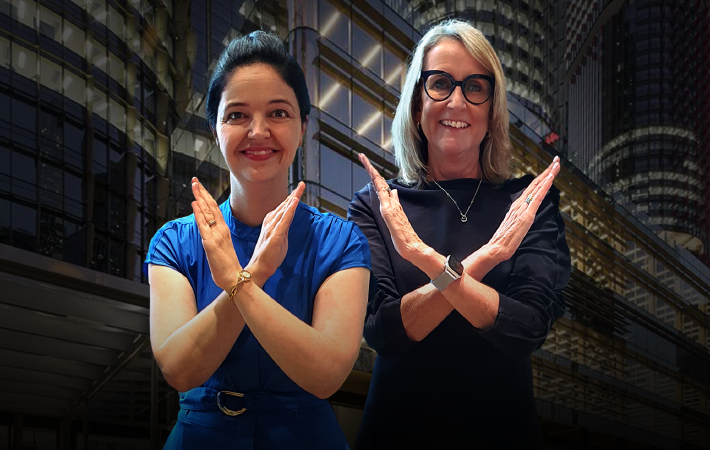 To celebrate International Women's Day, meet your local pioneering sustainability champion, alongside International Towers head custodian and people-person
Davina Rooney, Chief Executive Officer, Green Building Council of Australia (GBCA)

Sustainability and equality champion, leading the charge for global change
We've wanted to catch Davina Rooney for a chat for a while now, and the timing of our wish coming true in tandem with International Women's Day was synchronicity at its finest. Because if you were making a list of passionate, successful, selfless professionals whose achievements and activism will be a shining inspiration to women across the world, Davina's name would be very near the top.
Davina is approaching the end of her third year as CEO of the Green Building Council of Australia (GBCA), the incredible Australian not-for-profit association which works tirelessly within the construction and building industry, partnering with a hugely varied range of stakeholders in pursuit of one clear mission: moving our country faster towards more sustainable building solutions that are kinder to our environment, our economy, and our community.
When we ask for some more detail about the work GBCA does, the very first thing Davina tells us is a jaw-dropping stat.
"What many people don't realise is that the property and construction industries between them are responsible for around 40% of Australia's carbon emissions, meaning we have a critical role to play in limiting global warming to 1.5°C.

"At the same time, we are an industry ready to innovate. Logistically and financially, we are also one of the easiest industries to transition to sustainable best-practice, so there's a huge opportunity here for Australia's built environment to lead the way and to demonstrate what's possible," said Davina.
Four loud funnels of communication, three strong incentives to sign-up
Davina speaks very highly of her 50 strong team at GBCA, glowing as she explains they "make fabulous things happen". Together they execute a four-pillared strategy; Rating the sustainability of buildings and places through their huge national voluntary rating system, 'Green Star', educating the entire chain of industry stakeholders on green best-practice, and advocating with government for eco-focussed policies and initiatives. To bring all of this together GBCA collaborates with industry, partners and 600+ members to deliver change across the built environment.
GBCA also runs a powerful incentive program to encourage industry players of all sizes to get onboard with being greener. "Of course, we have an enormous amount of evidence about the significant benefits of shifting towards sustainability in building and construction," Davina explains proudly, "But we also have some less conventional, yet highly successful tools to help us both create understanding and secure support in our mission.
"Firstly, we have the carrot, with 'Green Star', our voluntary sustainability rating system for buildings, fitouts, communities and homes.
"This internationally recognised rating system is the largest, most comprehensive of its kind in Australia. Its incentives attract leaders from every corner of the property and construction space because it helps them meet their targets to mitigate climate change with healthy, sustainable buildings and places.
"Secondly, we have the stick, the clarity of informed authority which includes planning policy, building regulatory systems and the National Construction Code.
"At one end of the stick, our team works closely with policy makers at all levels to ensure they are fully up to date with where the industry is at and what it needs to meet the climate change challenge. At the other end is the resulting legislation that sets building standards and guides industry in our shared mission to embed sustainable building practices.
"Finally, there's the multi-functional tambourine that we use to engage stakeholders on the long journey to a more sustainable future. The tambourine can be rattled to remind people about the benefits of green building or to set the beat of collaboration when we learn and grow together.
"At GBCA we also love to shake the tambourine to celebrate success. We make some noise when a member becomes a front runner in the UN's Race to Zero, then we give it another rattle when the school down the road reaches its Green Star ambitions."
How forward-thinking industry leaders return to work
Davina is clearly a 'do-er' in the corporate world who is delighted to be back out amongst it, so we asked how she and her team had managed in the remote world of the last two years.
"GBCA was certainly an early-adopter in the new normal. We embraced the technology and the flexibility, which actually was a pretty small step in practice, as 90% of our team were already on flexible remote working arrangements before Covid-19.
"With that said, there's definitely something special about being face to face with your peers as you work together for a better tomorrow. For a start, it's hard to disagree in large numbers on a video call, then it's hard again to regain consensus. Having tough discussions that end with outcomes is a crucial element of creating change.
"When it comes to the return-to-work question for our team, GBCA empowers staff to choose the right mix of office time and working from home that suits them.
"In saying that, it's no secret that the team at International Towers make it very easy and very enjoyable to be back at the office. Yes, there's the award-winning spaces and amenities, and yes there's endearing culture and cutting-edge tech in every corner, but there's also the partnership.
"When the pandemic first hit in March 2020 we lost our TRANSFORM conference venue and had to quickly pivot to hosting it in an online environment. International Towers stepped up and let us stream a virtual conference from a vacant tenancy in Barangaroo – now that is partnership in action."
#BreakTheBias – what women want on International Women's Day
"We're a long way off equality, and the yardstick goes a lot deeper than whether the CEO is male," says Davina bluntly, when we move onto this subject.
"Equal pay. Social housing. Childcare affordability, disproportionate underemployment and the funding of services, initiatives and stimulus that support women in need.
"We're living through unequal burden in unpaid labour, particularly during disasters like the recent pandemic. The list goes on and it's worth talking about because there are so many metrics sitting below the well-known, often repeated headlines that deserve more attention because they have a direct financial and emotional effect on women's lives. Few people talk about them, but I'm determined to be a part of the forward motion which changes that."
Davina takes a quick look at her watch, and we know it's time for her to head off to a Canberra gathering of policy makers to fight for the cause a bit more. As we say our rushed goodbyes, we squeeze in one last question: What advice does a woman at the top of her game have for younger girls with similar aspirations?
"International Women's Day is much more than a chance to catch-up and share corporate cupcakes," Davina replies in a flat, serious tone. "It's a huge opportunity to influence real change with powerful messages, and it's an opportunity we should grab with both hands."
And with that, Davina is gone. Off once more on her mission to make a difference.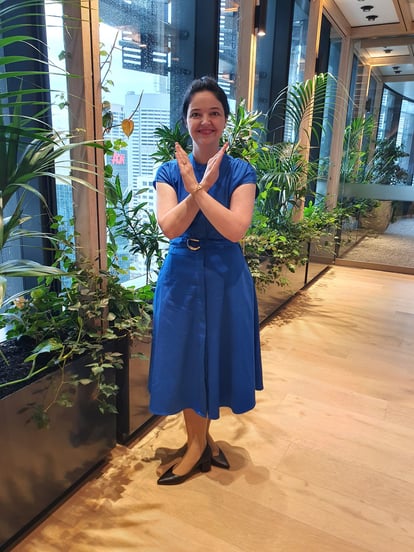 Kim Dawson, Deputy Fund Manager, International Towers
Meet the collaborative custodian of these Towers in which we work
With a title like Deputy Fund Manager, when asked to explain what she does in a bite-sized sentence, you'd expect the crux of Kim Dawson's reply to be about ensuring the best possible return to investors. But instead, the focus of Kim's response is all about taking care of the tenant partners at International Towers and looking after the surrounding community. The genuine affection she has for everyone under the International Towers roof - or anyone who comes close to it - is obvious for all to see.

"First and foremost, we're custodians of the International Towers family of buildings, working right alongside our tenants in true partnership, with the shared interest of ensuring their experience in and around the Towers is the best it can possibly be. At the core of this nurturing approach to service is understanding how every decision we make affects everyone in our universe, from tenants, contractors and visitors, to the wider community, local residents and the traditional owners of the land. We want everyone who steps foot in or near Barangaroo to have a great feeling about the place.

"I've worked for other funds and owners before International Towers and know the industry well, and I've never seen the tenant relationship managed with such a refreshing, upfront, people-focussed approach. There's no third party agency between us and the occupier, from the start we're engaging directly with the occupiers' decision-making representatives, meeting and chatting, comparing our alignment on values and ethics, before there's even any talk of doing a deal. I've often thought it's like a dating game between us and the tenant, working out over a series of encounters if we're a right fit for each other. And when we find the right people, it's a beautiful thing - our tenant relationships are stronger, longer and mutually fulfilling to an extent you just don't see elsewhere in the industry."

Looking at all the awards that International Towers has won from industry, government and business associations for design, architecture, sustainability, workplace, digital apps and software, it would seem like the strategy is working. As we don't have the space to list all the awards here - seriously, we don't - we ask Kim to list her top two or three.

"Of course, we're proud of every single award we've won, but the standout achievement for me is International Towers being declared the World's Most Sustainable Office Fund by GRESB and Carbon Neutral, not just once, but twice consecutively in 2020 and 2021. That's special. I'd also have to give a notable mention to our very own Partner Portal, our award-winning digital community platform that connects every tenant directly to us and our services."

Back to work and the great work from home debate

"Personally I loved working from home," smiles Kim, "I've got two teenage daughters who I would barely see under normal circumstances, so it was brilliant to spend so much time with them. There's no doubt that there has been a massive realisation of the benefits of working from home, both from a productivity and job satisfaction perspective, and the consensus shift towards including more WFH days in workflow reflects that clearly.

"But what's also clear to me is the benefits of working at the office. Humans love to collaborate and innovate, it's in our DNA, and there's no doubt that being together in the office is a more conducive atmosphere for sharing thoughts and creating ideas together. And it's also much easier to cultivate your brand culture and create bonds when everyone is under the same roof."

#BreakTheBias – what International Women's Day means to dad

As this article will be published during the same week as International Women's Day celebrations on 8th March, we must ask this successful, confident woman at the top of her game, if she has any experiences or insight to share in support of the cause. After a long thoughtful pause, Kim says, "I'm not sure if this is relevant," then proceeds to tell us a heart-warming story that couldn't be more relevant to the fight for equal rights if it tried.

"I grew up in Bacchus Marsh in Victoria, running the farm my dad always had trouble finding a Wool Classer." (Which, for those like us who didn't know, is the person in the Woolshed who grades the wool being shorn and oversees operations.) "I was determined to fill the vacancy myself, and as part of my qualification I was required to work as Wool Classer on another property nearby. I arrived at the property on the first day, introduced myself as the new Wool Classer and I immediately had a sense something was up. Sure enough, the property owner would not let me 'on the board' - in the Woolshed - just because I was a girl. And that was that, I had to go back to Wool School with my tail between my legs.

"My dad was an old school man's man, but seeing what happened to me that day was a real turning point for him, he really started to evolve into understanding the female struggle and is now quite a 'progressive' granddad."

Moving from the past to the future, we ask this corporate leader and passionate woman's woman what advice she would give to a younger version of herself, as she was just about to embark on the challenging journey of being a woman in today's world?

"Stay true to yourself. Don't behave the way the men do just because you feel like you have to in order to fit in or meet expectations. Work hard. Be willing to put in the time and effort. Be patient, and be ready for a fight," smiles Kim, with a steely look of resolve.

Forget diamonds, buildings are this girl's best friend

Time has caught up with us, we need to let Kim get on with her day and we haven't even covered her earlier career, her family, or personal passions. We apologise. "Oh that's OK," reassures Kim, "I'm quite a private person anyway. Let's see. I love my gorgeous family, I love exercise and long weekend lunches with friends, and my personal passion is the same as my professional passion – beautiful buildings. In fact, buildings are a bit of an obsession, wherever we visit or holiday I'm always ducking off to admire the architecture and interior design of buildings that catch my eye. The kids hate it."

Small talk of holidays sparks up as we pack away, revealing that Kim is really looking forward to a long weekend with girlfriends in Uluru coming up, which will be some well-deserved R&R… and no doubt she'll take the chance to duck off and check out some beautiful natural wonders when no-one's looking.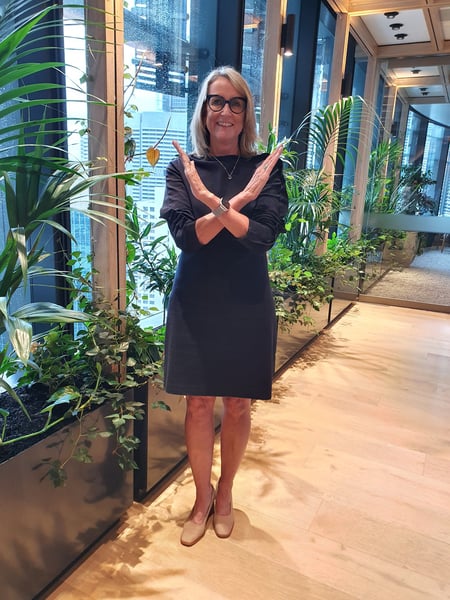 Recommended video: The Great Australian Comeback