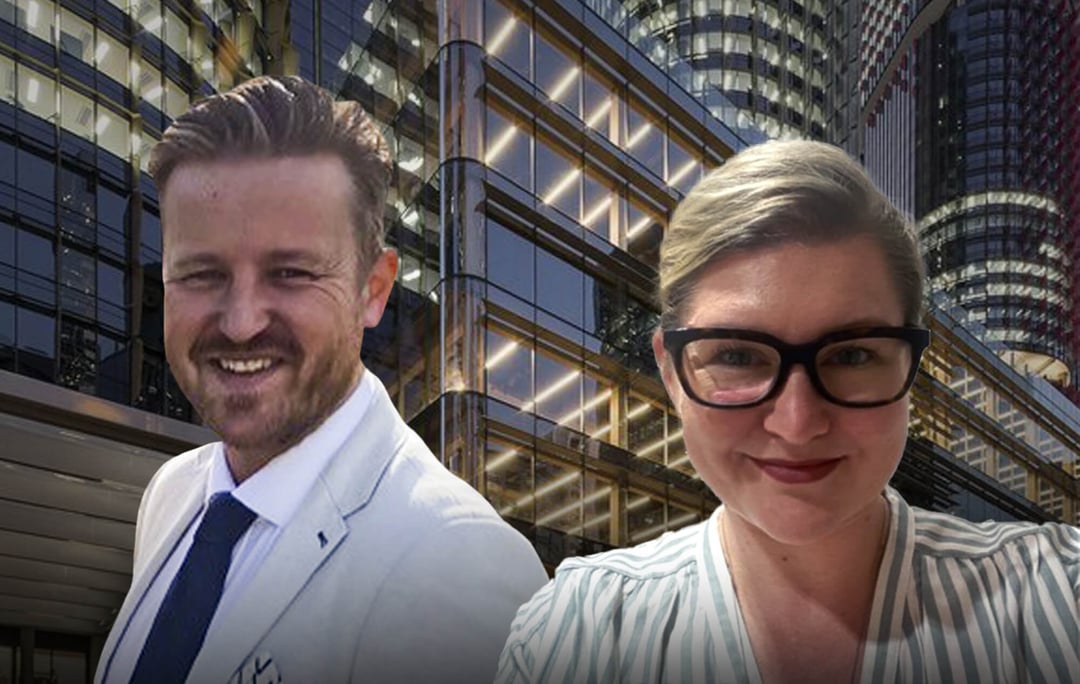 Meet Swiss Re's Corporate Real Estate and Services champion, and our very own super star Engineering Services Manager.
Sarah Farnham, Head of Corporate Real Estate and Services (CRES) of Swiss Re in the Asia-Pacific region (APAC)
Sarah Farnham is Head of Corporate Real Estate and Services (CRES) Operations for Swiss Re in the Asia-Pacific region (APAC). Sarah's role is intrinsically linked with operations across Swiss Re's APAC location including at International Towers, so we have the pleasure of dealing with her regularly and we really wanted you to meet her, plus she has some excellent insight on remote working and one of the cutest dog stories you'll ever hear.
But first, what do you do for Swiss Re?
"What don't I do?!", laughs Sarah heartily, in a cheerful start to our chat. Sarah explains that she is currently covering her previous role - Head of CRES Australia and New Zealand, which she last held six years ago - as her "day job", while also looking after her own wider APAC responsibilities as a "night job".
"Our excellent regional team of six service experts support our Swiss Re facilities for the APAC region, which includes core deliverables like workplace management, cleaning, security and technical infrastructure, and softer services like front of house, events and other business services. Then in addition to ensuring these premium day to day support services roll out seamlessly, we're also rebuilding after a number of staff moved on post-Covid, so I'm giving a lot of focus to recruiting some key roles, including my old position.
"And we're looking for pretty special people. While we're proud to be a premium operator, Swiss Re in Australia has just 240 people on a single floor. Workspace occupancy is finally on the rise as teams rediscover the benefits of being back in the office, and demand for our services increases directly in line with rising occupancy. So we need highly skilled, highly adaptable multi-taskers, who are comfortable working across different topics and not afraid to be hands on. And that's a challenge in today's employment market."
Covid-19 silver lining: The surge of WFH and flexible working
Sarah says the wide acceptance of remote working has made her job of recruiting the best talent in the region much easier.
"In an employment market where so many organisations are competing for the same specialists, the rise of remote working has really opened doors for us in terms of the talent we can attract and retain. Swiss Re is no stranger to remote working, but the move towards it being mainstream is huge. 10% of our Sydney office now hold regional and global roles. My regional team is also geographically diverse, spread strategically across Australia, Singapore and Hong Kong."
"Actually, it's funny," smiles Sarah. "My team and I are used to meeting on screen, and over the last few years locked down during Covid we became accustomed to dressing quite casual. Which for me mainly meant having my hair up in a bun, but as the migration back to the office kicked in, the bun disappeared and a few of my team asked, 'Oh, did you get your hair done?' And I replied, 'No, I didn't get it done, I just did it.'
A lasting long-distance relationship
Sarah started with Swiss Re in Sydney straight from high school, on a journey that has taken her through three years in Hong Kong, two years in Singapore, and full circle back to Australia, still with the same company. We ask what the secret is to such strong brand loyalty.
"I've been very fortunate finding Swiss Re," Sarah recalls. "After high school and a short lived first start at Uni, when I discovered at the beginning of my exercise science and nutrition degree that chemistry and I don't get on, I took a job with Swiss Re, just to support myself before restarting Uni the following year and thought I'd leave after six months. That was 17 years ago. I did return to Uni a year or so later and completed my Bachelor of Business.
"Whatever changes have happened since, Swiss Re has always fully encouraged and supported my professional development and international experiences. If you have the right attitude and capabilities, there are incredible opportunities. And it's the same story right across the global Swiss Re organisation.
"Sustainability, too, is heavily embedded into Swiss Re values, and that's really important to me. Good sustainability practice flows through to every corner of the organisation. We're committed to net zero operations by 2030, and a completely net zero business by 2050. Our 'internal environment management team' are embedded across the company globally, helping guide strategy to address the big issues.
"And it's not just what Swiss Re does as a company that's so appealing, I've also been very impressed by campaigns aimed at our people as individuals, educating and encouraging us about the difference we can make by changing our behaviours. Swiss Re is a global leader in the big picture of sustainability, not just where it affects the bottom line, and I really respect that.
"But more than anything else," adds Sarah with a warm smile, "it's the people who have kept me here all this time. This company has an incredible knack for knowing good people when it sees them, and hiring them."
Ken the dog gets stuck in Singapore
After spending nearly two years in Singapore under Covid conditions, Sarah and her devoted husband, Ross, their young daughter, Vera (born three years previously in Hong Kong), and their much-loved miniature schnauzer, Ken, were ready to come to home to Sydney (home of Sarah's self-described "first baby", the fit out she managed of Swiss Re's floor in Tower Two). But the Australian bio-security authorities had different ideas, and poor nine year old Ken failed a doggie blood test required to get him permission to travel home.
"He tested positive for e-canis, a disease associated with tick bites, we had no idea," remembers Sarah. "He wasn't allowed to travel with us and, because the flights were so all over the place with Covid, we couldn't afford to miss ours, so we had to leave Ken with friends. It was devastating.
"That was in November last year, and we finally got him home back with us in March. We were worried about the trauma he may have had, and whether he'd remember us. I felt so guilty, when I saw him I promised in his ear that I'll never make him fly again. But he was totally fine and really happy to be home. He even remembered our house, the neighbours, the park, and his other old haunts."
On that happy ending, we wrap up our chat, thank Sarah for her time, and ask what's on the horizon for such a well-travelled, cosmopolitan family now they're back on home shores?
"Not much at all with a four-year-old," smiles Sarah. "Just catching up with friends is a challenge at this stage in our life. As soon as we're able, our to-do list is mostly focussed on exploring all those gorgeous looking inner west restaurants that have popped up since we last lived in town."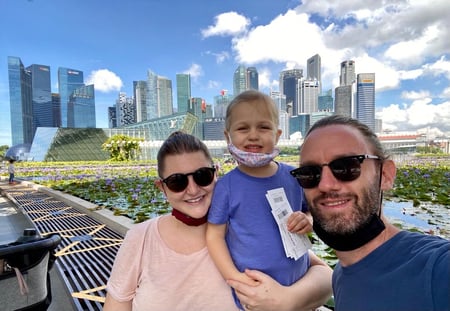 Luke Brown, Engineering Services Manager, International Towers
Luke Brown, engineering services manager at International Towers, is a highly valued asset by everyone in his orbit. His unwavering positivity. His dedication to sustainability. His drive to find solutions that deliver constant enhancements. His incredibly professional yet affable disposition. Anyone that knows Luke knows we're lucky to have him, but it turns out we're even luckier than you may think – because we nearly missed out on having Luke look after us, to the world of professional golf.
"After I did my high school certificate, I needed a bit of a break," explains Luke. "I'd been heavily involved in the soccer and rugby teams throughout most of school, but injuries had been getting the better of me and I had to stop playing the contact sports. During years 10 and 11 I'd taken up golf and found I hit them pretty well, so in my break after finishing school I played heaps, entering competitions around the state. I was spotted by a scout and the next thing I knew I'm in the NSW state squad, with a coach who's encouraging me to give golf a crack playing professionally.
"It was a great year and a half," recalls Luke with a smile. "Travelling the country playing in amateur and pro tournaments, I even played in the NSW open. I learnt a lot, particularly about myself and performing under pressure. But as fun as it was, after 18 months it felt like time to move on, and I stepped away from serious golf and into a job with my dad in the family business."
Opening doors after golf tours
"Dad has been running his business, All Access Locksmiths, since he was 25. So he was a great teacher, I loved the job and worked my way up to managing a team of 20 locksmiths over the eight or nine years I was there. I thrived on working with people, managing teams, and keeping clients happy while facing daily challenges.
"But the downside was that working with my dad negatively affected our relationship, so I decided to move on and started asking around friends of mine who were facilities managers if there were any jobs around. I managed to get a job as a facilities manager for Colliers International, and after I'd made the change it quickly became clear it was the best thing for dad and I. After a hard couple of years while we were working together, our relationship not only repaired, it got better than ever."
Luke tells us how his work with Colliers, the industry relationships he'd established, and a well-developed love of managing premium property assets led to an interview process with JLL working on the Lendlease account in early 2019, for the role of property services manager at International Towers.
"Funny story," says Luke with another smile. "It was a four interview process. At the second interview, Tony [Byrne] asked if I knew about Barangaroo, the Aboriginal woman from the area around North Harbour and Manly, a member of the Cammeraygal clan, the largest and most influential group of the Eora people. I didn't know anything about her, and Tony explained how important her story and heritage is to the International Towers brand. He advised me to brush up on my knowledge about Barangaroo should I successfully move through to a third interview.
"Well I did spend a significant amount of time researching to brush up on my Barangaroo knowledge, and I was lucky enough to progress to a third interview. Tony was on the panel for that third interview, and I was ready for him, but he didn't so much as mention Barangaroo. I couldn't believe it! All that time I'd spent! But then, at my fourth interview with Lendlease fund manager Liam [Timms], Tony popped in and, you guessed it, he asked me about Barangaroo, and I got the job."
Exciting times ahead in facilities
Luke has been on a mission with his colleagues to continually enhance our assets and our services ever since, first as our property services manager and then, following his successful application late last year, as our engineering services manager. A role that saw him step away from the day to day activity to focus on overseeing the operations of the asset, fit out works, CAPEX and lifecycle replacements, and other improvements planned over the next few years.
"Getting the engineering services manager role was a great way to end last year, I actually found out I'd been successful on Christmas Eve," Luke tells us. "Although it's been a challenge. We spent the first seven months of the year covering my old role, while we searched for the right replacement. It was a busy but enjoyable task to test us, now the role has been filled beautifully and we can give all our attention to the exciting future ahead."
We pushed Luke for a snapshot of what that the future might look like, what exciting building enhancements are in the pipeline? And we were pleasantly surprised that he shared some gems.
The future for International Towers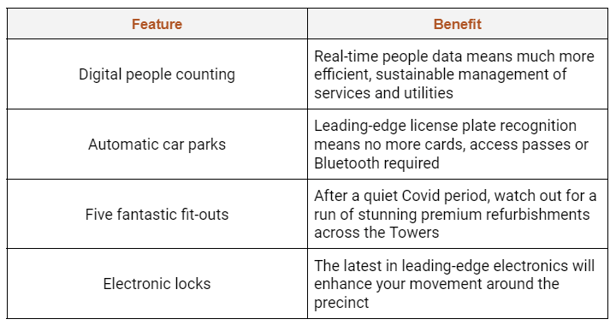 The sustainability family
Like everyone who works at International Towers, Luke is completely committed to ensuring the very latest in sustainability technology and practice reaches every corner of your workspaces. And as we wrap up our chat, we find that eco warrior spirit runs through the whole Brown family, too.
"Oh yes, sustainability is huge for all of us in our home. Even my four year old Charlie already knows what goes in what recycle bins, and that his banana skins need to go in the organic waste."
Wait, so Luke and wife Katie have a four year old named 'Charlie Brown', as in Peanuts and Snoopy?
"We sure do," grins Luke. "He's an absolute joy. There's nothing like having kids, nothing can prepare you for it."
In saying goodbye to this smiling sustainability champion, we're reminded of a Charlie Brown catchphrase, which sums up the positivity you feel knowing someone like Luke is looking after things: Don't worry about the world coming to an end today. It's already tomorrow in Australia.