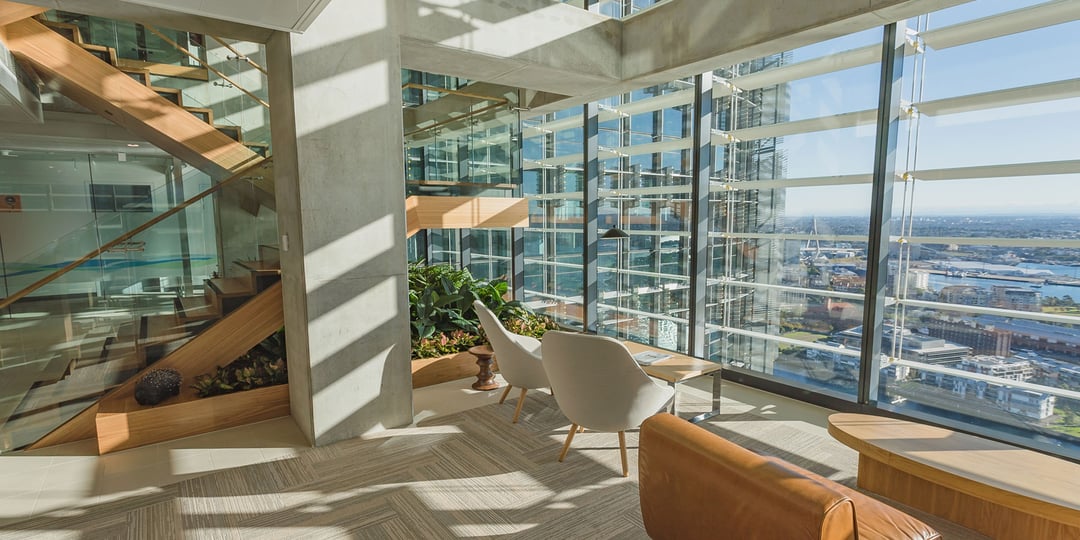 The future of workplace has arrived
The heart of a successful workplace is not just in its ability to function efficiently and sustainably. A contemporary workplace must inspire and connect with those who reside in it each day. International Towers has been designed with the concept of a 'vertical village', drawing on the learnings of natural human connection, community and society.
With a clever arrangement of lift cores and internal spaces, we have crafted communal spaces where people can gather and co-create, as well as quiet spaces to think and imagine. The working villages are truly vertical, with visual and physical connections between floors. The architecture encourages connection and mobility.
Another of the key architectural features of International Towers that supports the 'village' philosophy is the maximisation of natural light throughout the working environment. There is a plethora of research that supports the many health benefits of exposure to ambient natural light, and the psychological benefit, known as biophilia, of being able to connect with the natural environment. Architects Rogers Stirk Harbour + Partners have designed an ingenious system of 'fins' placed on the external façade of the towers that allow ambient light in while minimising direct sunlight. This has also been aided by above average ceiling heights of 3 metres, allowing for generous views of the harbour and greater Sydney from virtually any place.
Even the visual language of the towers supports the connection to nature. The colours of International Towers have been handpicked from nature's spectrum. From our sparkling harbour to our shimmering skies and richly textured earth, the towers draw on a palette of ochres, umbers, greys, yellow, blues and whites, to bring an artist's touch to a most magnificent and uniquely Australian landscape.