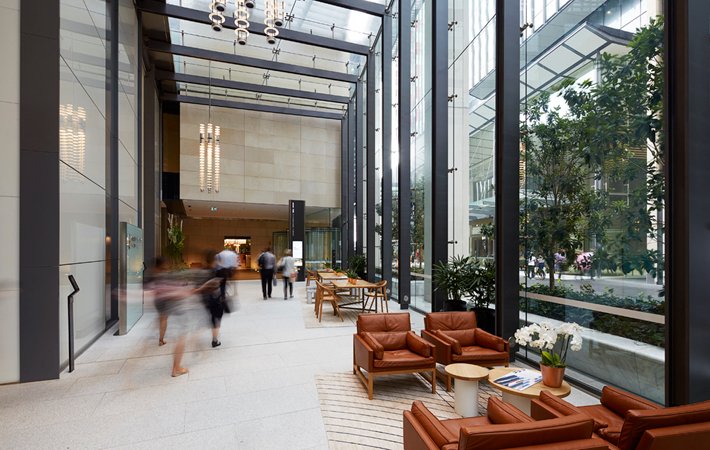 A commitment to sustainability and values
Our commitment to the best possible future for everyone is all-pervasive. We simply insist on the highest standards of sustainability, diversity and inclusion across our entire footprint, including our supply chain.
Our commitment is to only work with organisations that are not only accountable for, but deeply understand their own supply chain, and are open about their ethical, environmental and socially supportive work practices.
One example of this is our partnership with Living Edge, who have supplied the public furniture for the North Lobby of Two International Towers. All the furnishings are original designs, sourced from ethically responsible firms who manufacture to best-practice standards of environmental protection. Another is the procurement of our team and concierge uniforms. International Towers partnered with leading Australian fashion merchant M.J. Bale, who produced an ethically manufactured fabric made from Australian merino wool, and collaborated with leading Indigenous design agency Balarinji, to bring wearable art to our people, in a uniform design that depicts the life-force of nature's abundance of Barangaroo.
We are striving to leave a light footprint on our planet, and our commitment is shared by the organisations that have joined the International Towers community. As part of their shift to the agile way of working encouraged at International Towers, Westpac Group has introduced the Paper Zero program. They looked at some of the most paper-dependent processes across the business and actually changed the way they worked. More digital, less paper. The bank has already seen an 87% reduction in paper – that equates to approximately 13,000 trees. Sandra Casinader, the bank's head of HR strategy and research and workforce revolution program director says, "We actually changed the way we work to be more sustainable. Once we moved into International Towers, people had new ways of working that didn't require paper. It can be done. It simply requires the will."