GETTING HERE
Find your way around our precinct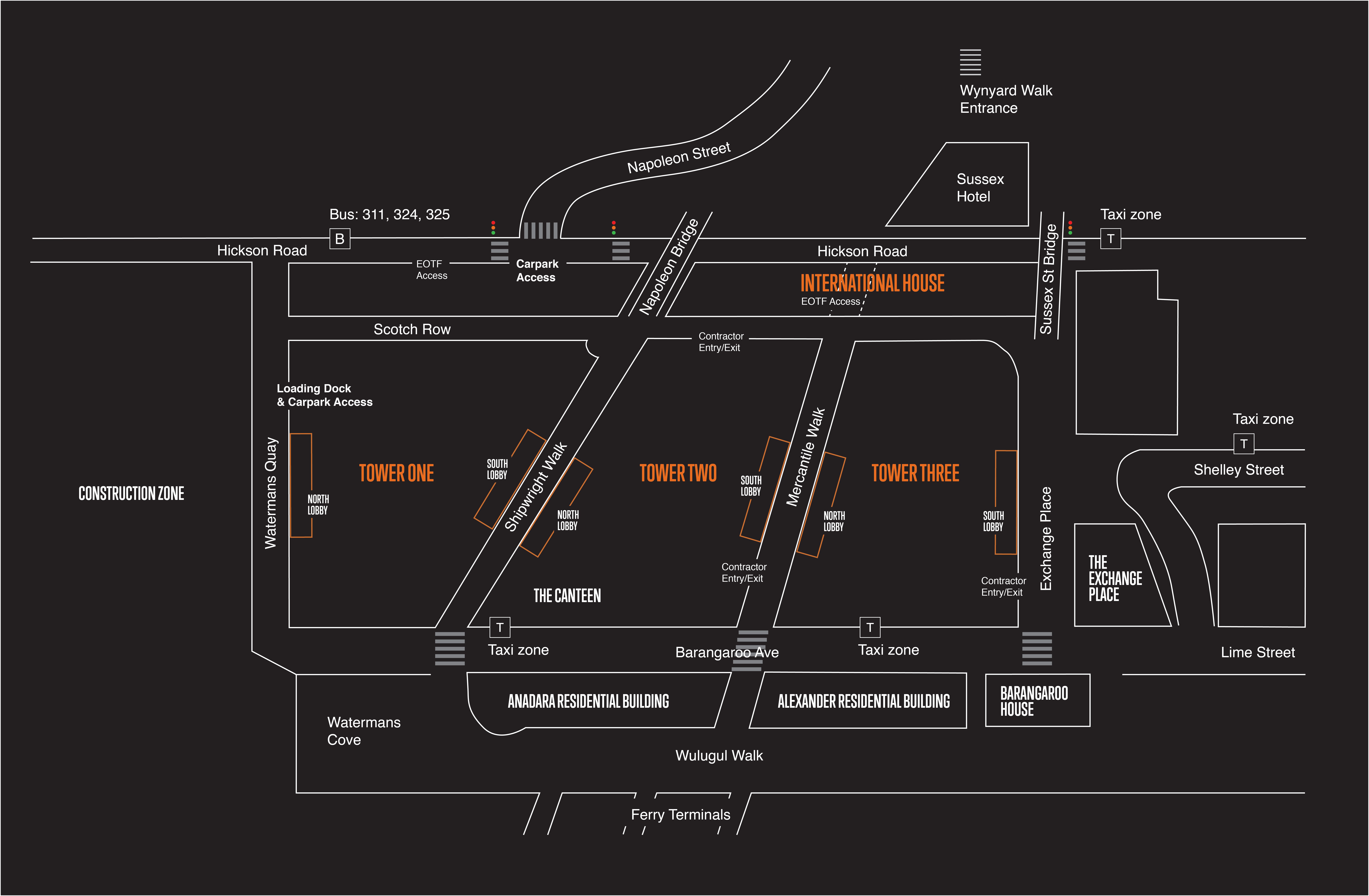 Access to Tower Two North Lobby can only be reached from Shipwright Walk.
Access to Westpac, Tower Two South Lobby is possible from Mercantile Walk and a connection from the Canteen.
Tower Three lobbies are connected and can be reached from both Exchange Place and Mercantile Walk.

Public Transport
Wynyard bus and train Station is now only a 5 minute connection through Wynyard Walk tunnel. This brings you out to two pedestrian bridges over Sussex Street to fast track you over to Shipwright or Mercantile Walk.
Bus routes also come and go directly from Hickson Road to Town Hall on routes 311, 324 and 325. King Street Wharf also offers off-peak services throughout the day.

Bicycle
Our end-of-trip facilities are amongst the most extensive in the country, making us strong advocates of our community using the facility and cycling into work. However if you're just visiting we also provide numerous short-term bicycle racks along Barangaroo Avenue.
Taxi
We have various taxi zones within the precinct; Barangaroo Avenue and Shelley Street (both shown on map above). You can also get out on Hickson road if arriving by Taxi.

Ferry
The Barangaroo Ferry Hub opened June 2016 and is right on our doorstep on Wulugul Walk with new timetables to be rolled out to further add to the precinct's connectivity. For updates, please visit theTransport for NSW website.

Carparks
Wilson Parking – Barangaroo Point Car Park, Barangaroo Point, Walsh Bay.
Entry via Hickson Road. Provides 300 spaces, open 7 days a week from 5am weekdays.
Secure Parking- King Street Wharf Car Park, 1 Shelley Street.
Entry via Shelley Street. Open 7 days a week, 6am every day.