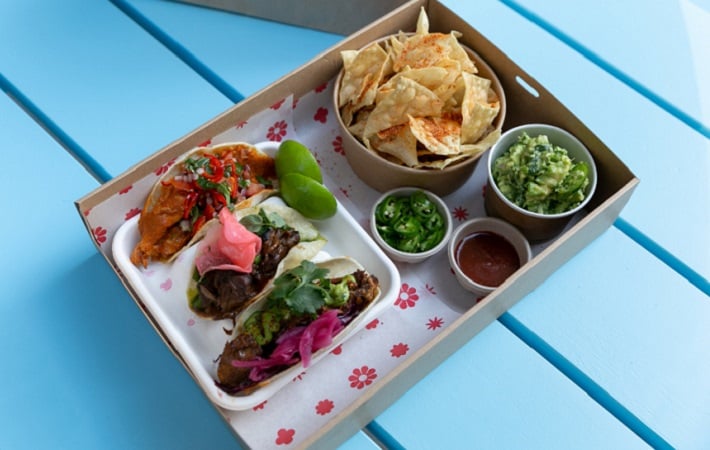 Come and taste the exciting new takeaway menu
When Barangaroo restaurant Banksii closed in May, owners Rebecca Lines and Hamish Ingham announced a new Mexican-inspired eatery would soon take its place. Originally due to open in August, Tequila Daisy's launch date is on ice until Sydney's lockdown is over. However, Lines and Ingham say they "couldn't wait any longer to give Sydneysiders a taste" of Tequila Daisy, so they launched a new takeaway menu available from the venue's Bar Taqueria.
You can now order takeaway tacos, take-home cocktails, beer, wine and dinner packs from the harbourside diner. There is grilled chicken, Wagyu beef brisket, pulled pork, fried fish, lamb, and roasted carrot tacos. Plus, a selection of pre-batched cocktails, including a coconut and elderflower Margarita and a signature Martini.
While we don't know what Tequila Daisy's full restaurant menu will include yet, co-owner and executive chef Ingham says it's "a taste of what's to come".
"Bar Taqueria will be an exciting part of our takeaway offering even after lockdown eases," he says in a statement.
"We wanted our diners to be able to enjoy their takeaway tacos with a cheeky Margarita," says sommelier Lines. "The rest will come."
Tequila Daisy is primed to open as soon as is feasible after Sydney's lockdown restrictions lift.
Tequila Daisy will be serving takeaway from 12pm to 2pm every Friday to Sunday. Take-home dinner packs will be available for curbside pick-up Fridays and Saturdays from 12pm to 3pm.
Tequila Daisy
11/33 Barangaroo Ave, Sydney NSW 2000
0423 947 305
tequiladaisy.com.au
@tequiladaisy_sydney