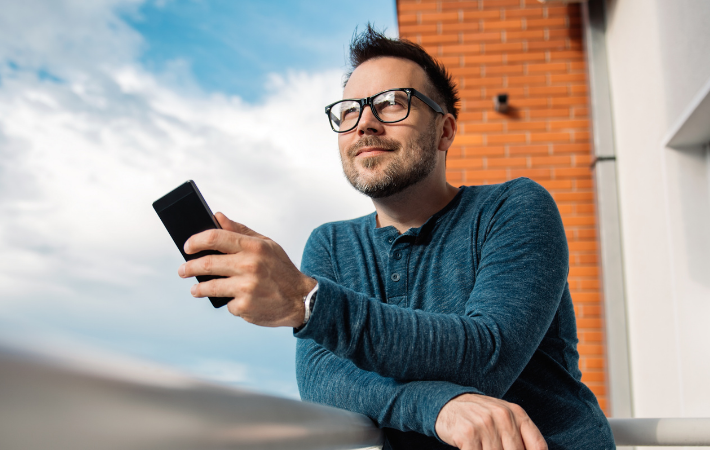 Many men find it hard to open-up about emotions, which is a big shame because talking is often the first step towards better mental health. Are you OK?
When it comes to mens' mental health, Hugh Martin, founder of counselling service Man Enough, says the first step is to encourage conversations within organisations – such as sporting clubs, groups and workplaces – and making spaces available for men to talk about how they're going.
'You want men to start to look out for one another. If I was in a bad way I would love it if someone could reach out tap me on the shoulder and say "Hey do you want to go and have a chat?"', says Hugh.
'It comes back to that 360-degree model of leadership, we're all leaders, we're all managers of our own responsibility and of ensuring that as an organisation we value welfare and making sure we live it'.
Counsellor and Team Leader at Mensline, Glen Benton, says that men need to change the way they talk about their own mental health.
'Often the way men cover things up is with subtle language,' Glen says.
'When men speak about themselves, they tend to speak in the third person. Rather than saying "I feel afraid... I feel overworked", men will say "Well you know... you go to work every day...and you just want to be left alone...".'
Glen says this is typically how men speak about what they are feeling – depersonalising the language to depersonalise the emotions. He believes that if men allow themselves to be vulnerable, it will change everything. Often it starts with noticing something has changed and striking up a conversation to recognise and acknowledge that things are tough.
Listen to Glen's cast in which he describes some of the calls received by MensLine and how men need to work at encouraging their peers to seek help.
If you're feeling low, and experiencing the sorts of symptoms Mark shared, you might find chatting to a professional counsellor or Peer Support Worker a good place to start. They can help see where you are at, and can also suggest steps to seeking further, ongoing support if needed.
You can have free access to SANE's 'best in class' 1 to 1 Wellbeing Check-in - a 25-minute mental health check-in and chat with a professional Peer Support Worker, completely anonymous and confidential, at a time that suits you.

This free Wellbeing Check-in is available exclusively to International Towers community members in Tower Two, Tower Three or International House.
Log in or Register to our Partner Portal to book your free check-in.
Remember, let's stay connected and take care of ourselves this Mental Health Month.
***
Mental Health Month encourages us all to think about our mental health and wellbeing, regardless of whether we may have a lived experience of mental ill-health or not. We're incredibly proud and excited to partner with SANE Australia, a national charity helping people live long and fulfilling lives, free from stigma and discrimination. They support anyone affected by mental health issues, including family and friends, through information and stories, peer support, and counselling.