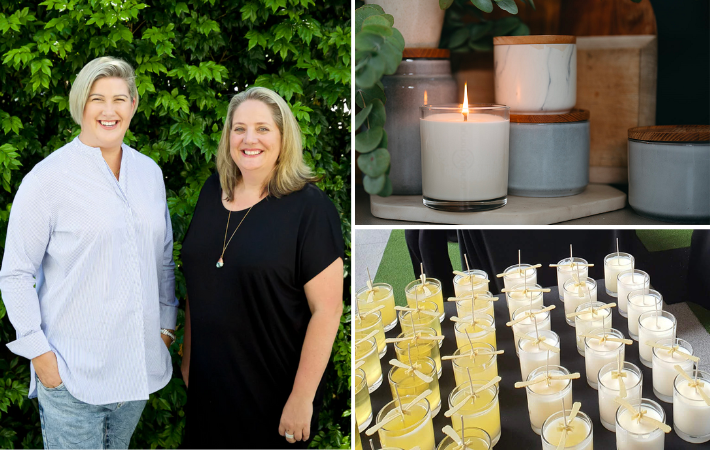 Eco-champions CandleXchange are returning to International Towers on a mission to reduce landfill, and we ask what sparked their inspiration
As a member of the International Towers community you're probably very well aware of our deep commitment to sustainability in every corner of the precinct, and if you've been with us for a few months or more you may very well have already met our friends at Sydney-based CandleXchange – the circular economy venture on a mission to stop one million empty, single-use home fragrance containers and 100 tonnes of packaging waste ending up in landfill by 2030.
As we prepare to welcome CandleXchange back to the Towers on Thursday 15th June, we invited the dynamic co-founders and former high flying corporate executives, Hayley Clarke and Karen Platt, to tell us what inspired them to hang up their busy boardroom hats and focus on promoting eco-ambience in Australian homes.
"It was a purely organic journey," Hayley explains. "Karen and myself initially developed an interest in candles as a way of creating a relaxing home ambience and masking household smells, searching for efficient ways to make our family environment more enjoyable, while we were busy burning our metaphorical candles at both ends in our corporate lives.
"But pretty quickly we became really frustrated with the clutter and waste from empty candle containers, we did a bit of research and decided a much more sustainable solution was needed. In homes across Australia, four million candles are burned every year to create relaxing and welcoming home environments, but the problem is most are single-use and made with containers that can't be recycled. That's over three thousand tonnes of containers cluttering up homes, then heading to landfill, every single year."

From corporate types to eco-entrepreneurs
And so it was that CandleXchange came to be in 2021, with a relentless focus on natural materials, zero waste, and container reuse. "We began hand-pouring pure soy candles and exploring fragrances inspired by the native Australian landscape," Karen tells us. "Deliciously natural, down-to-earth scents, enabling households across Australia to create a welcoming home environment without resorting to toxic chemicals or creating a mountain of waste.
"And as we've grown we've learned and developed compelling initiatives, like our world-first 'Burn & Swap' solution, which allows customers to return the containers to us after use, or our 'UpCandle' program, where customers can donate other brands' containers, which we then refill and donate to survivors of domestic violence and refugees. When you explain to people the good they can do simply by recycling candle containers, it's a no-brainer," smiles Karen.

2.2 tonnes saved from landfill, and counting
To date, CandleXchange has diverted 2.2 tonnes of used containers from landfill and donated more than 800 upcycled candles to victims of domestic violence and refugees – well on their way to a target of saving 100 tonnes of packaging waste from landfill by 2030.
How it works:
Choose your candle fragrance and size
Burn your candle and enjoy creating a wonderful home ambience
When complete, return the empty container in the post or in a participating store (simply keep your lid to reuse with your new candle)
Save 30% on your next candle and start again
CandleXchange reuse the containers to make new candles
Save money while helping save our planet
That's right, by switching to CandleXchange you contribute to a sustainable future and also save a significant amount of money on the cost of your candles.
But don't take our word for it, come and experience CandleXchange for yourself on their next visit to International Towers:
When: Friday 16th June
Where: Tower 3 South Lobby
Or you can order your swap anytime online by visiting www.candlexchange.com.au.