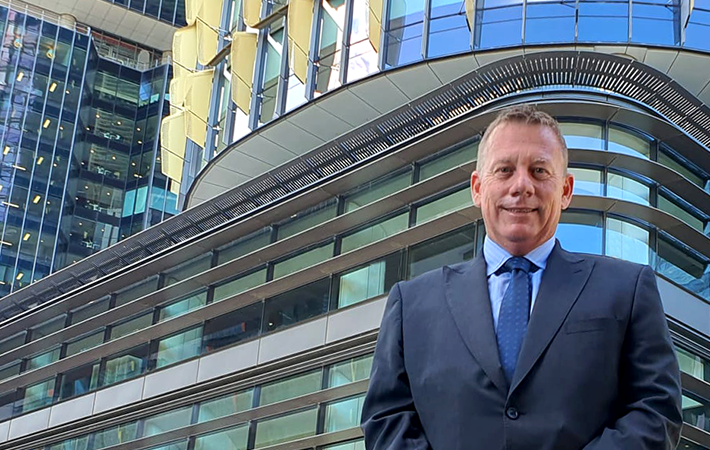 People person. Culture cultivator. Family man and sports fan. Meet our new

General Manager

, Rob I'Anson.
The International Towers team is delighted to announce the appointment of Rob l'Anson to the role of General Manager. Over coming weeks Rob will be working closely on the handover with our much-loved outgoing General Manager, Tony Byrne, before taking up the reins full time in August.
Rob joined the JLL family in 2019, following an outstanding decades-long property management career which includes several prominent Australian addresses and impressive real estate outcomes. Whether it's taking over the management of prestigious buildings like 1 O'Connell Street, 259 George Street and Brisbane Square in Sydney, or nurturing brand new assets like 100 Skyring Terrace and 900 Ann Street in Brisbane CBD from practical completion Rob's resume is a exemplary showcase from a consummate property professional.
But as Rob explains, his pathway into property was a complete coincidence. "I grew up in Penrith, my first job was local not long out of School in the late 1980's but all my friends worked in the city and it sounded like fun. They were always telling me I should get in on the action, so I got a job with AMP in accounts payable within the Property Division.
"During this time I saw many of my accounting colleagues move into property. Property was very exciting to me, it really opened my eyes, so I eventually made the move myself. I studied for an Associate Diploma in Business (property valuation) at UTS, then got a job with Raine and Horne Commercial, which later became Savills. I was on my way in a profession I still love with a passion to this day."
Looking to his future as International Towers General Manager, Rob has a compelling 'to-do' list.
Lasting relationships
"Creating lasting relationships with our tenant partners, our people and the wider community around us is incredibly important. I'll be getting to know and collaborate with everyone involved continuing to make the International Towers magic happen."
Cultivating culture
"International Towers has an excellent culture and community, and it's my mission to continue and grow these values.t. Everyone in our community should be happy to come to work and feel encouraged to collaborate with purpose and be members of our community."
Supporting people
"Sometimes rising seniority can create degrees of separation between individuals and their teams, so I make a point of making sure that doesn't happen. Staying close to my team, supporting their professional growth and seeing them succeed will be a huge priority and deeply satisfying for me in this role."
Creating demand
"The whole reason we're here is to ensure there's a continual stream of compelling reasons for tenant partners to choose International Towers. Crucially we will be working hard to remain a market leading value proposition for our existing and future tenant partners and the broader International Towers community..
Sustainability, family & chewing the fat
Like many if not every member of the International Towers team, Rob's passion for sustainability extends significantly into his personal life, and there's environmentally friendly approach to the I'Anson home – including an upcoming renovation which will involve new outdoor area, additional garage and new colourbond roof with most materials being replaced will be re-purposed and where these cannot be they will be recycled to avoid landfill waste. All new materials will be sourced sustainably.
With kids who are now 24 and 18 - a son with his own carpentry business and a daughter who's studying to follow her dad into property - Rob explains that he's been able to swap spending his weekends running them between numerous sports, to spending time outdoors and enjoying just watching sports. "Rugby league, rugby union and soccer are among my favourite sports to watch," chuckles Rob, "and the colourful commentary between friends and fellow fans on WhatsApp is very funny."
And when he's not watching sport? "My wife has a lovely big family living locally, and there's nothing we love more than chewing the fat with them over a drink or dinner," smiles Rob. "The door is literally always open, no-one calls before they come, there's a constant popping in and out. It's a beautiful thing."
On that warming note, we say goodbye and let our new General Manager get on with preparing to lead International Towers and our tenant partners through the next exciting phase.