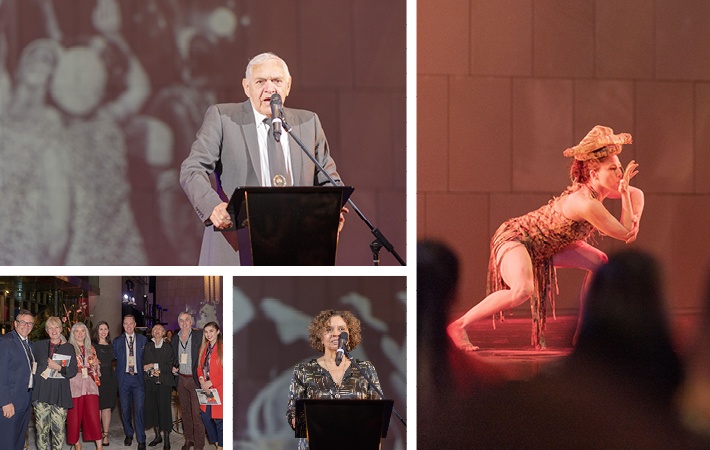 NAIDOC Week Celebrations
The lobby of Tower Three, International Towers transformed into a stage and a blaze of light on Monday, 9 July 2018 - that featured a captivating performance from new tenants, Bangarra Dance Theatre, and the stunning work of renowned Indigenous photographer, A. Professor Wayne Quilliam, in a public exhibition entitled mali dharngurr, meaning "looking of voice".

The spectacular opening to NAIDOC Week celebrations served as an official welcome to Bangarra Dance Theatre, who have made International Towers their new artistic home. Almost 200 people from within the International Towers community gathered in the lobby of Tower Three to watch the Bangarra dancers on stage in the Tower Three foyer performing a series of short stories, each providing a unique insight into Indigenous culture through mesmerising movement, music and lighting.

The evening also featured a first for International Towers, with a traditional Aboriginal smoking ceremony commencing procedures within the lobby.

Professor Quilliam's photographic stories, on display to the public until 17 August, focus on the empowerment of Indigenous women, aligning with the 2018 NAIDOC Week theme – 'Because of her we can'. The work showcases the real-life achievements, experiences and challenges faced by Indigenous women, from rural, remote and urban communities throughout Australia.

For further information on the exhibition please see below.
| mali dharngurr photographic exhibition |
NAIDOC Week celebrations are held across Australia each July to celebrate the history, culture and achievements of Aboriginal and Torres Strait Islander peoples. NAIDOC is celebrated not only in Indigenous communities, but by Australians from all walks of life.