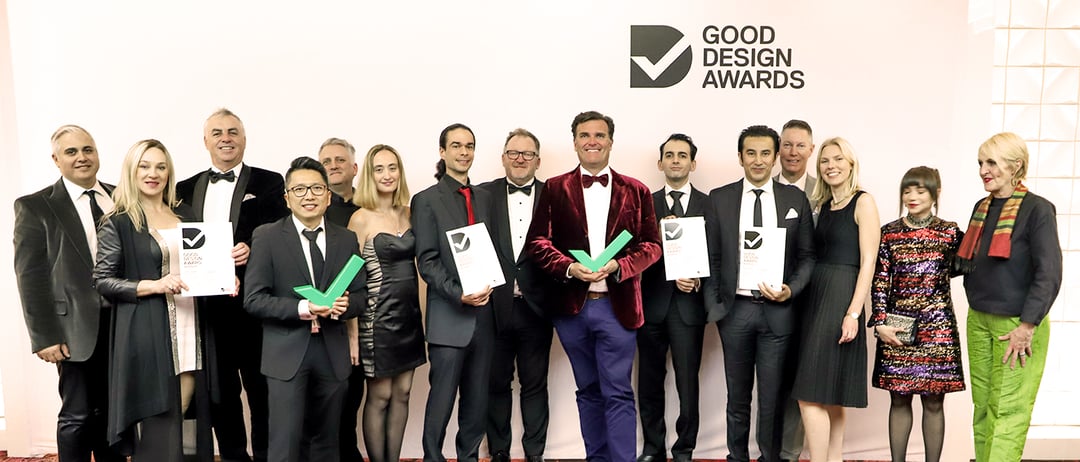 Team recognised for Design Excellence at Annual Good Design Awards Event
Our International Towers Digital Experience has been recognised with a prestigious Good Design Award in both the Digital Design Interface and the Digital Design Apps and Software categories in recognition of outstanding design and innovation.

Held at a black-tie dinner event in Sydney on 11 July, the annual Good Design Awards is Australia's most prestigious international Awards for design and innovation. The Awards celebrate the best new products and services on the Australian market, excellence in architectural design, engineering, fashion, digital and communication design and reward emerging areas of design strategy, social impact and design entrepreneurship.

The International Towers Digital Experience is an Australian-first, scalable digital estate management ecosystem which centralises workplace services for more than 20,000 professionals who are part of the International Towers diverse community of tenant partners, tenant employees and Barangaroo visitors. The digital platform has the capability to service not only the Barangaroo Community of professionals but also is accessible for visitors and friends of Barangaroo. To sign up for the experience, please click to register.




Dr. Brandon Gien, CEO of Good Design Australia said: "Receiving a Good Design Award at this level is a significant achievement given the very high calibre of entries received this year."

"Australia's Good Design Award is more than a symbol of design excellence, it represents the hard work and dedication towards an innovative outcome that will ultimately improve our quality of life. These projects showcase the brilliance of design and the potential it has to improve our world," said Dr. Gien.

The Good Design Awards Jury praised International Towers Digital Experience commenting:

"The app, software and underlying platform are really strong and useful. Overall the appropriate design aesthetic is clean and professionally well chosen. The digital services are impressive and would undoubtedly have had many challenges. The thoughtfulness in the services were great to see," said Dr Glen.

"A combined digital service for operations between building management and business occupants. Much of the benefit of the app is that it uses native functionality (people's phones) as authentication for various services (e.g. deliveries, entrance to secure carparks), and uses the website as a news and events portal. Nicely executed, with a modular navigation system (no doubt having to cater to different permission groups with different view/management permissions). The visual integrity of the site is strong, and an appropriately clean and professional aesthetic has been applied well. An app with great features and services," Dr Glen added.

The Good Design Awards attracted a record number of submissions with close to 700 design projects evaluated in this year's international design awards.