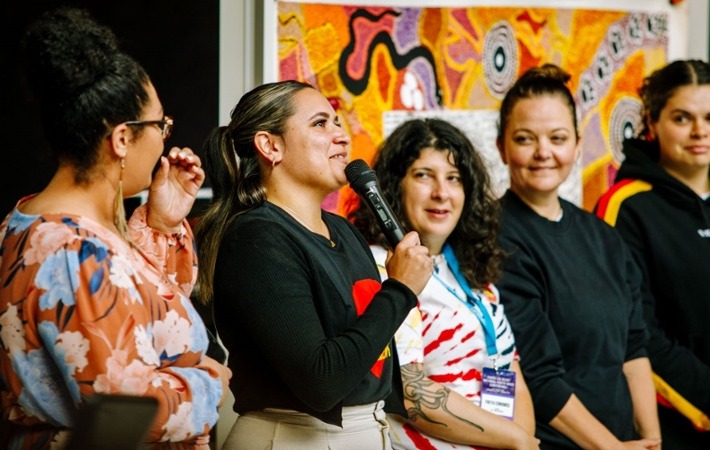 A Declaration has been issued by members of the Uluru Youth Dialogue, confirming the group's deep and ongoing support for "genuine, nation-building reform" ahead of the First Nations Voice to Parliament referendum
Uluru Youth Dialogue Co-Chairs Bridget Cama (far left) and Allira Davis (with mic) wrapped up a successful three-day Hands on Heart National Youth Voice Conference at Barangaroo on Sunday. (Image credit: Ben Fry / The Uluru Dialogue)
A Declaration has been issued by members of the Uluru Youth Dialogue, confirming the group's deep and ongoing support for "genuine, nation-building reform" ahead of the First Nations Voice to Parliament referendum date to be set by Australia's Prime Minister later this week.
The Declaration, developed by delegates from across the country and from a range of multi-cultural and multifaith backgrounds at the Uluru Youth Dialogue's Hands on Heart National Youth Voice Conference, commits 'firm and enthusiastic' support for a constitutionally enshrined Voice to Parliament as called for by Aboriginal and Torres Strait Islander people in the Uluru Statement from the Heart.
"Seventy-three per cent of young Australians support this nation-building reform. Our generation will be the most affected by the choice all Australians of voting age will face on referendum day, followed by our children and their children," the Declaration reads.
"We hope all Australians will hear our message and walk alongside First Nations people and communities to shape a brighter future by voting YES."
The Declaration comes as delegates who attended the Hands on Heart National Youth Voice Conference in Barangaroo return to their local communities after a valuable and informative past few days.
Wiradjuri and iTaukei Fijian woman and Co-Chair of the Uluru Youth Dialogue, Bridget Cama, said young people will have a big part to play in achieving a successful outcome in the referendum.
"This conference has been so timely given the big week we have ahead of us, with the Prime Minister announcing a date for the Referendum and the campaign officially ramping up," Ms Cama said.
"Delegates are leaving the Hands on Heart Conference energised, educated and activated, and with a clear plan for the next seven weeks for how to advocate in their local communities."
Cobble Cobble woman and Co-Chair of the Uluru Youth Dialogue, Allira Davis, said it has been inspiring to see different ideas and perspectives from attendees at the Conference.
"It's been so exciting to work with delegates from all over the country over the last few days and I can't wait to see how they take the knowledge they've gained from the Conference to continue important conversations about the Voice in their local communities and amongst their friends, family and colleagues," Ms Davis said.
"The next few weeks are going to be absolutely critical and it's so important for young people to be front and centre of this campaign, because ultimately we are the ones who will inherit the outcome of the Voice referendum."