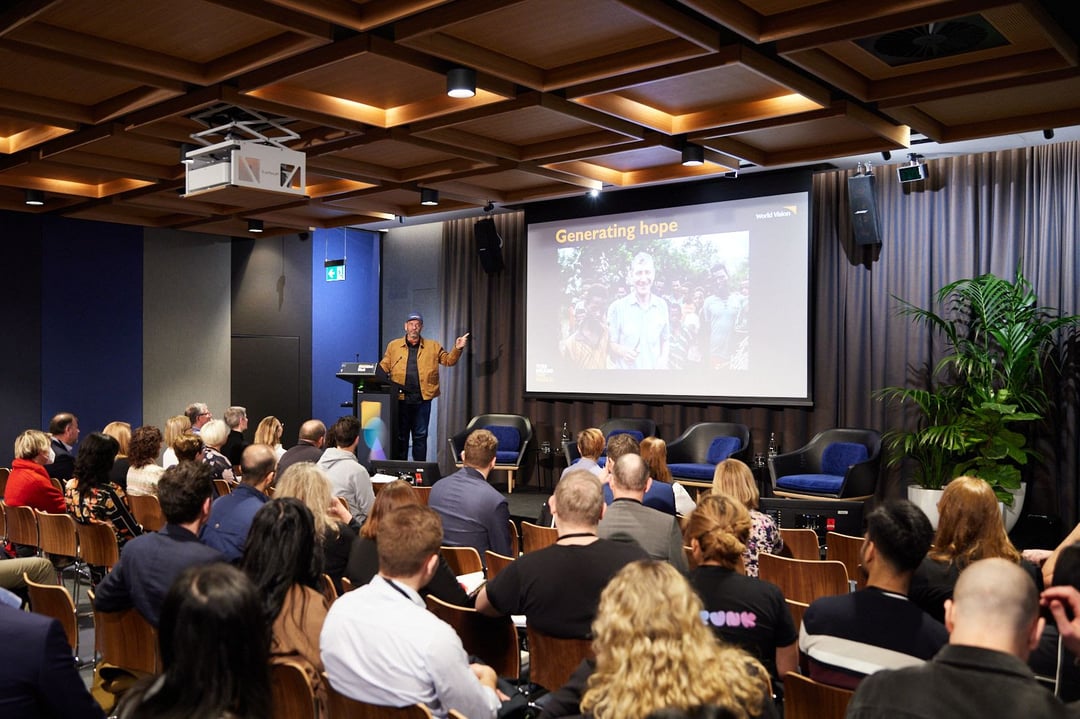 Here's what you missed. Enjoy video recordings of our live sessions
In our 2021 customer survey, we identified an opportunity to enhance our communications around sustainability, learning that sustainability is an increasingly important factor, for our customers, in selecting an office premises. 33% of our customers told us they either are, or plan to become carbon neutral, while a further 21% were actively considering it.
To address this opportunity, The Lendlease Investment Management Customer Summit: Towards Zero was created.
Speakers were curated around the theme of: How might we collectively accelerate and simplify a transition to zero emissions through real estate?
The intent was centred on collaboration and knowledge sharing for all who participated across the industries and sectors, to learn from each other and hopefully build new partnerships. Delivered from 5 - 8 September 2022, both online and in-person, the Summit covered topics including setting targets, debating offsets, and accelerating innovation.
How the week went
Monday 5th September
Theme: Defining The Problem.
On Monday we kicked off with Davina Rooney of GBCA outlining the opportunities for the Property Sector.
Cate Harris shared Lendlease's own journey to setting our Mission Zero targets followed by a panel with Chau Le from Origin and Kathryn Davidson from the University of Melbourne which covered how we can show bravery in setting our targets, how we call out the elephants in the room, and also the blurred lines between each of our Scope 3 emissions.
Tuesday 6th September
Theme: Hope, It's Your Climate Future. (This was a collaboration with Melbourne Connect and The University of Melbourne as part of their Innovation Week happening at the same time.)
On Tuesday at Melbourne Connect, the discussion focused on hope.
Dr Dianne McGrath introduced concepts like the Overview Effect and Qualia – a phenomenon where astronauts gain a completely changed perspective on our planet once they pass the Karman Line into outer space. She encouraged us all to step up and find at least one thing we can (personally) do.
Tony Rinaudo shared his incredible experience uncovering and restoring underground forests in Niger in the 70s, and as our next speaker Daniel Worsdworth proclaimed, Tony's work will be canonised in the realm of environmental action. Tony also told us of Hope's daughters, Anger and Courage, and powerfully encouraged us each to be angry, and have the courage to take action.
Wednesday 7th September
Theme: Defining Solutions.
Topics covered were Biodiversity and Business, Debating Offsets and Whole Life Carbon and the Property Industry.
On Wednesday, we were able to dive into the detail of solutions, with our brilliant speakers Jane Hutchinson of Pollination Foundation, Paul Dettmann of Cassinia Environmental and Wilderlands, Nick Baker of TEM and Enrico Zara of ARUP talking Biodiversity and Business, Offsets and Whole of life Carbon.
Thursday 8th September
Theme: Dream Big, Take Action!
Topics covered accelerating innovation in Green technology, and accelerating innovation within your business.
On Thursday, it was all about Dreaming Big and Taking Action! We heard from Creel Price, co-founder of Investible and CEO of Greenhouse, about how we can accelerate innovation in Green Tech. Creel was joined by Jennifer Saiz, EGM, Group Corporate Services, CBA Joseph Correnza, Principal ARUP and Ines De Castro Almeida, Chief CTO Salesforce, making up an expert panel on accelerating innovation in your business.
What's Next?
Over the coming month, we'll be curating a research paper that digs deeper into what we've learnt during the Summit Week, and how we can grow partnerships with our customers on the transition to Zero Emissions through real estate.