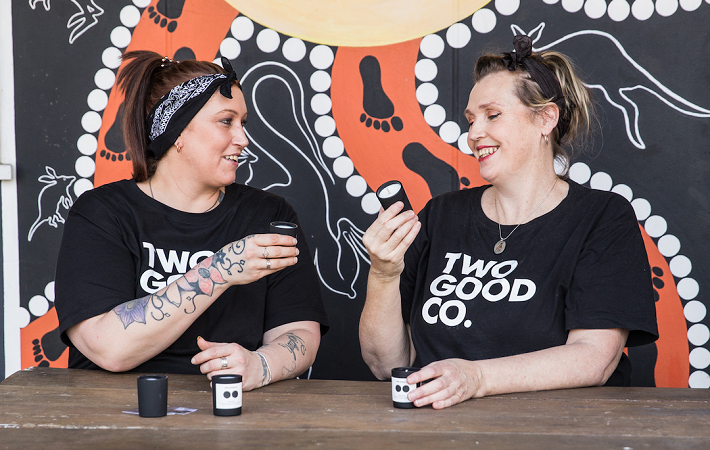 When you get involved in the good things we do with community-minded foodie Two Good Co., you'll be helping people like Heather
If you've worked at International Towers for a while, you're probably already familiar with the name Two Good Co. We partner with Two Good in many engagements, including plenty of charitable awareness and donation raising initiatives like the current campaign for The XO Project and Domestic Violence Awareness Month.
Two Good does incredible work with victims of domestic violence – not just for one month of the year, but every day. From providing meals to those experiencing abuse and homelessness, to training women fleeing violent homes with real-world skills to help them rebuild their lives - Two Good is a champion for those who need help.
Heather is one of the many women to go through Two Good's Work Work program. It was created with the aim of getting women who have suffered from domestic violence and homelessness back on their feet, giving them real-world skills to create a new life path for themselves.
Helping the Heathers of this world break through barriers
Unfortunately, Heather's story is not unusual. She was born into an unsafe home and endured domestic violence as an infant. When she was eight, she was left with a brain injury after a beating from her brother, which has made life even more challenging. For more than 20 years, Heather couch-surfed, slept rough and accessed essential services through local churches.
In 2021 Heather left a home she shared with a de-facto partner when that relationship became violent. She was referred to a women's refuge in Bondi and, one night after Heather had enjoyed one of Two Good's donated gourmet meals, her caseworker suggested she try Two Good's Work Work employment program.
Acquiring new skills didn't come easy to Heather, but with the combination of support from Two Good and her own perseverance, Heather broke through the barriers to become a great cook and beloved employee.
Helen recalls, "I was very nervous but when I met the Two Good team I found there was no judgment and it was easy to speak to people and communicate. They taught me that everyone is equal and I felt accepted. I love the family atmosphere. The chefs have taught me so much and my confidence has grown a lot too."
And then one day Helen woke up and realised she was ready to take another step forward in her new life. "It was hard to say goodbye to Two Good, I didn't want to leave! But I know it was a stepping stone. I now work at a really nice five star restaurant in the city with a great team, I rent my own place, I'm off all welfare, I've even started a course in Advanced Accounting. Two Good has opened lots of doors for me. It really does feel too good to be true sometimes, I'll never forget them and what they did for me."
Heather might not need help anymore, but there are plenty more people who do. If you're a member of the International Towers Partner Portal, just by booking a free service, entering a competition, or accepting a free gift during the month of May, we'll donate another free gourmet meal to a women's refuge shelter on your behalf.
You never know, another success story like Helen's might begin over the dinner you donate.
Domestic Violence Awareness Month: Presenting The XO Project