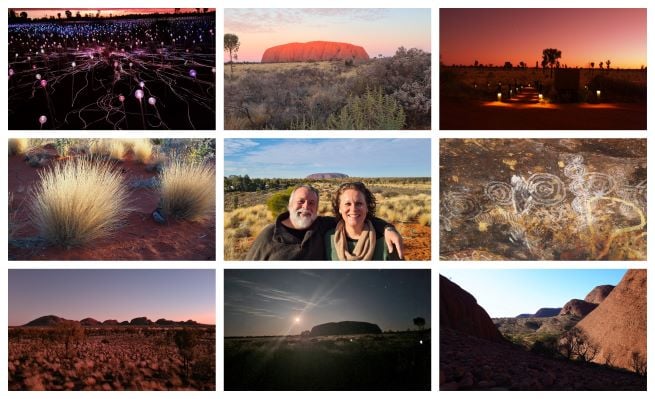 Jenn from First Sentier Investors talks about the Statement from the Heart and tells us all about the stunning trip she won for signing it
Born out of the largest consultation process of its kind, the Uluru Statement From The Heart is an historic document that outlines the path to recognising Indigenous Australians in the nation's constitution. Endorsed during a First Nations National Constitutional Convention held at Uluru in May 2017, the Uluru Statement is 12 paragraphs addressed to the Australian public, asking them to allow Aboriginal and Torres Strait Islanders a constitutional voice in the laws and policies that are made about them.
It's a statement that all Australians are encouraged to read, consider and sign their name to, if they agree.
When Jenn from First Sentier Investors first read our article marking the anniversary in May, her first reaction was surprise. "I didn't know that any Australian could add their name to the Uluru Statement," explained Jenn. "I thought it would only apply to politicians. As soon as I realised I could add my name to support the statement, I clicked the link and signed straight away.
"Of course I had one eye on the prize, but I never thought I'd win it." smiles Jenn. The prize Jenn speaks of was a luxury long weekend away for two in Uluru, with return flights, five star accommodation at Sails in the Desert, first class cultural tours and delicious cuisine experiences. The lucky winner was drawn from every International Towers tenant partner who signed the Uluru Statement, had completed a gorgeous Uluru puzzle we sent them, and who was also a member of our award winning digital resources platform, the Partner Portal.
Jenn ticked all the boxes, the luck was on her side and she won. Jenn and her husband took the trip a few weeks ago and we asked her to tell us all about it.
Friday
"We had a short while to get acquainted with and enjoy the excellent resort, then we were off to the 'Sounds of Silence' dinner, which was just incredible. We were taken out to the Uluru-Kata Tjuta National Park and a special spot they use for the dinner. We walked to the top of gorgeous sand dunes and watched an amazing sunset over the rock. We had drinks and canapes at the top of the dune served by magnificent staff, then walked down other side of the dune to dinner. Somewhere off to the side very talented chefs cooked an amazing meal – they really did have everything you could wish for, right there in the desert.
"After dinner they turned off the lights, it was so beautifully silent, all we could hear was the crackle of the fire, then we looked up and could see the entirety of the Milky Way in the night sky. It was so clear we could see both Magellanic Clouds – which as a self-confessed star gazing nerd, I absolutely loved. As a guide with a laser pointed at the sky and gave us a star talk, I was thinking that, although I know in the back of my mind I'm in Australia, there was a definite feeling of travelling out of this world."
Saturday
"We were up before sunrise and off on a tour out to Kata Tjuta around 55km away, it was early and cold, but an incredible sunrise plus coffee, hot chocolate and a delightful little breakfast bag made it worth the pre-dawn chill. I knew a lot less about this place than Uluru, there were huge boulders everywhere, it felt mysterious and the different colours were dazzling.
"After breakfast, we had a choice of two walks, the Valley of the Winds or the Walpa Gorge, and we chose Walpa Gauge which seemed like the least challenging of the two. The walk took us between two massive boulders, they were so huge my mind had trouble believing just how big they were, and as we walked into their shadow all the colours changed once again.
"It was on this walk that it struck me how fantastic the tour guides were, they were so respectful of the traditional owners of the land and their rules around story telling, only telling the stories they have permission to tell, sharing only what they are allowed to, even if you could tell they knew much more. It also occurred to me that all our guides were western and that there weren't many indigenous people around, and I realised they were off doing their own thing on their own land. I loved that thought, which we chewed on during a gorgeous dinner at the resort that night. Which was followed by a privately booked astro tour to further satisfy my star gazing nerdiness. We heard the story of the 'Dark Emu', the indigenous fable that explains the emu shaped dark patch in the Milky Way. The emu was naughty and died, its spirit went up into the sky and blocked out bright stars with its darkness."
Sunday

"After a quiet Sunday morning, we had an afternoon Cultural Tour and visit to Uluru. First stop, the Uluru cultural centre, and again I was struck by how respectful and professional all the western guides were, especially to indigenous neighbours and their traditions. The guides took the time to explain to us how we should interact with the locals, and reminded us that we were young visitors to an ancient culture.
"And then the main event, Uluru. The size of the rock is almost beyond comprehension, I really don't think you can understand the scale unless you see it for yourself. 348 metres tall and 10 kilometres round the base, it's just gigantic. We were driven around some of it, and then had a walk to experience some 5000 year old cave art, the different colours still visible and of course a guide was on hand to explain what all the different colours meant.
"On the way back we visited a water hole where ancient indigenous hunters would wait for the last animal to leave for the day, only killing that last animal because that's all they needed, and they wanted the others to come back the next day. Now that's sustainability!
"Then onto another sunset spot looking over Uluru for drinks and nibbles, followed by a BBQ dinner by the rock. The colour show continued, this time thanks to the massive Uluru blocking out all the light, revealing another night sky for which our guide had another star talk prepared. "
Monday
"Another early morning, this time to the 'Field of Light' before sunrise. It's quite a large flat space, where installed fibre optic lights change colour as the sun rises and sets. It had rained about five or six weeks before, so there were different coloured flowers spotted around joining in the fanfare of colours. We stood there in the dark with red sand under our feet in complete silence, enjoying the sun as it rose and changed colours in tune with the lights and the flowers. It was another lovely experience in silence."
Jenn went onto tell us how impressed they were with every single service provider involved in the experience. Travel agent, airline, resort, tour operator, guide, chef – Jenn says every single person and process worked like delightful clockwork.
As we wrap up our chat, we ask Jenn if she has any advice for anyone reading this who feels, like we do, that they want to jump on the next available Uluru flight?
"Absolutely," smiles Jenn. "Go for more than three nights, so you can spread out those early sunrises and enjoy a few lay ins."