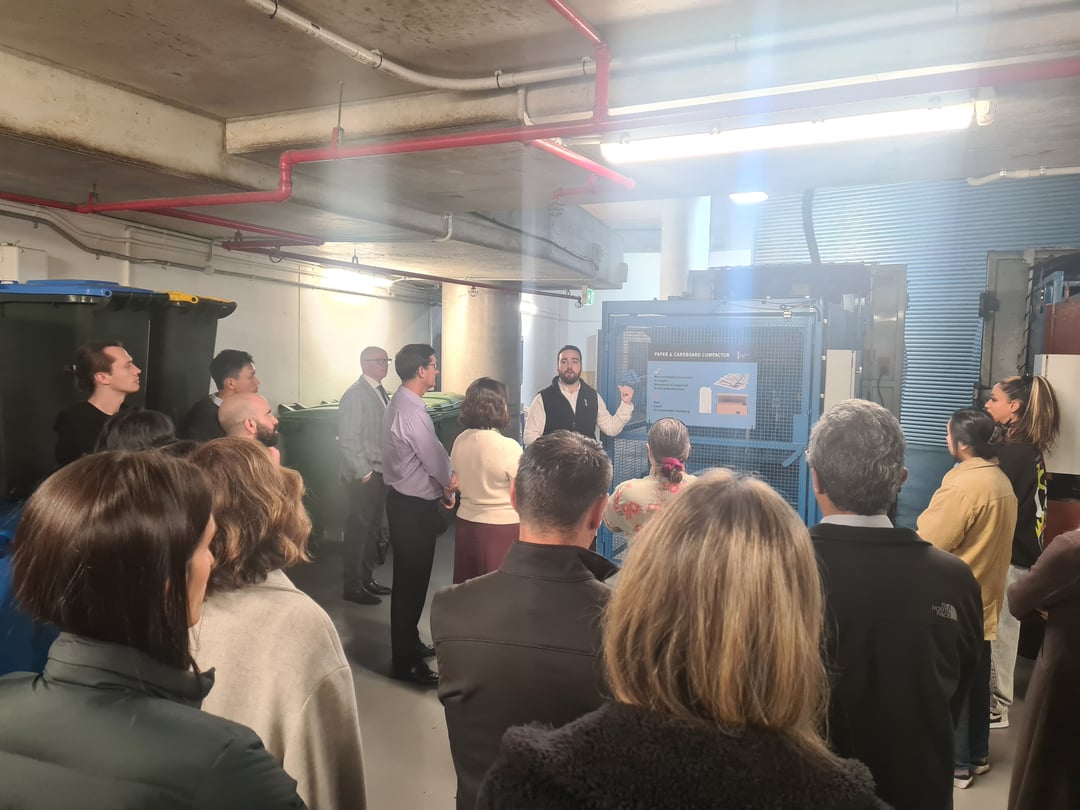 See what makes the International Towers one of the most sustainable corporate buildings in the world
In 2021, International Towers received an unprecedented perfect score from the Global Real Estate Sustainability Benchmark organisation. To show how proud we are of this achievement, we host monthly tours of our world-class waste facilities.
Our monthly waste tours began in March of 2021 and since then, 119 people have had exclusive access to see what makes International Towers one of the most sustainable corporate buildings in the world.
Our facilities help us to achieve a carbon neutral status by recycling water and diverting 80% of our operational waste away from landfill. In just twelve months of operation, our waste management systems have prevented 500 tonnes of waste going to landfill. This means that your rubbish can have a second life after you throw it away and be used to make something new.
During our waste tours, you'll get exclusive access to our award-winning facilities and discover what makes the Barangaroo Precinct so sustainable. One of our biggest secrets to reducing waste and remaining carbon-neutral is through a revolutionary maggot farm which is located basement of the International Towers. Maggots might seem like a strange solution, but the little critters managed to process 11.8 tonnes of organic waste in just June alone. Through cutting-edge robotics and the help of the maggots, food waste can be turned into fertilizer and animal feed.
A waste management tour is available to all International Towers Partners Portal Members so if you're a tenant or service partner of International Towers 2, 3 and International House and aren't a member yet, join here for free.
Tours of the International Towers waste facilities occur on the second Wednesday of each month from 2-3pm and bookings are essential as spots are limited.
The environment matters to us and our facilities are designed to reflect that. If you care about the environment as much as we do, come along to a waste tour to see how the International Towers achieves a number 1 rank in the world for sustainability.