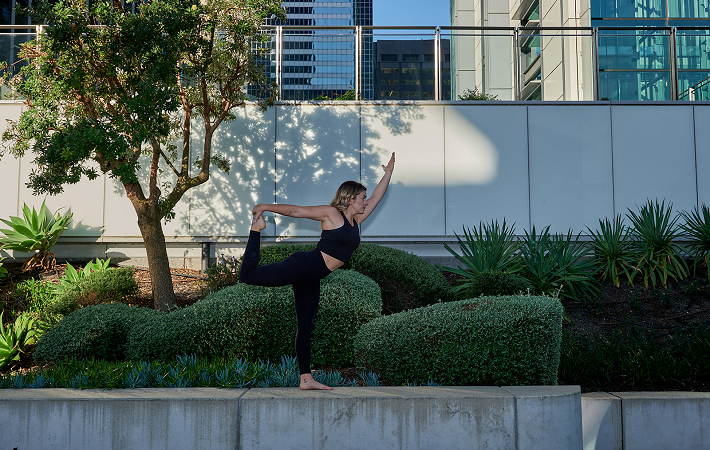 Dynamic, empowering 'Gentle' or 'Power' Yoga on Tuesdays - every skill level welcome.
Treat yourself when you're in the office on 'Stretch-it Tuesdays', with this dynamic Yoga class under the tutorship of our resident expert, Kaitlin - stretch, strengthen and empower yourself!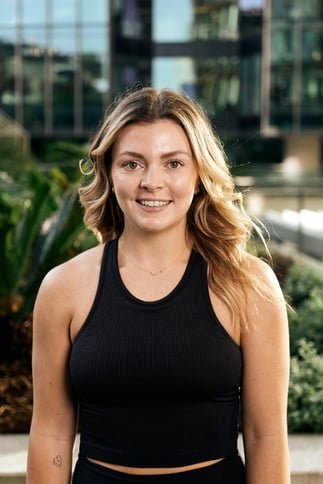 Kaitlin Kloss has been a mover since she could walk having slipped on her first pair of dance shoes by age 3, and appearing on stage for musical productions by age 11. She first started practicing yoga 10 years ago and made the jump to complete her teacher training at BodyMindLife in Sydney in 2018.
Her style of teaching has a very strong alignment focus balanced by creative sequencing and a lighthearted joke or two. She has gone on to complete many more hours of training and has been influenced by teachers, Noelle Connolly, Sarah Routhier, Maty Ezraty, Annie Carpenter and Patrick Beach.'
Merge strength and flexibility in this vinyasa style yoga flow. Designed for all skill levels, our poses have beginner, intermediate and advanced options making sure that everyone is challenged in a safe and rewarding.
Meet Kaitlin, your friendly neighbourhood Yoga Guru
Login to our Partner Portal to book your spot.



Terms and Conditions
Class sizes will be capped at 20 students a class, bookings essential.
A waiver form must be completed before commencing each class.
We require proof of double COVID-19 vaccination before commencing each class.
All you need to know about Yoga on 'Stretch-it Tuesday':


When?
Class starts at 12.00pm every Tuesday. Please arrive 5-10 minutes before so you have plenty of time to check in, set up, and settle in.
Where?
Head to the Tower 3 Concierge and ask for the Yoga class – a team member will show you to the lifts and grant you access to level 4, where the class is held.

How long?
Each class is 45 minutes long, designed especially to fit perfectly into your days at the office.
Can you do it?
Yes, absolutely you can. Beginners and experts all welcome – just let us know if it's your first time to help us look after you properly.

What's the difference between 'Gentle' yoga and 'Power' yoga?
Kaitlin runs 'Gentle Yoga' and 'Power Yoga' on alternating Tuesdays, check the booking screen for details. In Gentle Yoga, you will increase your flexibility and release tension in a gentle stretch yoga flow, leaving you relaxed and refreshed. Power Yoga stretches and strengthens you with a dynamic yoga flow, leaving you feeling empowered.
What should you wear?
Comfy clothes that let you move freely, from stretchy activewear to loose-fitting cotton, it's all good for Stretch-it Tuesday. And you don't need any footwear - classes are either barefoot or in socks, your choice.
What else do you need to bring?
Nothing. We've got mats, props and filtered water all free of charge, and we supply disinfectant cloths so you can wipe down everything you've used when you finish. Of course, you're very welcome to bring your own stuff too.
Are there bathrooms and somewhere to change?
There sure is, level 4 has male and female facilities.
Is the class Covid-safe?
Yes, we follow NSW Health advice to the letter, we employ best-practice social distancing measures in a very large workout area.
What activity should you expect?
Leading-edge Yoga exercises, with an expert. You will always be encouraged to listen to your body and take breaks or skip activities at your own discretion - this is your time and we'll help you find the right balance in how you enjoy it.
Is your tutor trained in first aid?
Yes, Kaitlin and any other substitute tutor you may have is fully certified in first aid, so in the rare event you feel like you've injured yourself, we'll know what to do next.