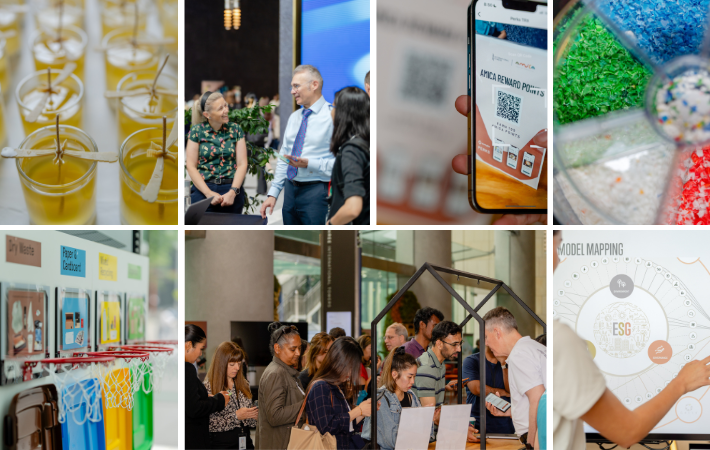 A heartfelt thank you goes out to everyone in our incredible community who took part in the Amica & ESG Launch last week.

We also extend our deepest gratitude to our ESG delivery partners, CleanPeak Energy, Green Building Council of Australia, Dimeo, and Foresight who were onsite for the duration of the launch. Their invaluable support played a pivotal role in the successful launch of Amica and our groundbreaking interactive tool that has been designed to allow our community to delve into International Towers Environmental, Social, and Governance commitments.

Among the highlights were the numerous giveaways that took place during the event. We distributed hundreds of exclusive Amica T-shirts and over 60 eco-friendly drink bottles. The community actively engaged in a CandleXchange Workshop, where 150 participants came together to share in a unique and meaningful experience.

300 individuals crafted one-of-a-kind pens using recycled bottle caps with Banish, further emphasising our commitment to sustainability.
The excitement continued with a spirited game of Trash basketball that captivated hundreds of participants. Over 150 tote bags were handed out and coffee vouchers redeemed, adding a caffeinated boost to the festivities.
As part of the celebration, nine lucky participants received exciting prizes through our launch competitions on Amica Perks. These prizes included $500 MJ Bale Gift Cards, $250.00 Bottega Coco Sydney, and Cardea Sydney Gift Cards.

This is just the beginning, and we're thrilled to announce that there's more to come. Watch this space for upcoming information and exciting updates from Amica.
And keep an eye on your points, offers and vouchers in Amica Perks.
Thank you for being an integral part of this milestone.