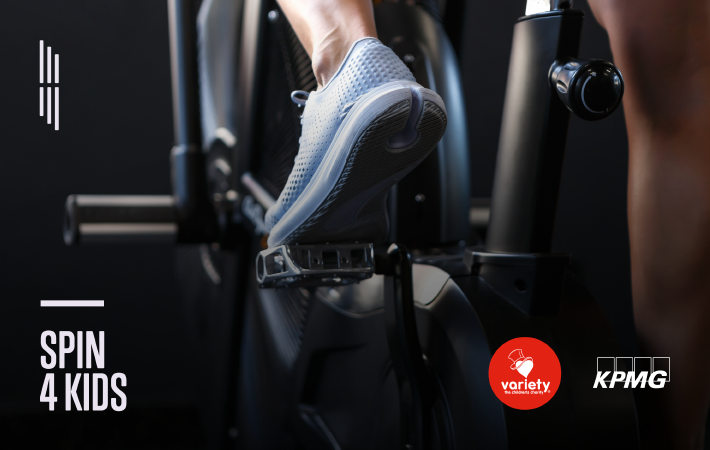 It's time to get on your bike for the little ones as Variety's 'Spin 4 Kids' fundraiser rolls into Tower Three on Friday 27th May, 10am to 3pm
Children's charity Variety does many wonderful things for little ones who are sick, disadvantaged or living with disability, in the last year impacting the lives of 20,800 kids in need with $2.35million in grants.
The highly successful fundraising initiative 'Spin 4 Kids' gives anyone who can peddle a chance to do your bit for children in need, by daring you and your teammates to work together and the keep the wheels of a stationary spin class bike turning as fast as possible for five hours straight.
Spin 4 Kids is coming to Sydney for the second time, this year in partnership with our tenant partners KPMG, promising a super fun day of fundraising and fitness.
How Spin 4 Kids works:
Sponsored teams of 1 to 10 riders have one spin class bike between them, working together to keep the wheels turning constantly between 10am and 3pm.
Crazy costumes are strongly encouraged.
Fun energetic spin instructors, great music and marvellous MC Mike Wilkins keep you smiling while you're riding.
Prizes are awarded for the best-dressed team, highest fundraising team and individual, best team spirit and encouragement, most kilometres peddled, and Kings and Queens of Spin.
The 'CEO & Celebrity Spin Off' happens between 1.30pm and 2.30pm, so make sure your team includes your CEO, senior manager and any celebrities you happen to know.
Your efforts are rewarded with an excellent after-party.
Where and when the wheels will be turning:
Location: KPMG Tower Three, 300 Barangaroo Avenue
Date & Time: Friday 27th May, 10am to 3pm (plus after party)
How you and your team can Spin 4 Kids:
There are a limited number of bikes and spots will go fast, so don't delay in booking your saddle – head to Variety's website and challenge your team to spin for the kids.