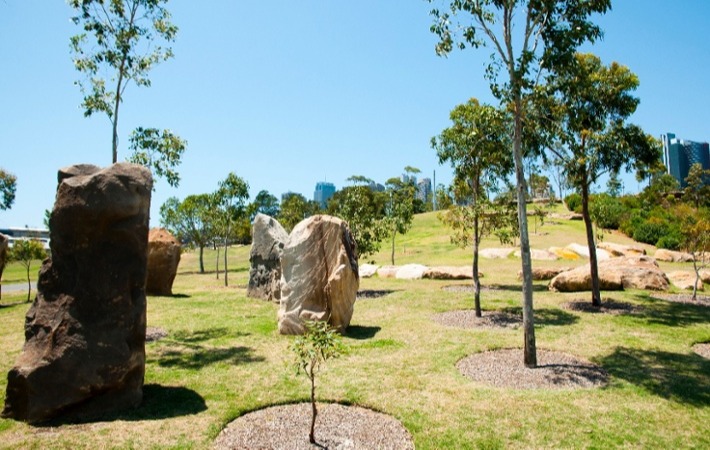 Balance work and wellness, one step at a time.
At International Towers, we're encouraging you to ditch the sedentary work style with the introduction of five custom walking routes near work.
By incorporating just 10 to 30 minutes of walking each day, you can mitigate these health risks and improve productivity, creativity, and mood.
ROUTE #1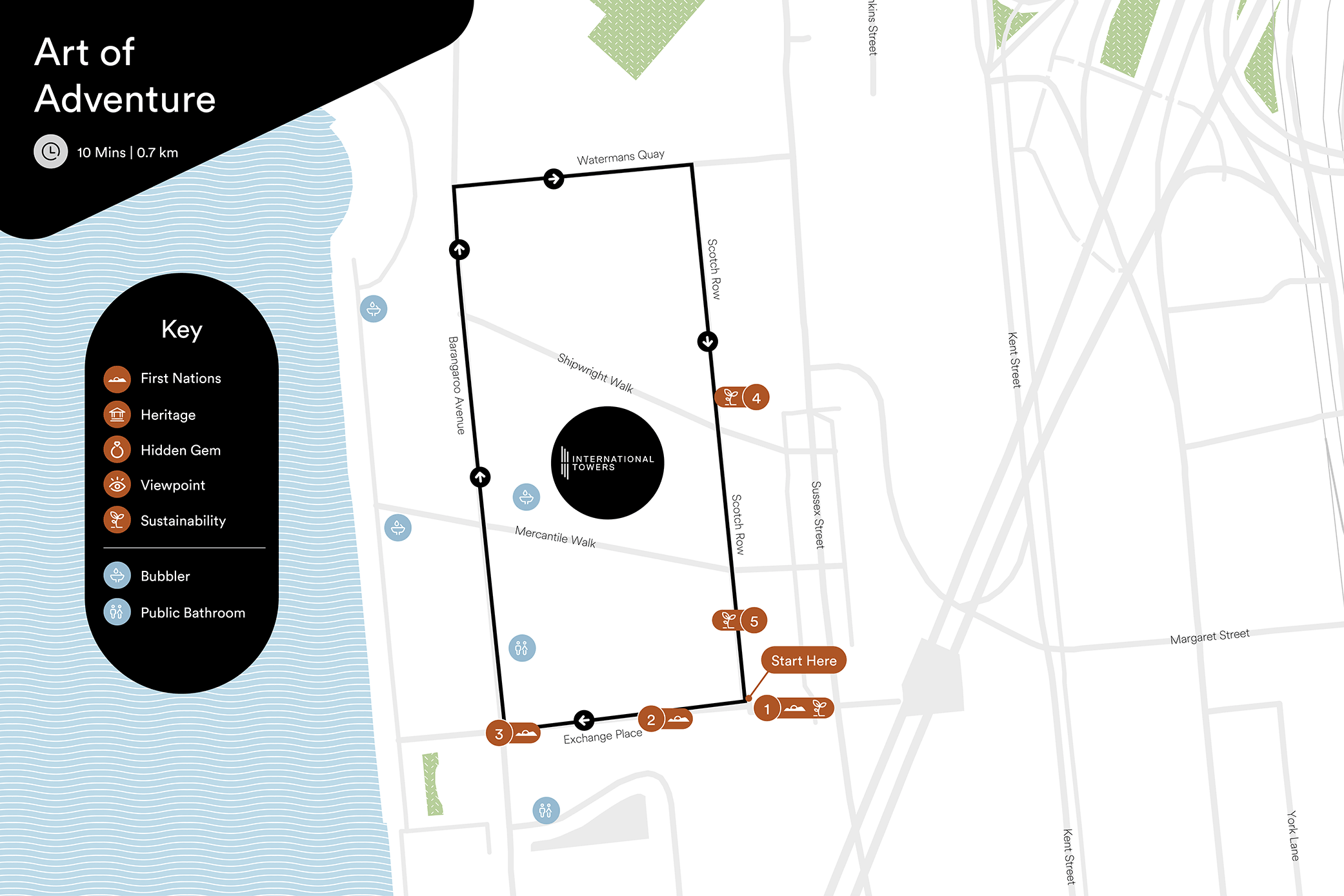 Art Of Adventure
Combat the afternoon slump with a quick 10 minutes of power through the city. Along the way, you'll discover beautiful moments of public art, purposeful architecture with sustainability stories, and healthy doses of inspiration. 
Using your mobile? Track this walk using Google Maps.


Points of interest
Stories of the Moving Tide
Isn't it crazy that thousands of kilometres of fishing nets are dumped into the ocean every year? As you near the end of your walk, come up for air to take in the stingray installation on the canopy of Exchange Square – a stark representation of the grave threat these fishing nets pose to marine life.



Aunty Esme Timberey's Shell Wall
Look up! What appears to be an inconspicuous residential building on the ground plane holds a seven-storey shell art installation up high. Created by Bidjigal artist and elder Esme Timbery, the installation celebrates the important shell-work tradition of La Perouse in Sydney. 



Sabine Hornig - Shadows 
You'll know it when you see it. Shadows is a massive public artwork (the largest in Barangaroo, in fact) that's here to stay. Printed on glass, the artwork pays tribute to native flora and connects Barangaroo South's three International Towers.



Darumu House
That timber and glass structure you see? That's Darumu House ('Darumu' means 'tree' in the First Nations language). This building is a sustainability powerhouse – it has 6 Star Green Star rating, a green roof, bee sanctuary, uses recycled materials and has stores for over 5000lt of carbon! 



International House 
Right next door, you'll see International House – which has also set a global benchmark for sustainable design. It's actually the first engineered-timber office building in Australia. Impressive, right?



ROUTE #2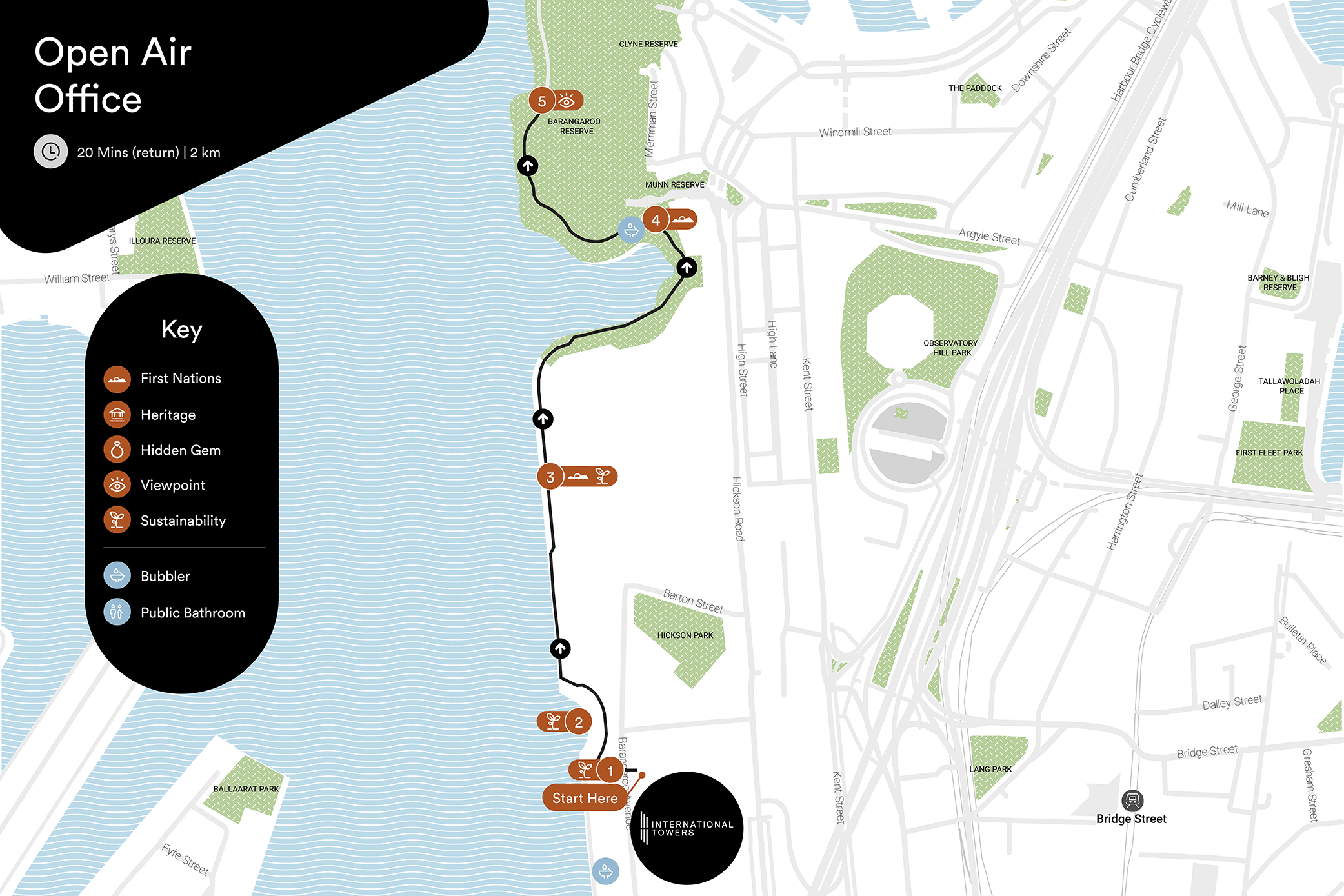 Open Air Office
Why only walk through one of Sydney's most beautiful foreshores when you can work from it? One of the best parts of this 20-minute track is that it offers serene spaces to sit down and get some deep work done in the open air. How's that for a breath of fresh air?
Using your mobile? Track this walk using Google Maps.
Points of interest


The Cloud
Your journey begins outside the building nicknamed 'The Cloud'. Let your gaze follow the structure's white curved form right up to the top. If you'd like a moment to linger, there are sculptural benches and concrete moulded seating (made from recycled materials!) outside.



Waterman's Cove
Look down – you wouldn't know it, but beneath you lies the underwater garden, which is the world's largest living seawall. Then, look around – you'll see an amphitheatre style boardwalk with loads of space to sit and soak up the energy of the water.



Harbour Park
When you reach Harbour Park in Central Barangaroo, know that you're looking directly at the future. Still in the process of being developed, the park will be a 1.85-hectare outdoor oasis with design that honours the First Nations history, while leaving a legacy for the future.



The Cutaway
Follow the path until you reach The Cutaway. You never know what you might find in this below-ground concrete and sandstone space – an Indigenous art exhibition perhaps, a spot of live music if you're lucky, and maybe even a performance or two.


The Lookout
As you near the end of your walk, you'll see a curved little inlet with multiple levels of sandstone seats. Take advantage of this free outdoor lounge room and enjoy your front-row seat to one of the most spectacular shows on earth: Sydney's sparkling blue expanse.
ROUTE #3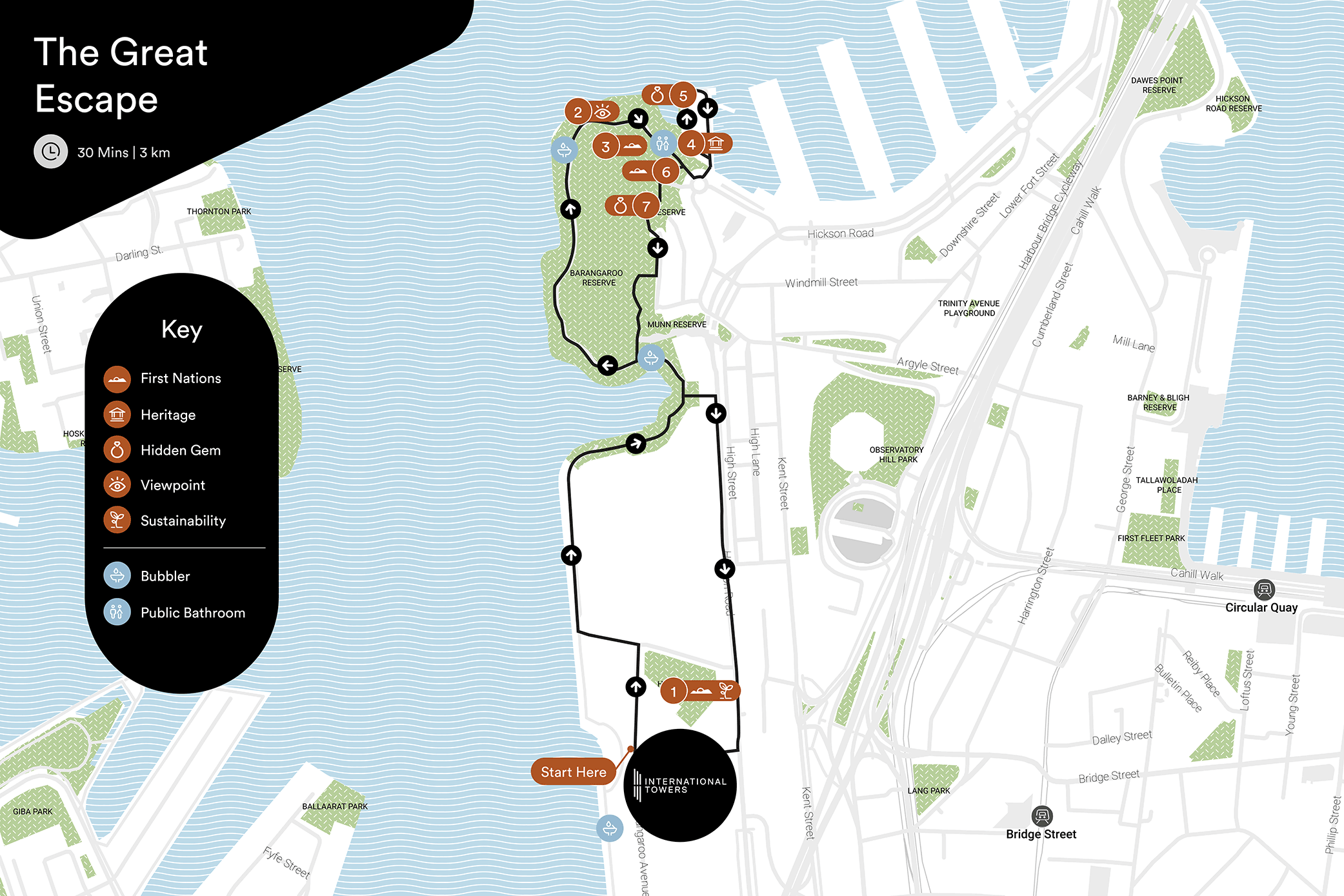 The Great Escape
Where else can you discover heritage stories, enjoy a scenic blue backdrop and even take a quick harbour dip – all in the span of 30-minutes? This loop around Barangaroo Reserve is the perfect retreat from the hubbub of the city. Mind and body reinvigoration guaranteed.
Using your mobile? Track this walk using Google Maps.
Points of interest
Hickson Park
Take a deep breath at Hickson Park, where lush natives and open green lawns are the perfect antidote to office walls. As you stroll through, keep your eyes peeled for the Winged Wonderland - a 100-metre long artwork by a not-for-profit group who break down barriers for artists with intellectual disabilities.



Reserve Viewpoint
Round the corner at the top of Barangaroo Reserve, and you'll be greeted by 270-degree views of the water. Drink them in and savour the serenity.



Walumil Lawns
Look to the water! Do you see any Port Jackson Sharks? They're common to these harbour waters, and are actually what this pocket of green spaces was named after (Walumil is the Aboriginal word for the shark breed).



Mooring Anchors
See those anchors? They're actually two rare mooring anchors that were discovered in the 90s, but date back to somewhere in the nineteenth or twentieth century. It might be hard to believe anchors like this were forged with only one arm!



Marrinawi Cove
Continue towards the water's edge. You've just found your place in the sun: Marrinawi Cove. Dive in for a dip, lap up the rays, or simply bask in the beauty of it all. And here's something you may not know: Marrrinawi is the Sydney Aboriginal word for large canoe, which was used to describe the First Fleet as it came into the harbour.


Baludarri Steps
Across the stargazer lawn, you'll see the Baludarri Steps – a stair sprint hotspot that's not for the faint of heart. If you're feeling up to it, take on all 74 of them (and back) as a quick cardio hit.



Clyne Reserve
End your outdoor adventure with a quick rest under the shade of a tree at Clyne Reserve. Take in the harbour views and give yourself props for taking the time to reconnect with nature
ROUTE #4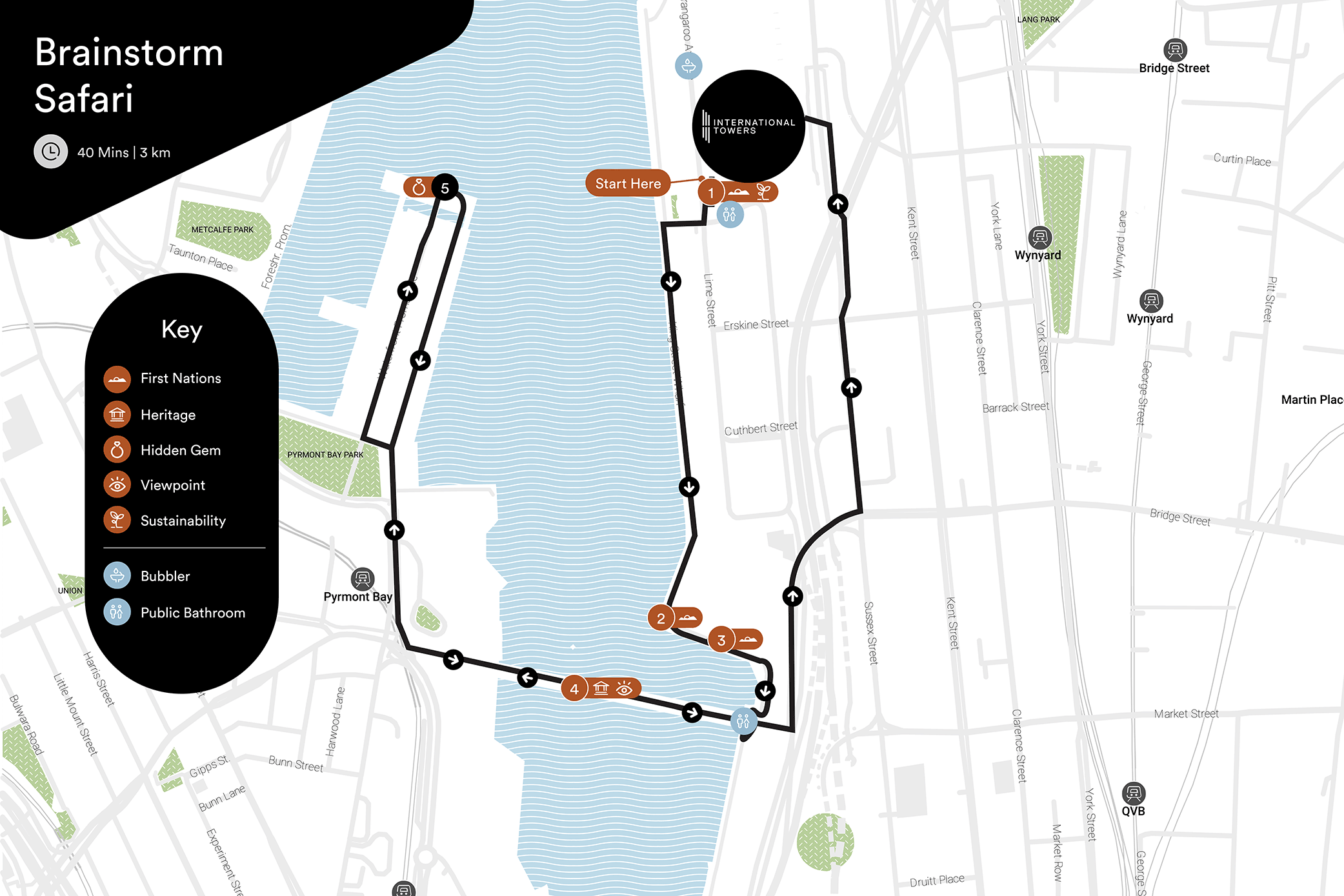 Brainstorm Safari
Why not take your next 40-minute meeting outside? You'll pass by a zoo, aquarium and discover a little-known viewpoint on this easy flatland route. It's the perfect way to brainstorm, chat, throw ideas around and let your imagination run wild. Hungry from all that creativity? Tasty lunchtime pit-stops are also on the menu.

Using your mobile? Track this walk using Google Maps.


Points of interest
Wulugul Walk
Did you know this foreshore was closed for 100 years before it re-opened in 2015? Wulugul (which means 'kingfish' in Aboriginal) Walk was thoughtfully built to give you a sense of connection with the water. All the buildings have to be 30 metres back from the waterfront, creating a feeling of intimacy to the water's edge.



WILD LIFE Sydney Zoo
Continue straight ahead and you'll spot the iconic wildlife zoo – home of the Aussie big five. Now's a good time to learn a few Dharawal words for native Australian animals. Kangaroo is 'buru', emu is 'biraban', and echidna is 'gunninggwir'.



SEA LIFE Sydney Aquarium
Right next door, you'll see the aquarium. Did you know it's home to more than 700 aquatic species? The Dharawal words for some of our most-well known sea creatures are 'yanaga' (shark), 'girawaa' (stingray), and 'gariga' (crab).

Pyrmont Bridge
When you hit the bridge, take a seat on a bench, take in the flurry of activity, or take a photo of the view. In 1981, the bridge closed to traffic and faced demolition, but advocacy by various groups led to its restoration. Want to see it swing? Pop by at 11am, 12pm, 1pm or 2pm on weekends and public holidays.



Sydney Wharf
Keep walking till you hit the end of the wharf. You'll discover a little-known spot with plenty of space to think and very few distractions. Recharge by the water and enjoy this rare view of the skyline.
ROUTE #5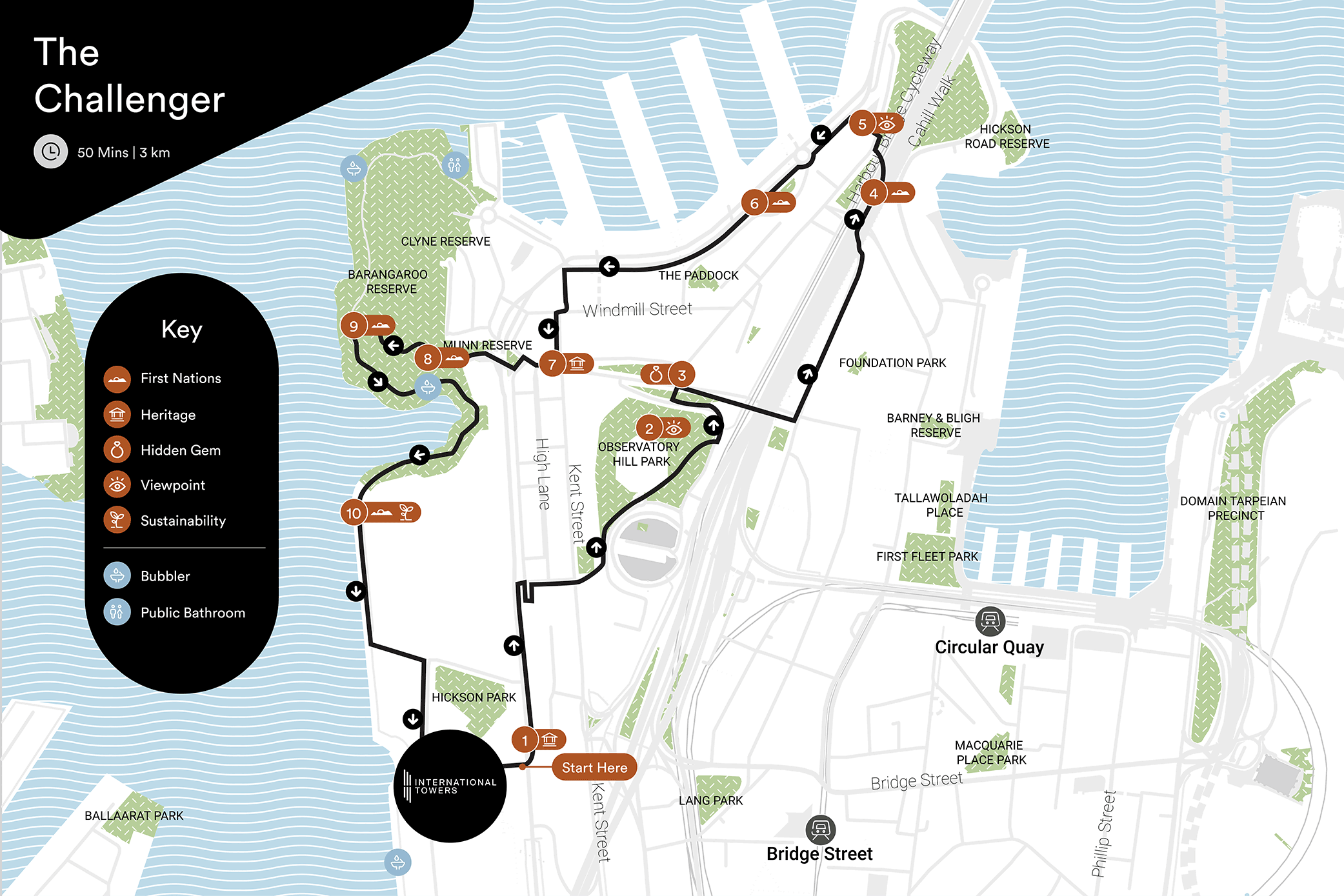 The Challenger
Have 50-minutes to get your heart rate up? This stunning track isn't for those looking for a light stroll – it's a stair challenge for the ages. Take on the climb, absorb a little history, see some epic sights, and get on with your day feeling on top of the world.
Using your mobile? Track this walk using Google Maps.


Points of interest
Hungry Mile
As you ease into your walk, look at the road ahead – this part of Hickson Road is nicknamed 'The Hungry Mile'. During the Great Depression in the 1930s, workers would walk from wharf to wharf in search of a job to put food on the table – often unsuccessfully, hence the name.


Observatory Hill


You've reached your first peak. If you've arrived just before 1pm, you're in luck – you'll get to watch the dropping of the time ball. If not, there's still plenty to enjoy atop the hill. Look out at the sweeping panoramic news of the city, or even pop into the observatory for a tour of the site and its history.



Garrison Church
Just past Observatory Hill, you'll discover a historic church. Step in and look straight down the aisle towards the altar – you're staring at what many call Australia's most stunning stained glass window. Opening hours: Tue-Sat 11am-3pm; Sun noon-4pm.



Dawes Point
Before turning the corner, check out the flat rocks under the Harbour Bridge! They were once used by the local Indigenous community as a place to cook fish. Also known as Tar-Ra, its Aboriginal name, this area is commonly referred to as Dawes Point – thanks to Lt. William Dawes' 1788 observatory. Here, Dawes and a young Aboriginal woman called Patyegarang created Sydney's first Aboriginal language dictionary.



Hickson Steps.
Look up and you might just catch a glimpse of people making their way up the Harbour Bridge! If you want to catch your breath, this is a great time to do so. Take a moment to rest while taking in uninterrupted views of the Opera House across the water.



Bangarra Dance Theatre
You may not know that Bangarra Dance Theatre is world-renowned for its one-of-a-kind theatre, unique sound, and powerful choreography. It's Australia's leading First Nations arts ensemble, platforming incredible Aboriginal and Torres Strait Islander talent.



Lord Nelson Hotel
Tempted to pop into the Lord Nelson for a pint? Built in 1836, it was originally ex-plasterer William Wells' home. It then secured its liquor licence in 1841, a year before Sydney's city proclamation, making it one of Sydney's oldest pubs.



Girra Girra Steps
Breathe in the serenity as you turn into Barangaroo Reserve. Look up to see the Girra Girra steps – your next challenge point. Distract yourself from the climb by thinking about the fact that 'Girra Girra' is the Sydney Aboriginal word for the seagulls, or fishing gulls, that have a little party on the Barangaroo Reserve steps daily.



Burrawang Steps


Final stretch ahead! Trace the waterside path to the Burrawang Steps. 'Burrawang' is the Sydney Aboriginal word for the cycad and symbolises Barangaroo's longevity. This century-old plant once fed both Gadigal tribes and early settlers! As you climb, relish the thought: these are your last steps to conquer.



'Remembering' Artwork
Turn your eyes away from the water for a moment. The artwork that runs along the foreshore hoarding is called 'Remembering' by Danie Mellor. It portrays a landscape of Gadigal Country as it may have looked before colonisation, integrating flora and fauna native to Sydney.