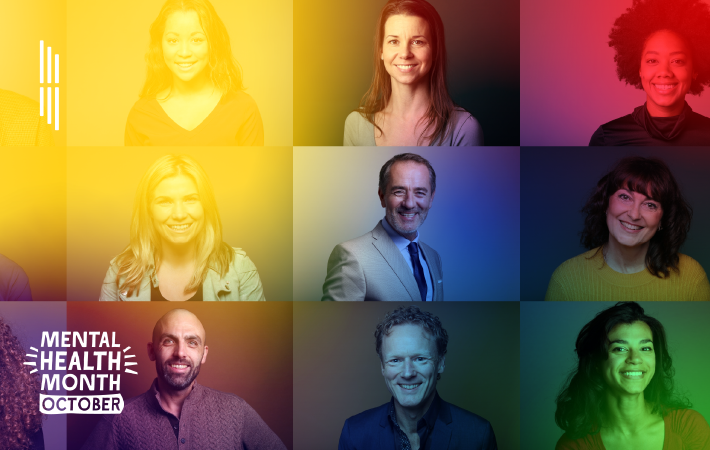 As Mental Health Month comes to a close, we want to express our deep appreciation to the entire International Towers community for their wholehearted engagement and support throughout October.
Throughout this past month, over 400 individuals dedicated their time to complete our questionnaire and interact with our Mood B'Roo expansive mood screen featured in our lobbies. Participants not only filled out the questionnaire but also witnessed the screen adapt its colour scheme and design in real-time, reflecting their mood.
Participants were given the opportunity to raise awareness of Mental Health Month, and enter our fantastic weekly competitions by sharing their mood using our instagram filter. To find out who won, keep an eye our our Mood B'Roo competition page.
Our Aura Photography sessions with Julie Smith garnered immense popularity, with limited tickets selling out rapidly. A total of 40 individuals left with their unique aura photograph and an accompanying aura colors meaning card.
Furthermore, 26 eager participants joined our "Draw Your Mood" creative sessions led by Sydney-based contemporary artist Daimon Downey. These sessions served as a therapeutic outlet, helping individuals release pent-up stress, boost their mood, and express their emotions and thoughts visually.
To promote relaxation and mindfulness, we provided over 60 colouring books and pencils to community members who participated in our adult colouring sessions or simply sought a moment of respite in our lobby throughout the month.
Finally, last week we had the pleasure of distributing over 300 complimentary slushies to our cherished community.
Together, we hope we established a supportive space for those living with mental health challenges, those supporting loved ones, and those seeking mental health support.
All of these endeavours were dedicated to Mental Health Month, centered around the question, "What role will you play?"
Whether it's self-care, supporting someone dear to you, fostering mental health awareness in the community, or being an ally for mental health, we all have a role to play.
Mental Health Month is observed every October in New South Wales. This month encourages us all to reflect on our mental health and well-being, whether or not we have personal experience with mental illness. It offers an opportunity to recognise the importance of good mental health in our daily lives and encourages seeking help when needed.
| Read more about Mental Health Month |